Princess Leonore Of Sweden Carries Out Her First Official Engagement In Gotland, Meets Her Horse Haidi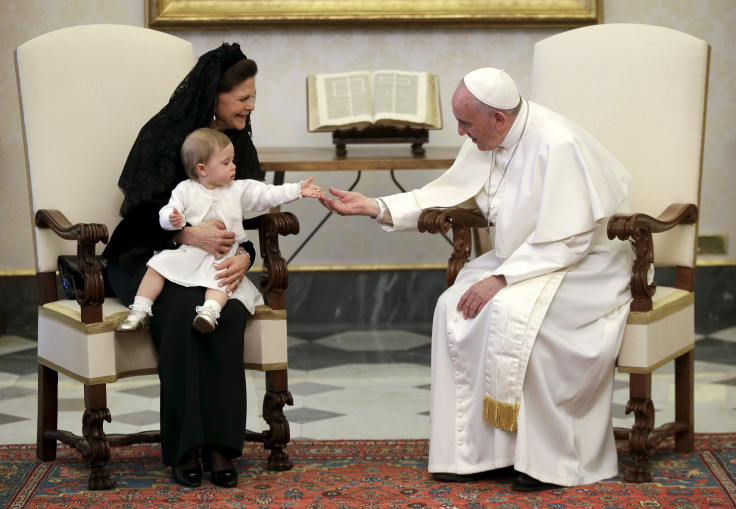 Princess Leonore of Sweden was out and about in Gotland, her duchy, to carry out her first official engagement Friday. The two-year-old royal, accompanied by her parents Princess Madeleine and her Chris O'Neill, looked adorable during the visit to meet her horse, Haidi.
Leonore appeared to be enjoying herself and looked cute in a baby blue and white summer frock as she ran around a meadow and decided to chomp on the carrot meant for Haidi. The toddler's sleeveless frock featured a white Peter Pan collar and a pleated skirt with a broad white hemline.
Her blonde hair was kept off her face with a cute blue bow. Her stylish mom, Madeleine, 33, dressed her in white lacy ankle socks and a cute pair of matching patterned shoes. Her first royal engagement turned out to be more of a fun day out for the little royal with her parents chasing behind her as she ran around the farm barefoot and appeared to be in the mood to play hide-and-seek.
The tot arrived at the horse farm in the arms of her doting dad. She carried a large gift box wrapped in pink and white dotted paper for her steed. Her dad also clutched a riding helmet while he had his arms full with Leonore. Leonore got the chance to get up close and personal to a pony and petted the animal with the help of her mum Madeleine.
Madeleine and Chris spoke to the media after the visit. The proud mum said Leonore was herself and seeing her happy was fun. She added that her daughter and Haidi would become good friends soon, but it would take some time to know a horse. Meanwhile, Chris joked about Leonore, calling her a "wild monkey."
Leonore and her parents enjoyed lunch at the Visby residence, where the little girl changed into another summer outfit — also a blue and white sleeveless frock with a Peter Pan collar — and added a purple bracelet as accessory. The trio visited the Gotland museum to view the new child-friendly exhibit.
Madeleine and Chris also have an 11-month-old son, Prince Nicolas, who was absent from the visit.
© Copyright IBTimes 2023. All rights reserved.