Professor Claims Sandy Hook Shooting Did Not Happen As Believed, Sees Political Agenda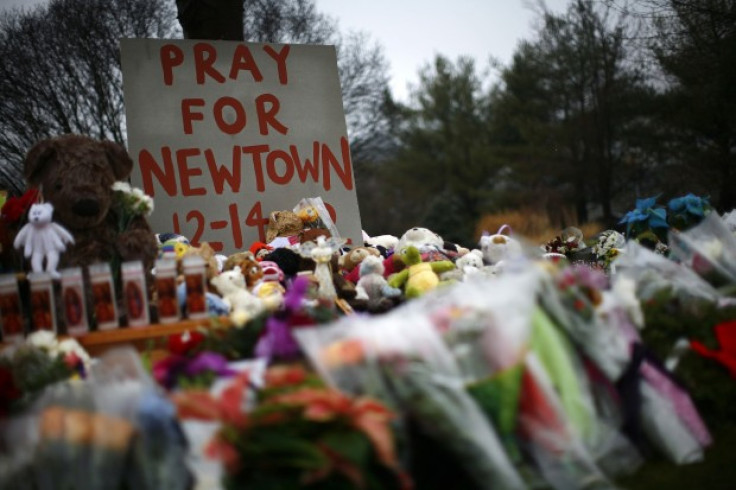 A professor from Florida Atlantic University has published a timeline of the events at Sandy Hook Elementary School in Newtown, Conn., on Dec. 14. James Tracy believes that there is more to the story and believes that the media crafted the Sandy Hook massacre as part of a political agenda.
James Tracy is a professor at Florida Atlantic University who "teaches courses examining the relationship between commercial and alternative news media and socio-political issues and events." He also authors a personal blog, Memoryholeblog.com. According to Tracy, the purpose of Memory Hole Blog is to be "a forum for criticism and commentary on sociopolitical issues and phenomena overlooked or misreported by mainstream media. Such neglected concerns are often omitted from or distorted in popular consciousness and memory."
Tracy's main argument is that the reporting of the Sandy Hook tragedy, which led to the death of 26 adults and children, plus the shooter Adam Lanza and his mother, Nancy Lanza, was constructed to further gun control measures. At the time of the events, reports were at times contradictory, especially on that fateful Friday. At the time, there were many different accounts about what happened. Some reports indicated more than one shooter while other details emerged about Adam Lanza's possible connections to Sandy Hook.
In the midst of all the confusion, it was even reported that Adam Lanza's brother, Ryan Lanza, was the shooter, although he was being held for questioning in New Jersey. The tragedy was unfolding in real time and many news outlets ultimately had to clarify their initial reports as the events of the day became clearer.
As such, Tracy believes that these media reports were serving a much larger purpose. Tracy created a timeline of the incident which includes not only the shooting at Sandy Hook but event prior to and following. According to Tracy, "the chronological assemblage of coverage is not comprehensive of all reports published on the incident but rather seeks to verify how the storyline was to a substantial degree constructed by federal and state law enforcement authorities and major media around the theory that 20-year-old Adam Lanza was the sole agent in the massacre."
Tracy believes that the media, and a political agenda, needed to have a lone gunman responsible for the Sandy Hook shooting. Tracy notes that Lanza being the only individual responsible "became an established reality through the news media's pronounced repetition of the lone gunman narrative and meme. This proposed scenario significantly obscured the fact that police encountered and apprehended two additional shooting suspects on the school's grounds within minutes of the crime. These suspects remain unaccounted for by authorities but the roles they may have played arguably correlate with the shifting information presented by authorities and major news media on injuries and weapons vis-à-vis the mass carnage meted out in the school."
The chronology begins with an article from September regarding Dawn Hochsprung, principal at Sandy Hook Elementary School who tragically died on Dec. 14, and the unveiling of a new security system at the school. Tracy follows this first post with other articles about emergency drills conducted at the school and California Sen. Dianne Feinstein's desire to ban assault rifles. From there, Tracy maps out what supposedly happened at Sandy Hook.
Tracy does not provide a lot of commentary with each individual post but it's clear he is trying to point out initial reports, including from eyewitnesses, that there was more than one gunman at Sandy Hook and that these individuals were reportedly in custody and media reports after the event never discussed the fate of these reported suspects. Tracy also notes the contradictory reports about Lanza, in regards to going to a gun range, and other details about the shooting. Tracy also sketches out the response by President Barack Obama, Feinstein, former Arizona Rep. Gabrielle Giffords and New York City Mayor Michael Bloomberg, all gun control advocates.
The blog post is unfinished, with more to be added, but Tracy has not been quiet about his purpose in crafting the Sandy Hook timeline. In an earlier post, Tracy lays out his thesis, saying "As documents relating to the Sandy Hook shooting continue to be assessed and interpreted by independent researchers there is a growing awareness that the media coverage of the massacre of 26 children and adults was intended primarily for public consumption to further larger political ends" and calls the media reports of the Sandy Hook shooting "constructed reality."
Further, Tracy argues, "Much can still be gleaned from the press coverage of Sandy Hook. Most importantly, as with the events of 9/11 that ushered in the interminable 'war on terror' and police state, the techniques that have emblazoned Sandy Hook in public consciousness require continued scrutiny if only for the fact that they will almost certainly be deployed to create similar disaster scenarios, likely in the near-term."
Tracy is known for his conspiracy theories, according to the Sun Sentinel of Fort Lauderdale, and his employer, FAU, does not support his claims. Tracy plans on continuing discussing Sandy Hook and its possible ties to gun control legislation in a course he is teaching at FAU and on his blog.
© Copyright IBTimes 2023. All rights reserved.