Profile: Russian tycoon Mikhail Prokhorov turns to politics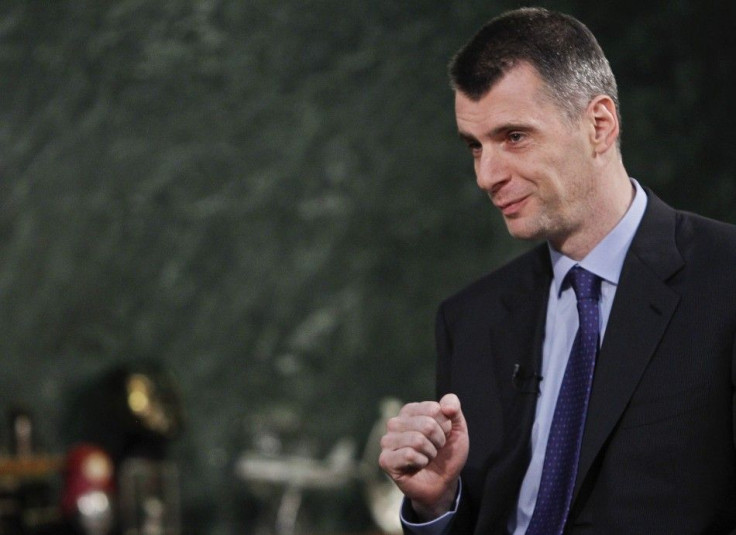 He is Russia's third richest man and has been described as its most eligible bachelor. He owns a top U.S. basketball team.
Now Mikhail Prokhorov is vying for his country's top office, reinventing himself as a politician with an obsession about Russia's future and a plan to put it on the right track.
In a career turn that would have seemed unthinkable for any of Russia's billionaire tycoons just a year or so ago, Prokhorov is seeking to run against Prime Minister Vladimir Putin -- in power for the past 12 years -- in a March 4 presidential vote.
Putin is expected to win despite declining popularity and big December street protests that exposed dissatisfaction among many Russians with his plan to return to the Kremlin. Prokhorov said he hopes to beat Putin, but made clear he views the vote as a springboard to a lasting political role.
Maybe it sounds a little bit corny, but I love my country, Prokhorov, who spent part of a fortune rooted in the 1990s privatization of a huge Arctic mining operation to buy the New Jersey Nets basketball team, told The Freeland File on reuters.com in an interview.
And really, I see a lot of problems -- and I know the answers.
His chances of success above all with liberal, middle class voters he targets may be clouded by resentment of Russia's oligarchs and suspicions that his candidacy is a Kremlin project meant to blunt opposition to Putin rather than increasing pressure on the paramount leader.
There was no portrait of Putin or President Dmitry Medvedev in Prokhorov's office, where he sat for the interview beneath a windowed dome. The trophies and artifacts lining shelves did not seem to point to a long interest in politics.
They included a Lladro porcelain basketball player making a shot, a gold-colored sneaker from sports veterans of Norilsk Nickel -- the metals miner he sold his stake in before the 2008 financial crisis -- and pieces ranging from a silver bull, as in 'bull market', to a mammoth and a Matryoshka doll.
Unmounted and obscured by a partition behind his big desk, however, a picture of Prokhorov with former Finance Minister Alexei Kudrin provided a hint of Prokhorov's liberal political agenda. Kudrin was forced out in September and is urging Putin to loosen his grip and enact democratic reforms.
In an interview with Reuters, he invoked Abraham Lincoln. His 204 cm (6-foot-8), somewhat gaunt frame and narrow face hint at a physical resemblance. Government should be of the people, by the people and for the people -- and we have had government at the expense of the people.
Putin, he said, had been very efficient for the first five or six years of his 2000-2008 presidency, but we need to change the strategy -- from stability to very active movement. Russia was lagging behind compared to the rest of the world.
We are ready to fight for the future of Russia being one of the most transparent, open, democratic countries of the world, said Prokhorov, 46, who wore an unassuming dark suit, blue shirt and patterned necktie. This is my obsession.
TIME FOR POLITICS
The biggest opposition protests of Putin's rule were fueled by suspicions that his United Russia party benefited from widespread electoral fraud even though its parliamentary majority was sharply cut in a December 4 election.
Both the vote result and the protests have shaken Putin's grip as he seeks at least six more years in power, showing many Russians are tired of a tightly controlled political system in which they feel they have no voice.
Prokhorov was a stranger to politics until last year, when he briefly headed a Kremlin-backed liberal party but quit in a dispute with Vladislav Surkov, the influential strategist behind Putin's consolidation of power.
But Prokhorov is widely seen as less of a challenge than a crutch for Putin; a safe candidate who could lend legitimacy to the presidential election and split the opposition.
Prokhorov poses no threat to Putin because he is practically a caricature of an oligarch whom millions of voters by definition will never support, said Nikolai Petrov, a political analyst at the Carnegie Moscow Center.
Prokhorov, who owns aluminum, gold and banking assets, is ranked by Forbes magazine as Russia's third-richest man and No. 32 in the world, with an $18 billion fortune.
A rare Russian bachelor at his age, Prokhorov has a reputation for late nights out and luxury ski vacations.
He caused a stir at home and abroad in 2007 when French police detained him on suspicion of arranging prostitutes for guests at the Alpine ski resort of Courchevel.
He denied any wrongdoing and was later cleared, but analysts say the incident undermines his political viability and could allow the Kremlin to keep him on a short leash.
Prokhorov has been embroiled in too many scandals to count on becoming a popular politician, Petrov said. He can always be held back.
Prokhorov disputed that view, contending that the playboy image was an attraction for some Russians -- and even calling the Courchevel incident the beginning of my political career.
A miracle happened. Because before the Courchevel case, nobody in Russia knew me, he said. After this I became more or less popular.
Prokhorov's background is no barrier for Tatiana Arshiyeva, a Moscow resident in a crowd that gathered when Prokhorov spoke to campaign workers and voters at Moscow's Central Telegraph Office this month.
Arshiyeva said she had not voted in many years but planned to vote for Prokhorov if election officials approve the two million petition signatures he has gathered since announcing his bid just over a month ago and put him on the ballot.
He is a new politician, and these are new times and I think Prokhorov has a promising future.
KHODORKOVSKY'S FATE
Not surprisingly, Prokhorov agrees. In the interview, he expressed confidence that both his basketball team and he himself would come out on top in the end.
For the Nets, his plan is to win the championship in five years, he said. To create a playoff team is very easy, but to create a championship team is ... another story. That's why we need to wait a little bit.
He vowed not to sell the Nets, joking that one of his first acts would be to move the U.S. National Basketball Association (NBA) to Russia.
As for his political career, he said: At the end of the day, I am sure I'll win.
If I was a winner in business, I want to be a winner in politics, he said.
Business and politics have proved a dangerous mix under Putin, who reined in Russia's tycoons during his first term as president.
Oil magnate Mikhail Khodorkovsky was arrested in 2003 and is due to stay in prison until late 2016 after two trials Kremlin critics say were part of a campaign to seize his assets and punish him for challenging Putin by funding the opposition.
Prokhorov said Khodorkovsky's fate was a very bad precedent, allowing officials at all levels to persecute businessmen for power and profit, and said he would free him immediately if elected.
But he said Khodorkovsky had made a crucial mistake by trying to be a politician and a businessman at the same time, and that he had stepped back from business activity while pursuing state office.
From prison, Khodorkovsky said Russia's shifting political landscape made Prokhorov's future -- and Putin's -- uncertain.
For now, Mikhail Prokhorov looks like a pure Putin project, though Prokhorov himself may not like that, Khodorkovsky said in an interview with Finnish newspaper Helsingen Sanomat that was published on his website last week.
But politics is more complex than a primitive scheme -- and judging by the December protests, politics is returning. So I will not try to predict Prokhorov's fate, and everything could change in the most unexpected way.
© Copyright Thomson Reuters 2023. All rights reserved.