Project Morpheus: Sony Reveals New Virtual Reality Headset At GDC 2014
Sony hopes its new VR technology will appeal to everyone.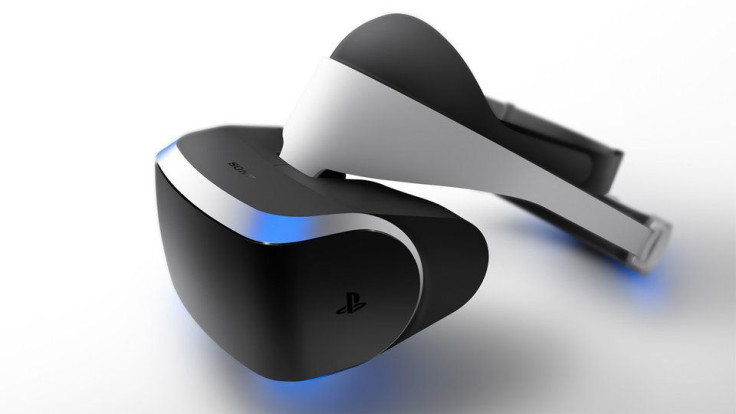 It's official. Sony is in the process of developing a new virtual reality headset. Shuhei Yoshida, President of Sony Computer Entertainment Worldwide, made the announcement at the Game Developers Conference in San Francisco on Tuesday.
The project, entitled Project Morpheus, is still in prototype form. Once available to buyers, the virtual reality device will be compatible with gaming and non-gaming software on the PlayStation 4.
"The industry has grown by creating technological advancements for video game players," Yoshida told attendees at GDC 2014. "Advancements that people maybe weren't expecting or thought was possible."
Yoshida also emphasized PlayStation's focus on "pushing the boundary of play," informing players "it's this focus that drives how we innovate and create the experiences we deliver to gamers."
Yoshida gave a brief presentation on the development process, using a modified version of action-adventure title "God of War" viewed from a first-person perspective, as well as various prototypes that dated back to 2010.
"We believe Morpheus will further enhance the world of PlayStation 4, with seamless integration with PlayStation Camera and PlayStation Move," Yoshida told the audience. "We will continue to improve on this prototype by gathering feedback from developers. That's why we unveiled it at GDC."
"The thing that makes VR special is really the feeling of being in another place... there's no way to explain it to you that will make sense, but it's that feeling of presence," Sony Magic Lab Head of Development Richard Marks added during the demo. "VR is going to be pervasive, and what I mean by that is it's going to be used for all sorts of things you might not think it would be used for."
According to the Verge, Marks discussed six areas of development that Sony needs to focus on in order for its VR technology to work property – sight, sound, control, tracking, content and ease of use. During the demo, Marks emphasized that VR is a medium, not a peripheral and that it will be designed for everyone. Marks also stated that he's been working on a special project with NASA and its Jet Propulsion Lab that will allow PS4 users to feel like they're on Mars.
"We really want it to be easy for people," he said, discussing the company's goal of making the technology appealing to different types of users. "We want it to be comfortable."
Are you excited for Sony's Project Morpheus? Leave a comment below or Tweet me!
© Copyright IBTimes 2023. All rights reserved.