Proud Boys Recruiting Women? Arizona Woman Facing Capitol Attack Charges Claims Membership
A woman claiming recruitment by the Proud Boys is creating some discussion among those who study right-wing extremism movements.
Felicia Konold, a 26-year-old Arizona woman charged in the Jan. 6 attacks on the Capitol, said in a Snapchat video a Kansas City chapter of the group recruited her. The Proud Boys are notoriously an all-male organization. It describes itself as "Western chauvinists " while espousing neofascist views and forbidding female members.
The Southern Poverty Law Center has followed the rise of the Proud Boys movement since its founding in 2016. The group claims no connection to the racist "alt-right," insisting its members are part of a fraternal group spreading a message of "anti-political correctness" and "anti-white guilt."
"It is ironic that such a deeply misogynistic organization has attracted someone who is a woman to join their organization," said Eric Ward, a senior fellow with the Southern Poverty Law Center. "It tells us there is dissension in the ranks of Proud Boys right now ."
Proud Boys were among the staunchest supporters of former President Donald Trump and played a prominent role at the Jan. 6 rally that turned into a mob storming the Capitol. But after Trump left Washington before President Joe Biden's inauguration, some members were quick to turn on him, according to the New York Times.
Konold offered as proof in her video a two-sided "challenge coin." The coin's markings indicate it does belong to the Kansas City Proud Boys.
"The fact she has that coin, the challenge coin, tells me there is something happening around gender in the Proud Boys – and it is something worth paying attention to," Ward said.
Former mixed martial arts fighter Tara LaRosa tried in December to form a Proud Girls group. There was a strong backlash from Proud Boys members on social media.
"Don't ride our coattails," one post said. "Want to support us? Get married, have babies and take care of your family."
Prosecutors say the Proud Boys began in December encouraging members to attend the Jan. 6 event in Washington. They also say in a court filing William Chrestmen recruited Konold and her brother. Prosecutors describe him as the leader of the Kansas City cell of the Proud Boys.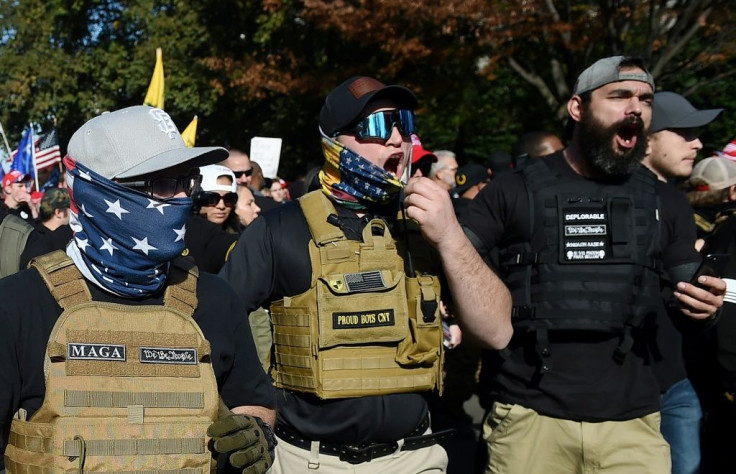 © Copyright IBTimes 2023. All rights reserved.