'Serial' Episode 10 Preview: Shrimp Sale At The Crab Crib, An Appeal And More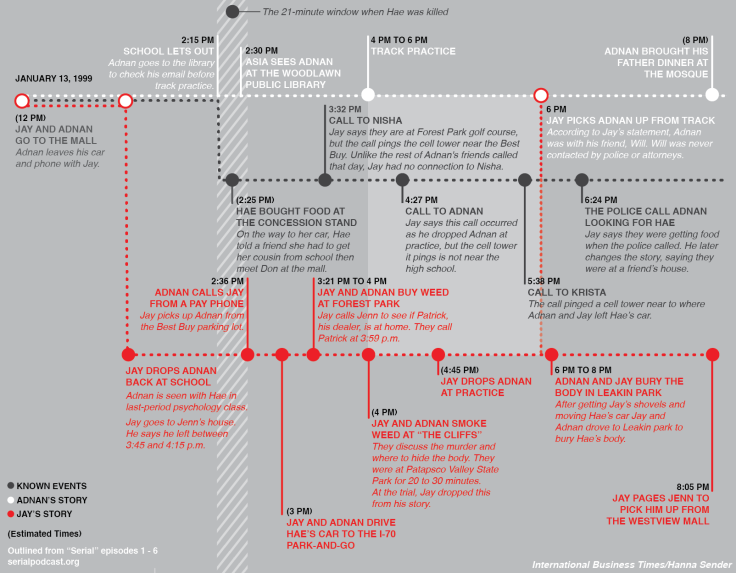 "Serial" is back. After taking a break for Thanksgiving, the "This American Life" spinoff examining the 1999 murder of Hae Min Lee and the conviction of Adnan Syed returns with a new episode. What can fans expect from Sarah Koenig's investigation?
Perhaps the biggest news related to "Serial" is the possible appeal of Syed's case in January. Syed has spent 15 years in jail, but his lawyer, C. Justin Brown, said there will be an appeal hearing in January, WBAL Baltimore reported. "I joke that when I was hired to do Adnan's appeal I was a freewheeling single man and now I'm married with two kids. It's been a lengthy process. There are three parts to the legal process: a trial, then an appeal, then you have post-conviction relief. This is the last step," Brown said to WBAL.
Brown established the appeal on much of the same evidence Koenig has mentioned in "Serial." The Asia McClain letters are a big part of Brown's contention that Syed had ineffective counsel, notes WBAL. McClain was never interviewed by Syed's attorney, Cristina Gutierrez, and she did not testify during the trial despite saying she saw Syed at the Woodlawn Public Library around the time the murder took place. Gutierrez did not establish a plea deal option for Syed, Brown says.
As for where we left off on "Serial," episode 9, "To Be Suspected," examined new evidence that altered the timeline and would have a tremendous impact on Jay's version of how Adnan killed Hae. Summer, Hae's friend and co-manager of the boy's wrestling team, said there was no way Hae was dead by 2:36 p.m., while Laura says there were no public phones at Best Buy. Koening ended the episode by introducing the concept of reasonable doubt and Gutierrez's tactics to convince the jury Adnan was innocent, or innocent enough to not be convicted.
The "Serial" subreddit continues to be a great source for new insights and discussion on theories and related cases. If you can't get enough "Serial," you can now carry it with you. A "Serial" notebook is available for preorder here.
© Copyright IBTimes 2023. All rights reserved.