'The Punisher' Spoilers: New Trailer Highlights Frank's Family
The latest "Marvel's The Punisher" trailer reveals more new footage from the upcoming Netflix drama, but it also reminds fans of why the Punisher became a killer: for his family.
The new clip starts with Frank Castle (Jon Bernthal) hanging out with his two kids and his wife. They seem to be bonding and having fun, and we even see them on a carousel that "Daredevil" fans will likely recognize. "There's plenty of time now that you're home," Frank's wife says lovingly. Then she gets shot in the head.
After a covert CIA operation leads someone to destroy Frank's family, the former soldier wants revenge. That's why Frank is killing any bad guy he can find. However, he won't be a lone wolf for long. The trailer introduces us to Micro (Ebon Moss-Bachrach), a former NSA analyst who has gone off the grid. Apparently, Micro has some personal vendettas too.
"You and me, we want the same thing. So work with me," Micro reasons.
"On one condition: I'm gonna kill 'em all," Frank says. Micro doesn't have an issue there.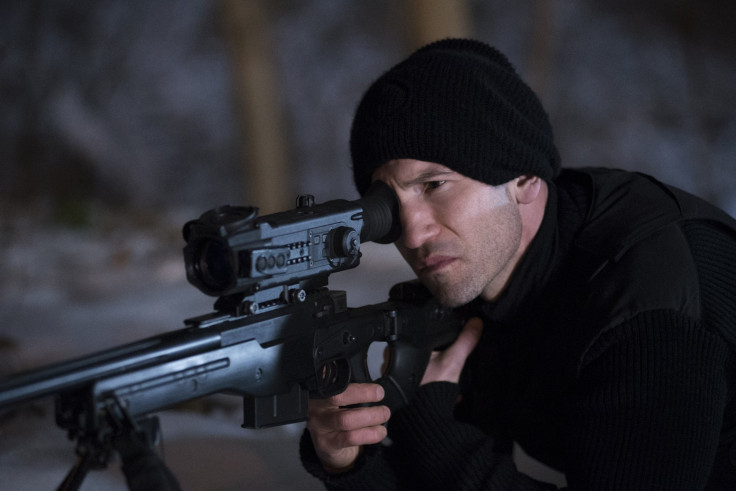 The rest of the trailer makes it very clear that the Punisher is going to get into a lot of violent fights and kill a bunch of people. Metallica's "One" plays as Frank goes after tons of criminals. Unfortunately, it doesn't seem like it's just the bad guys getting hurt. Both he and Micro seem to be in trouble in different scenes.
The promo video ends with some government agents (Michael Nathanson and Amber Rose Revah) discussing the Punisher's return. He was thought to be dead, but his handiwork gives him away.
"The truth must be taken," the trailer warns.
Watch the "Punisher" trailer below:
It's just enough background information for those who haven't seen "Daredevil." As usual, the Marvel TV series is connected to all the other Marvel Television titles, but watching everything else is unnecessary. As previously reported, it doesn't seem like this drama will connect much to "The Defenders" or its sister series. Star Jon Bernthal even noted that there would be less superhuman elements than most Marvel shows have.
"We are stripping down every supernatural element," Bernthal recently told Entertainment Weekly. "This show is different. It looks different. Frank is a character rooted in the most basic human emotions… He's a comic-book character, but he doesn't fly, he doesn't have X-ray vision. He's an unbelievably skilled soldier who's been very, very angry and very, very hurt."
That isn't to say there won't be any connections. Deborah Ann Woll's Karen Page, who grew close to Frank in "Daredevil" Season 2, will appear in "The Punisher." However, this new show will be the first Marvel drama on Netflix to exclude Claire Temple (Rosario Dawson).
While the trailer reveals a lot, it doesn't tell fans the one thing they really want to know: the premiere date. The show is being released in 2017 and with only a few months left, "The Punisher" should be coming out soon. However, the end of the trailer still obscured the exact release date.
Fans might find out more at New York Comic Con. "The Punisher" will be having a panel at the Manhattan convention on Oct. 7. The Netflix drama will take over the Theater at Madison Square Garden for their Saturday panel.
© Copyright IBTimes 2023. All rights reserved.