Qatar Joins Middle East Military Buildup By Buying French Rafale Fighters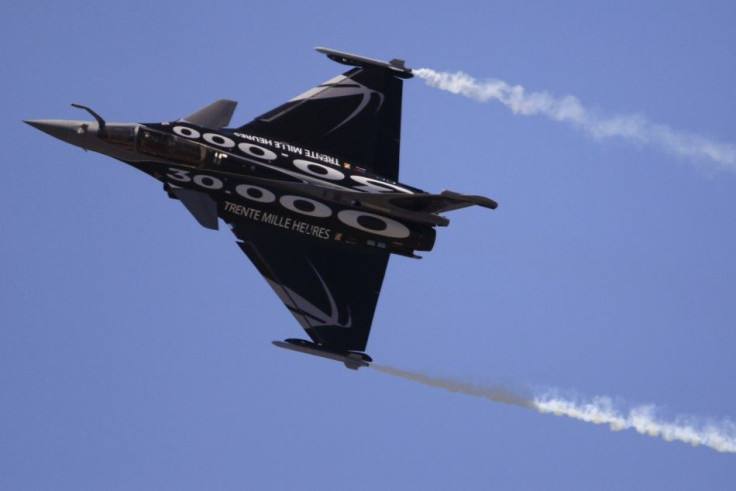 Qatar has agreed to pay $7.1 billion to French aircraft manufacturer Dassault Aviation for 24 Rafale fighter jets, according to government officials. The deal, announced Thursday, includes missiles from U.K.-based weapons manufacturer MBDA, 100 mechanics and training for 36 pilots.
The importance of the deal -- the biggest export order for the Rafale to date, together with the sale of 36 planes to India -- is such that French President François Hollande himself is attending the signing. "At the invitation of Sheikh Tamim bin Hamad Al Thani, the emir of Qatar, the president of the Republic will go to Doha on Monday to attend the signing of contracts between Dassault Aviation and MBDA, and Qatar, as well as the intergovernmental agreement which sets the framework for cooperation between our two countries," the president's office said in a statement.
The first delivery of the French twin-engine fighter, in some ways the most advanced warplane that Europe has today, is expected in 2017, said the French Ministry of Defense.
The deal comes as the Middle East experiences a rapid increase in military procurement in 2015, fueled by the threat of heavily armed extremist groups operating in Syria, Iraq and Yemen, as well as continuing tensions between Iran and Persian Gulf states led by Saudi Arabia.
Iran recently signed a deal with Russia for an advanced missile defense system, causing outrage in Israel and the United States, even as the U.S. leads the group of nations known as the P5+1 that are negotiating a deal on the Iranian nuclear program that could see sanctions on Iran lifted soon.
Qatar has a long history with the French jet manufacturer Dassault. The emirate currently fields the Dassault Mirage 2000 and flew Mirage F1s in the past. But the deal for the Rafale significantly increases the small Gulf country's aerial prowess.
Behind Egypt and India, Qatar will be the third country to purchase Rafale jets. Egypt placed a $5.8 billion order in February for 24, while India bought 36 for an undisclosed sum. Including the Qatar contract, France has made nearly $16 billion of arms sales this year.
"This new success for the French team demonstrates the Rafale's operational qualities and confirms the confidence that countries which are already users of the Mirage 2000 have in our company," said Eric Trappier, chief executive of Dassault.
© Copyright IBTimes 2022. All rights reserved.
FOLLOW MORE IBT NEWS ON THE BELOW CHANNELS