Queen Elizabeth Looks Delighted Being With Handsome Princes Philip, Charles In Photo
Queen Elizabeth was unable to forge a close relationship with her four children. And there were also instances wherein her photos with her kids made her look as though she wasn't having fun.
But there were also those rare instances wherein Her Majesty looked as though she was having the time of her life to be around her kids and husband, Prince Philip.
One such instance took place decades ago when Prince Charles and Princess Anne were just teenagers. The Mountbatten-Windsor family posed outside the palace, and the Queen looks so beautiful with her genuine smile. It was evident that Her Majesty was enjoying her time with her kids and husband at that time.
Also, in the snap is a handsome-looking Prince Philip. His thin hair is fixed neatly over his head. He is wearing a brown collared cardigan and dark pants. He is standing behind his wife and beside a young Prince Andrew.
The Duke of York isn't looking straight into the camera. He is wearing a bluish-green collared shirt and black pants. Prince Andrew's teeth are also showing amid his huge smile.
Standing beside Prince Andrew is his older brother, Prince Charles. The Prince of Wales is wearing a yellow long-sleeved polo shirt and tartan skirt. Even though the picture was taken decades ago, Prince Charles still looks exactly like how he looks now – but he's obviously much younger back then.
Sitting in front of Prince Charles is his younger sister, Prince Anne. She is also wearing a yellow long-sleeved polo shirt and tartan skirt. Princess Anne also has a beautiful smile on her face. But unlike Prince Charles, it is evident how much Princess Anne's appearance has changed throughout the years.
In between Princess Anne and the Queen is the youngest member of their family, Prince Edward. He is wearing a red collared shirt, and he also has a faint smile on his face.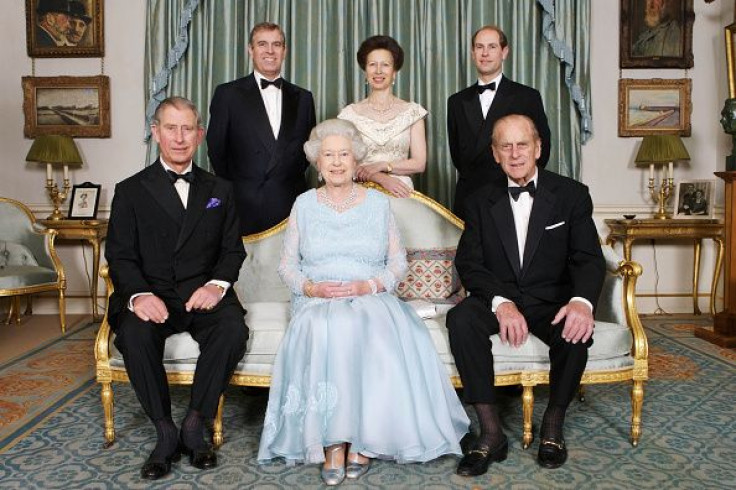 © Copyright IBTimes 2023. All rights reserved.