Queen Elizabeth Visits 'Game Of Thrones' Set, Doesn't Sit On The Iron Throne [PHOTO]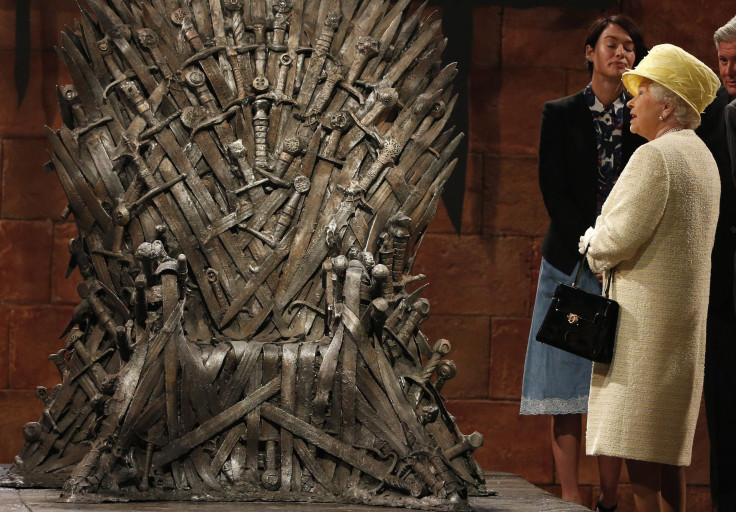 Could Britain's Queen Elizabeth II rule over Westeros? As part of their three-day Northern Ireland royal tour, Queen Elizabeth II and Prince Philip, the Duke of Edinburgh, paid a visit on Tuesday to the set of one of television's most popular shows, HBO's "Game of Thrones."
Despite speculation that the British royal may be a fan of the hit HBO series, based on the George R. R. Martin "A Song of Ice and Fire" series, Queen Elizabeth II, 88, reportedly didn't sit on the famous Iron Throne featured on the show.
"DO IT, DO IT" BuzzFeedUK's Alan White posted to Twitter on Tuesday alongside an image of the Queen looking at the throne. White later shared an image of the Queen leaving the set alongside the caption, "BREAKING: HER MAJESTY DOES NOT CARE ABOUT VIRAL TRAFFIC."
The Queen and the Duke of Edinburgh met on Tuesday with cast and production members on the series Belfast set, where the series stars are rumored to begin filming its highly anticipated Season 5 later this year, the BBC noted.
The official "British monarchy" Twitter confirmed the Queen and the Duke's visit to the show's set on June 18 via Twitter. The monarchy caused a stir among fans of the series after using the show's popular hashtag (#GOT) to finish off the announcement.
© Copyright IBTimes 2023. All rights reserved.