Rachel McAdams On Her Return To 'Doctor Strange': 'It Feels Great'
Rachel McAdams spilled the reason why she decided to return to the Marvel Cinematic Universe on "Doctor Strange 2."
McAdams decided to join "Doctor Strange in the Multiverse of Madness" when Scott Derrickson was replaced by director Sam Raimi.
"Well, I mean, to get to work with Sam," McAdams said in an interview with Variety. "And I said, 'Sam, I'm pregnant. Is that okay?' But of course, he can't say it's not."
McAdams starred as Benedict Cumberbatch's love interest in 2016's "Doctor Strange" as Dr. Christine Palmer. Cumberbatch's character went on to join the Avengers in fighting supervillain Thanos in the Infinity Saga without McAdams. The "Mean Girls" alum, meanwhile, reprised her role in the animated superhero anthology series on Disney Plus "What If?" in 2021 but in a voice-over capacity.
Talking about her return, McAdams continued, "He was like, 'This is great. Let's do it.' And I've got lots of exciting ideas for Christine and her evolution. He took me through the whole journey and it just sounded really fun and thoughtful and I was excited to come back."
In the movie, Palmer will be seen wearing a wedding gown and traveling the multiverse with Doctor Strange and Latina superhero America Chavez (Xochitl Gomez). The characters will be exploring different realities as they traverse the multiverse and play various versions of themselves.
"It feels great to be back," McAdams told the outlet, recalling how her character found love since the last time she was seen in the movie franchise. When asked how her character found her man, the 43-year-old actress replied, "Well, his job kept changing. So my backstory had a hard time keeping up. He was a pediatrician, and then he was a teacher, and I can't remember where we landed in the end, but I just assumed they met at a bar in New York."
In an earlier interview with Marvel Entertainment at the red carpet world premiere of "Doctor Strange in the Multiverse of Madness" in Hollywood, McAdams raved over her return to the movie and described the experience as "amazing."
"You're like, 'Oh, so, I didn't burn any bridges,'" she said with a laugh.
In reprising her role, the actress said she comfortably went back to her notes to get back into character. "The nice thing about this movie is we're playing different versions of ourselves so you kinda get to start fresh," she said.
"Doctor Strange in the Multiverse of Madness" opened in theaters on May 6.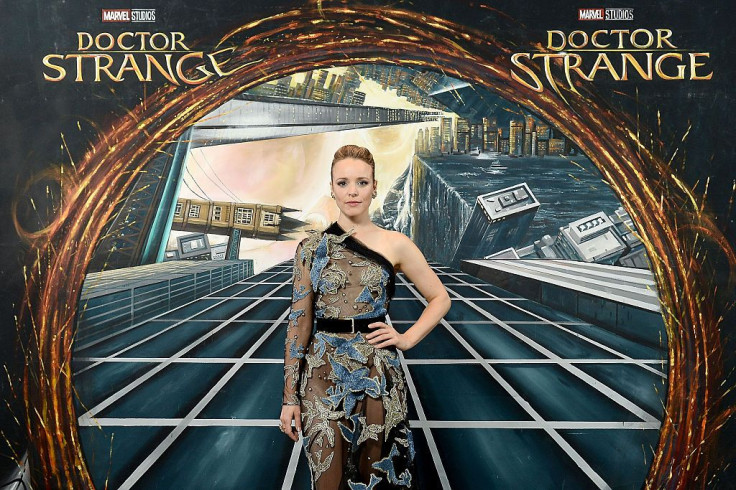 © Copyright IBTimes 2023. All rights reserved.