Rail Strike Could Have $160B Impact On Economy, Shut Down Manufacturing: Chemical Industry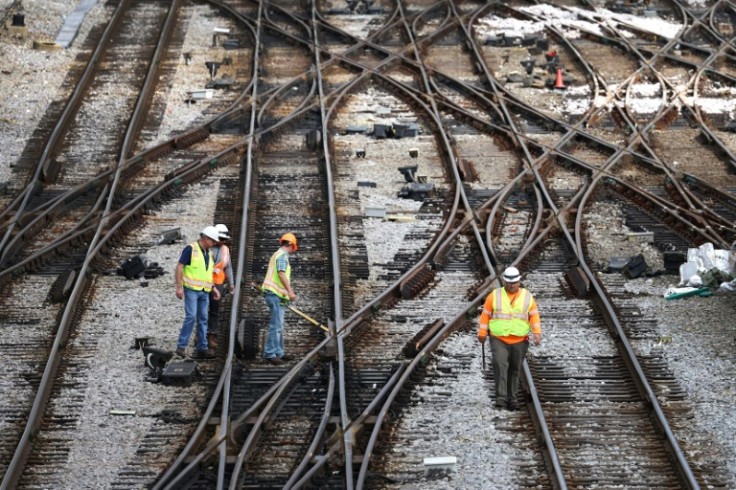 Railway workers could start striking as soon as Dec. 9 in a move that has the potential to cost the economy billions and shut down American industry.
An economic analysis report released by the American Chemistry Council warns that a rail strike lasting from six to seven days could cause job losses in multiple industries, an economic slowdown, and a spike in inflation.
The ACC represents companies such as 3M, Eli Lily, Exxon Mobile, and BP. Chemical manufacturers are one of the largest users of the railway system and transport over 33,000 carloads of products by train weekly.
The analysis estimates that $2.8 billion of chemical cargo is moved weekly. A month-long strike could cost the economy $160 billion in revenue. The analysis also indicated that a halt in carrying cargo would cause manufacturing plants to shut down because chemical facilities would run out of storage for the excess product.
"The threat of a rail strike comes at a time when companies are experiencing major supply chain challenges related to freight rail delays and service problems," the report read.
One of the largest complications of a rail worker's strike is the time frame, as reported by CNBC. In September, a strike plan was released by railway unions before they reached a tentative deal.
The plan said that freight companies would begin securing critical chemical cargo, such as chlorine for drinking water, over less important cargo seven days before the strike began. Ninety-six hours before the start of the strike, chemical cargo would no longer be moved.
The nation's two largest rail unions are waiting for voting results to ratify the labor deal proposed by President Joe Biden's Presidential Emergency Board. International Association of Sheet Metal, Air, Rail, and Transportation Workers (SMART-TD) and the Brotherhood of Locomotive Engineers and Trainmen (BLET) voting results will be public on Nov. 21.
All 12 labor unions must ratify the deal to avoid a nationwide railway shutdown. As of Nov. 9, seven unions had ratified the agreement, according to the Association Of American Railroads.
Brotherhood of Maintenance of Way Employees Division, the third largest railway union, voted against the deal in October, saying that the contract did not provide enough paid time off and better working conditions. The contract is now back under negotiation.
The Association of American Railroads warns that a strike would be felt in every sector of the economy. Congress could take action under the Railway Labor Act, but that decision has yet to be made.
© Copyright IBTimes 2023. All rights reserved.