'Rambo' Reboot With Sylvester Stallone In The Works At Fox Following Big Box Office Weekend For 'Creed'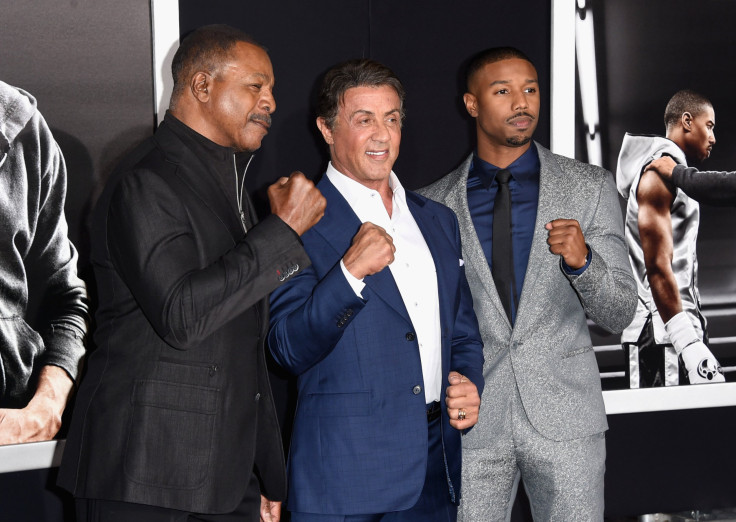 "Creed," the new boxing drama that revives Sylvester Stallone's iconic movie pugilist Rocky Balboa, may have been the box office underdog going into Thanksgiving weekend up against the final "Hunger Games" movie, but it turned in a performance worthy of a champ. The unofficial "Rocky 7" film earned $42.6 million over the five-day holiday weekend and Stallone is riding that success into a reboot of another one of his fan favorite characters -- John Rambo.
According to Variety, Fox is ordering the script for a one-hour drama based on the "Rambo" franchise. Stallone is on board as an executive producer alongside Avi Lerner. Titled "New Blood," the reboot will explore the fractured relationship between the troubled Rambo and his ex-Navy SEAL son, J.R. Stallone may reprise his role of John Rambo in a manner similar to Bradley Cooper's involvement in the "Limitless" TV adaptation -- appearing in the pilot and select subsequent episodes, but largely staying off-screen. Fox reportedly hopes to replicate the success of CBS' film-to-TV transition with "Limitless" and avoid the ratings disappointment of it's last film-inspired venture, a "Minority Report" reboot.
Stallone may have the momentum to make the new show a hit. The actor is fresh off a huge box office success with "Creed." Starring Michael B. Jordan, the movie depicts an aging Rocky Balboa (Stallone) mentoring the son of his former rival (Jordan). While "The Hunger Games -- Mockingjay Part 2" held on to the top spot at the box office over Thanksgiving weekend, "Creed" exceeded expectations with a $42.6 million five-day opening, including $30.12 million between Friday and Sunday, according to Forbes. That is enough to mark the tenth biggest Thanksgiving weekend box office opening of all time.
Watch the trailer for "Creed" below:
Will Stallone continue his hot streak with the "Rambo" reboot? Only time will tell. "Creed" is currently in theaters nationwide.
© Copyright IBTimes 2023. All rights reserved.