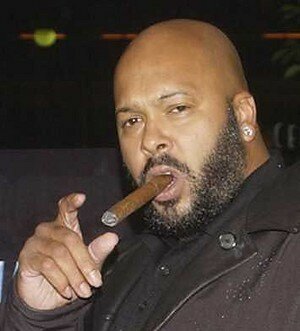 TMZ is reporting that West Coast rap mogul Suge Knight was arrested Wednesday in Las Vegas after he was pulled over for a traffic violation and Officer Laura Meltzer found less than an ounce of marijuana in the car, according to the Associated Press.
The former Death Row Records CEO was sentenced just last August to three years of unsupervised probation, according to TMZ, after he was caught driving without a license.
Knight, born Marion Knight, Jr., rose to prominence in the early '90s after his artists, which included Tupac Shakur, Dr. Dre, and Snoop Dogg, became the faces of West Coast hip-hop. He had a violent reputation, and has been suspected in the killings of Tupac and the Notorious B.I.G., in what was the height of the 1990s East Coast-West Coast rap rivalry.
With his glory days behind him, Knight has been implicated in multiple crimes in recent years, including the 1998 beating of his girlfriend outside of a Las Vegas strip club, during which it was alleged that he was under the influence of ecstasy and the opioid painkiller hydrocodone. He has also been on the receiving end of violence a number of times, including most recently at a private party at the 2009 NBA All-Star Game, during which hip-hop artist Akon's manager punched Knight in the face at least twice.
Suge Knight's career appeared to be on the rebound when he became the manager in October of Atlanta-based rapper Waka Flocka Flame and his 1017 Brick Squad record label.