Rare Books Worth $3.3 Million Returned To Owners After 'Mission: Impossible' Burglary In UK
KEY POINTS
Rare books with "cultural significance" that were stolen from a London warehouse have been returned to their owners
London's Metropolitan Police worked on the case of three years
The books recovered included works from Galileo, Sir Isaac Newton and Francisco Goya
Hundreds of internationally important and "culturally significant" books worth over $3.3 million have been given back to their rightful owners after a gang of Romanian men stole them from a warehouse situated in Feltham, London.
The 240 rare books, stolen in 2017, were found hidden at a house in Romania and transported to the National Library in Bucharest, according to a press release from London's Metropolitan Police.
The burglars, who descended from the warehouse's ceiling to steal the books, were called the "Mission: Impossible" gang by the U.K. media. In the first "Mission: Impossible" movie, Tom Cruise abseiled into a vault to copy the NOC list from the CIA headquarters.
Police said the books included rare works from Galileo, Sir Isaac Newton, and the 18th-century Spanish painter Francisco Goya. The statement also explained that 83 of the books recovered suffered some damage from water and mold because they were hidden underground.
Speaking about the recovery operation, Andy Durham, the detective inspector who led the investigation, said that the owners were really happy after being "reunited" with their precious collections.
"It was lovely to see the joy of each victim being reunited with these irreplaceable books," Durham said in the statement.
"In particular, the moment when one of the victims - Alessandro Bado – set eyes on the books at the library, and once he had seen the condition of a few of the most important books that he was emotionally attached to, he was so happy and said with great gusto: 'Tonight we drink like Lions'. This made my day, seeing his reaction and joy," he continued.
The Metropolitan Police was assisted by the Romanian National Police in conducting the operation, which took three years to complete.
Alessandro Riquier, a resident of Italy, noted that he waited for "three and a half years" to be reunited with his books. He congratulated the law enforcement agencies for achieving such a "great result."
"I was very excited and it was a great joy to handle my books again and to see that apart from one missing, and four books with variable damage, all the books were in good condition. Everybody was happy, the UK Metropolitan Police officers, the members of the Romanian Police and the Carabinieri, were all fantastic in achieving this great result. My special thanks go to them all," Riquier told the police.
Meanwhile, it has also been reported that four books have not yet been recovered.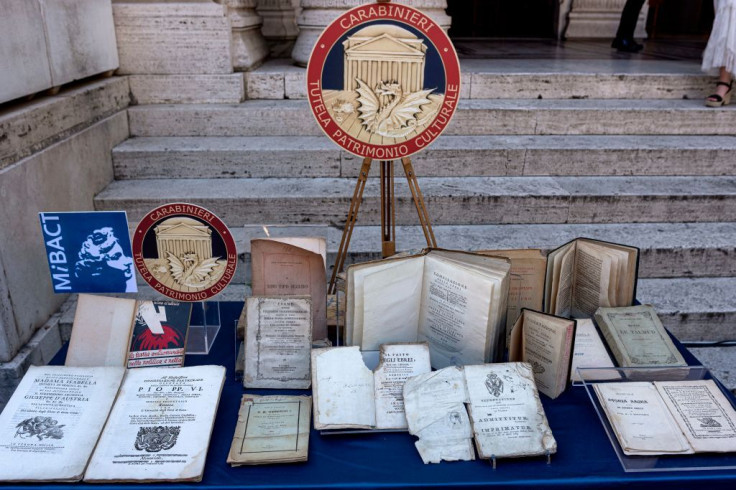 © Copyright IBTimes 2023. All rights reserved.