Rare Sierra Nevada Red Fox Captured On Camera In Yosemite National Park [PHOTO]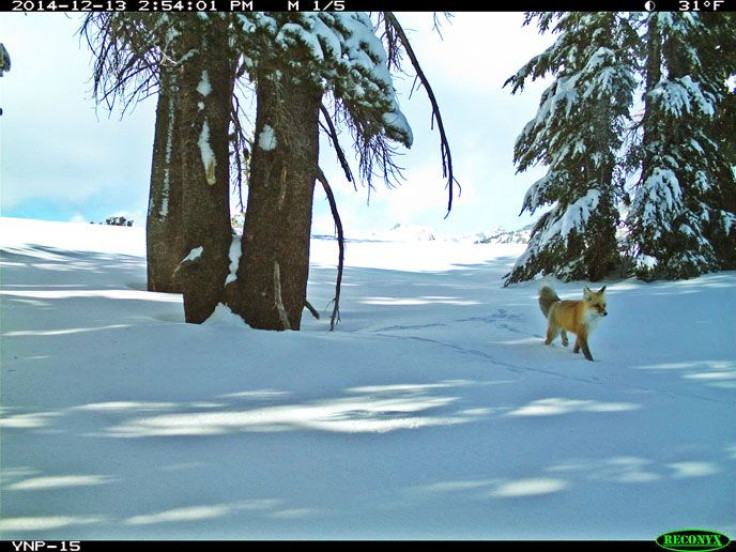 For the first time in nearly 100 years, a Sierra Nevada red fox was spotted at Yosemite National Park. Yosemite officials confirmed that the animal was captured by motion-sensitive cameras set up in the park's backcountry on Dec. 12 and Jan. 4, CBS 13, reports.
"We are thrilled to hear about the sighting of the Sierra Nevada red fox, one of the most rare and elusive animals in the Sierra Nevada," Don Neubacher, Yosemite National Park Superintendent, said in a statement released Wednesday. "National parks like Yosemite provide habitat for all wildlife and it is encouraging to see that the red fox was sighted in the park."
The confirmation was made after two park biologists embarked on a five-day trip in the park's backcountry to check on the motion-sensitive cameras that had been set up earlier. Footage showed two instances when the rare fox was captured on camera.
Fewer than 50 Sierra Nevada red foxes are believed to exist, making it one of the rarest species in North America. Unlike other red foxes, the Sierra Nevada fox inhabits remote high-elevation parts of the Sierra Nevada and southern Cascade mountains. Due to its small population, reduced genetic diversity and habitat threats from logging, off-road vehicles, livestock grazing and fishing, the animal is considered a threatened species.
The last verified sighting took place in 2010 near the Sonora Pass, located about 70 miles north of Yosemite National Park. After that sighting – which was a first in two decades – Yosemite established a mammal-sighting program to document the elusive Sierra Nevada red fox in its boundaries. Each camera station is armed with a hair snare to catch hair samples for genetic analysis.
"Confirmation of the Sierra Nevada red fox in Yosemite National Park's vast alpine wilderness provides an opportunity to join research partners in helping to protect this imperiled animal," Sarah Stock, a wildlife biologist at Yosemite National Park, said in a statement. "We're excited to work across our boundary to join efforts with other researchers that will ultimately give these foxes the best chances for recovery."
© Copyright IBTimes 2023. All rights reserved.