Real Madrid Transfer News: Suarez, Aguero And Falcao On The Radar To Replace Benzema In January?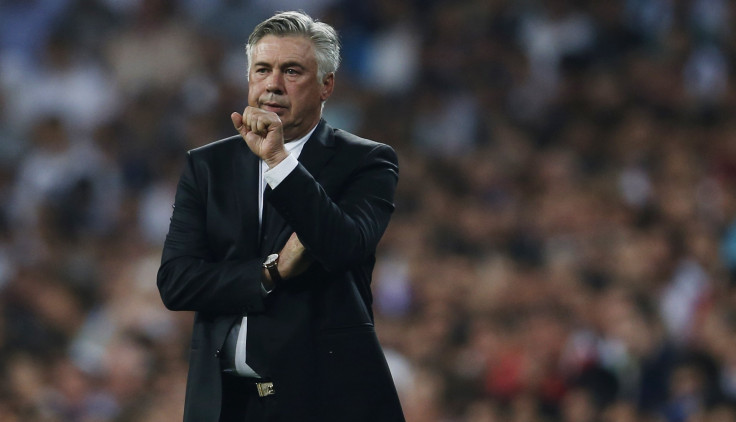 It has not been an easy start for Carlo Ancelotti at Real Madrid. The side has won a reasonable six of their first eight La Liga matches, but their one defeat came against city rivals Atletico, whom they trail, along with Barcelona, by five points. And even their last two league wins -- against Elche and on Saturday at Levante -- were only secured by injury-time winners.
There remain obvious problems with the balance of the team, even before trying to integrate Gareth Bale. Another notable issue for Ancelotti, though, is the form and confidence of striker Karim Benzema. Being freed from the constant competition with Gonzalo Higuain has done little to aid the France international and he has just two goals in eight league appearances to date. More of a worry is the negative treatment he has received from the club's own fans and the effect it appears to be having on his morale. That there is a 20-year-old home-grown talent in Alvaro Morata itching to get on from the bench presents Ancelotti with a dilemma. Benching Benzema will hardly improve his morale, while it is likely too early to rely on Morata week in, week out.
The Italian may be left with the solution of reentering the transfer market in the January window. The Guardian is one of the publications under that belief and reports that Real Madrid are considering making an offer for Manchester City striker Sergio Aguero in the New Year.
Madrid have been linked with the Argentinian since his days at Atletico. Indeed, Aguero has previously intimated that he would have moved to the Bernabeu if it had have been possible in 2011. According to The Guardian, Madrid identified Aguero as their prime target this summer before he signed a one-year extension to his contract with the Premier League side. And the 25-year-old has said that he is not considering moving on.
"I'm very happy at City, very happy since the day I came," he told The Guardian. "I knew that the project was good and in my head there is nothing else but Manchester City, so how long I'm going to be at City is just never a question."
Also on Madrid's radar this summer was another former Atletico striker, Radamel Falcao. The Colombia international ended up moving to big-spending Monaco for £60 million. Yet, reports of a possible transfer to Madrid have not diminished with suggestions that Falcao is not happy in the principality. A move would be less complicated now for Madrid than it would have been when having to pry him away from their fierce rivals. Unlike Aguero, Falcao also wouldn't be cup-tied for the Champions League.
Another player linked this summer and who continues to be the object of speculation is Luis Suarez. The forward went public on several occasions about his intent to leave Liverpool as well as his desire to join Real Madrid. However, with Madrid focusing on signing Bale and Liverpool refusing to countenance an offer form Arsenal, the Uruguayan stayed put. He has since returned to action after a lengthy suspension and the relationship between player and club appears on the mend. But Edinson Cavani believes that his Uruguay teammate is still holding out for a transfer to the Bernabeu.
"He is the most complete striker in England -- and one of the most complete strikers in the world," he said, according to the Daily Mail. "Ability and confidence is no issue for him, he will score a lot of goals this season I am sure.
"I am sure Liverpool fans are very happy Luis stayed -- he will be a big player for them. I think Arsenal was not Luis's dream move, maybe if it had been Real Madrid then it would have been a different outcome -- but of course Madrid were concentrating on a different target this summer. It is his dream club -- and a club he thinks is worth waiting for."
© Copyright IBTimes 2023. All rights reserved.