Real Madrid Transfer News: Tottenham's Gareth Bale And Kyle Walker In? Luka Modric To Manchester United, And Xabi Alonso To Liverpool?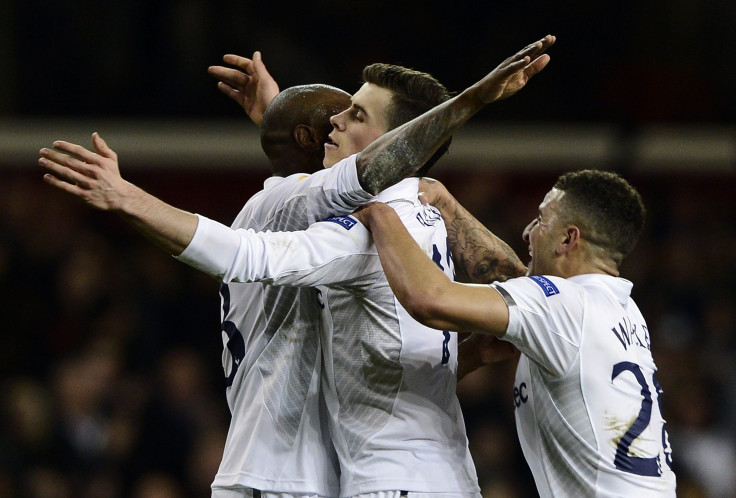 Reports continue to surface surrounding Real Madrid's interest in reloading their already star-studded line-up, and once again the Spanish giants are targeting talent from Tottenham Hotspur.
Thirteen points out of first place in La Liga, Los Blancos are turning their attention to the summer transfer window, and are eyeing Spurs stars Gareth Bale and Kyle Walker, according to several sources.
Arguably the most dynamic player in the Premier League at the moment, Bale has Tottenham perched in third place in the Premier League with 16 goals to his name, seven of which have come in Spurs' last six games.
Bale's recent heroics have the world taking notice, and Real Madrid are reportedly putting together a package of £110 million to land the winger, according to the Daily Mirror.
Madrid are prepared to offer the Welshman £10 million per year, in a five-year £60 million deal, but Tottenham will try to keep him at White Hart Lane with a £170,000 per-week salary. Bale was also spotted at Madrid's Champions League match against Manchester United, which may lead some to believe that his days in north London are numbered.
While Madrid could be frontrunners for Bale, he has drawn interest from other top clubs. Bayern Munich, Manchester City, and Chelsea may also compete with the Spanish giants to land Bale in the summer.
The price tag for Walker won't be on the same scale as Bale's, but Spurs are expected to hold out for a considerable sum for the young right-back. The 22-year-old has a £14 million market value, but Spurs are asking for a minimum of £15 million, according to The Daily Mail.
Walker may be a worthy replacement at right back for Alvaro Arbeloa, who could be in his final season at the Bernabeu. The 30-year-old signed a five-year deal with Real Madrid in 2009.
After coming through the ranks at Sheffield United, Walker has made 68 career appearances for Tottenham, and won four caps for England.
A possible deal for either Bale or Walker, or both, may seem plausible since Tottenham and Real Madrid have a working relationship after the summer negotiations over Luka Modric. The star playmaker moved to Real Madrid from Tottenham for £33 million in a deal that has generated a great deal of criticism for Modric's lack of playing time.
Modric, meanwhile, could be on his way to Manchester United, according to The Daily Mail. The speculation comes despite the 27-year-old scoring a fantastic and crucial goal against United in a 2-1 victory that advanced Madrid to the quarterfinals of the Champions League last week.
Modric has made 22 appearances in all competitions this season, and while he is not actively asking for a transfer, he is reportedly open to a switch.
Los Blancos may move another midfielder back to the Premier League as Xabi Alonso has decided not to renew his contract with Madrid, according to The Express. The 31-year-old has been with the club since 2009, and it appears that Real Madrid are interested in overhauling their midfield.
The contract situation has put Alonso's former club, Liverpool, on high-alert. He spent five years at Anfield, from 2004 to 2009, and was a huge fan favorite. His current market value has been pegged at £22 million, and his contract expires in 2014.
Much of Real Madrid's summer plans will almost certainly hinge on the status of Jose Mourinho. There has been strong speculation that the famed manager is interested in returning to the Premier League, and will depart from Madrid at the end of the season.
© Copyright IBTimes 2023. All rights reserved.