Real Madrid vs. Barcelona 2014: How The Clasico Duo Fared In The Past Year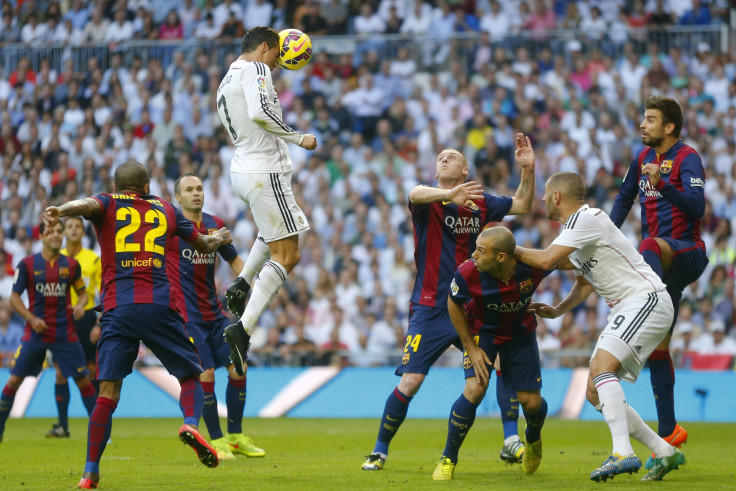 After Barcelona reigned supreme under Frank Rijkaard and then emphatically Pep Guardiola, 2014 was the year when Real Madrid decisively regained the advantage in soccer's most famous rivalry. Following a run of six La Liga titles in nine years and three Champions League crowns in five years, Barcelona went through 2014 without a trophy, while Real Madrid hovered up three pieces of major silverware and a Spanish record run of consecutive victories to finish the year as the most dominant club in Spain and arguably the best in the world.
The year began with both teams in manner of transition, with Barcelona still clinging to their glory years, but trying to integrate a new star in Neymar under a new coach in Tata Martino and Real Madrid still striving to find the right balance in their lineup of attacking stars. The deficiencies and undeniable talents of both were on show in a thrilling first Clasico of the year as Barcelona triumphed 4-3 at the Bernabeu to get a crucial three points in their quest to retain their title.
Of course, while the two rivals dueled it out, Atletico Madrid upset both in incredible fashion to break the Clasico stranglehold over the Spanish title. Despite never truly convincing throughout the season, Barcelona went into the final day knowing that a win over Diego Simeone's side at home would see them crowned champions. But a 1-1 draw and the manner of it summed up the decline in Barcelona's once close to unstoppable rhythm of probing passing and incessant pressing. With Xavi's influence declining and Lionel Messi now seemingly human, Barcelona lacked direction, not only on the pitch but off it, where president Sandro Rosell resigned after allegations of impropriety over the transfer of Neymar.
Real Madrid, meanwhile had taken their eye off the league as they chased a 10th European Cup. Yet a stunning goal from Gareth Bale had already given them the Copa del Rey courtesy of a victory over Barcelona in the final. A sense that something special awaited truly emerged when Madrid recorded a sensational 5-0 aggregate win over champions Bayern Munich in the semifinals of the Champions League. Madrid had become a more possession-centered team under Carlo Ancelotti, but the tie was further evidence that the Italian was soccer's greatest pragmatist, without a real tactical identity but instead always molding his approach to the players at his disposal and the opponents in front of him. After being given a mighty scare by neighbors Atletico in the final, Ancelotti delivered Madrid their long-sought "La Decima."
Despite losing two of the key balancers of their side over the summer in Xabi Alonso and Angel di Maria, and returning full throttle to the era of Galacticos, Madrid have gone from strength to strength this season. More than any other team in the world, they are capable of both controlling games through their quality in midfield and technical talents in attack as well as, through their resilience and phenomenal athleticism, sitting back and hitting opponents on the break. Including a 3-1 win over Barcelona, inspired by Cristiano Ronaldo, they finished 2014 with 22 successive victories, just four shy of the all-time world record, and with the Club World Cup added to their trophy cabinet. With such an attacking lineup, a sense that there must be vulnerabilities remains, but it will take something special to prove that theory and stop them from winning both La Liga or the Champions League.
A point behind, although having played a game more, in La Liga and safely into the last 16 of the Champions League, Barcelona remain in the hunt for the major trophies, too. However, they finish 2014 as they began it, without a clear identity.
The major signing of Luis Suarez again demonstrated a shift away from their homemade approach and style and more toward Real Madrid's star-laden focus. Still, they appointed a manager in Luis Enrique chosen more for his links with the club and its ethos than for his achievements as a coach. And the former Roma and Celta Vigo boss has so far been unable to get the best out of an, on paper, exhilarating front three of Messi, Neymar and Suarez, while also struggling to mold a coherent team around the trio. The intensity on and off the ball of the club's brilliant peak between 2008 and 2012 has yet to return.
Of course with such talent at their disposal they can still thrill, but, especially with a confirmed transfer ban preventing Barcelona from adding to their squad throughout 2015, Real Madrid look set to come out on top again in the next 12 months.
© Copyright IBTimes 2023. All rights reserved.