Real Madrid vs. Juventus: Video Highlights, Live Score Updates For Champions League Leg 2 Match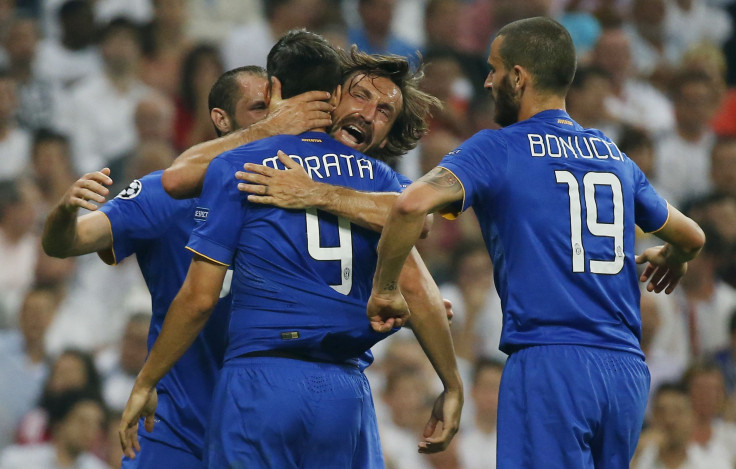 Here's the full video highlights:
HD Highlights --Real Madrid 1-1 Juventus 13...by liveg0als
Full-time report: Juventus showed tremendous character to fight back in that second half. They were under severe pressure from Real Madrid after Cristiano Ronaldo put the hosts in front from the penalty spot after 23 minutes. Bale, in particular missed a number of chances, to further make the holders' advantage count but Juventus impressively regained their composure as Madrid's intensity, not for the first time this season, tailed off.
And it was the man who was frozen out at the Bernabeu, Morata, who came back to haunt his former club by getting the goal that denies Real Madrid the chance to become the first club to win back-to-back Champions League titles. Having all but lost their chance of the Primera Division title four days earlier, this could well be the end for coach Carlo Ancelotti. Meanwhile, the man who seemingly no one wanted at Juventus at the start of the season, Max Allegri, has against all odds led Juventus to their first Champions League final in 12 years. There will not yet be a first Clásico final, instead Juventus will go in search of a third title against Barcelona, seeking their fourth.
95 mins: And it's all over! Juventus are through to the Champions League final against Barcelona after a 3-2 aggregate win over Real Madrid.
93 mins: Buffon comes to claim the ball and stop Carvajal from getting on the end of a pass. So close for Juventus now.
90 mins: Four minutes of injury time between Juventus and the final and Real Madrid from the exit door.
90 mins: Juventus are dealing comfortably with Real Madrid's lofted balls into the box. It's going to take something more nuanced for the hosts to get the breakthrough.
88 mins: And that man Pogba is so close to sealing Juventus' progress. Llorente pulls the ball back for the midfielder, but his shot is repelled by Casillas. Little sign right now of Real Madrid getting the goal they need.
86 mins: A lot of talk about Pogba looking for a "bigger club" this summer, but he could be on the verge of the Champions League final. The young starlet now buys his team some time by breaking clear and reaching a free-kick.
84 mins: Bale continues to go close without any joy. This time his left-foot shot from 20 yards sails wide. Meanwhile, the Juventus goal-scorer Morata is replaced by Fernando Llorente.
81 mins: Hernandez and Kroos both fail to make clean contact with half-chances as Real Madrid start to look increasingly frustrated.
79 mins: very much now a case of whether Real Madrid can break Juventus down. The visitors are defending increasingly deeply and have now brought on defender Andrea Barzagli for Andrea Pirlo to revert to the three center-back system they know well.
76 mins: This really isn't Bale's night so far. He now heads a corner over the crossbar.
74 mins: Real Madrid appeal for a penalty as former Manchester United teammates Evra and Hernandez clashed in the box, but it looked more of a slip from the Madrid striker.
72 mins: Another massive chance for Bale. After shooting wide minutes earlier, he now gets on the end of Ronaldo's lofted cross to the back post but he heads over the bar. The world's most expensive player is going to be in for plenty more criticism if Real Madrid go out.
70 mins: Oh, so close for Juventus. Brilliant move from the visitors as Vidal slides the ball through for Marchisio, but the midfielder's low shot is saved low to his left by Casillas. The man who's earned plenty of abuse from his own fans this season has just kept his side alive in this semifinal. It's a thrilling spectacle now. Only seconds earlier James went close for Real Madrid.
67 mins: With his first substitution, Ancelotti turns to the man who scored Real Madrid's winner against Atletico Madrid in the quarterfinals, Javier "Chicharito Hernandez. The Mexican striker replaces Benzema.
66 mins: Juventus now playing with much more composure and Vidal's cross nearly finds Morata at the back post for his second. The Real Madrid crowd is getting agitated.
63 mins: Big chance for Real Madrid. James' flick found Marcelo down the left and his cross was fired wide of the near post by Bale. The ball was slightly behind the former Tottenham man but he will still have expected to hit the target there.
Here's a video of that goal from Alvrao Morata to make it 1-1 on the night and 3-2 to Juventus on aggregate.
More on the goal: Juventus managed to keep a free-kick alive and Pogba did superbly to climb high and head the ball across the box. Under pressure, Morata chested down and hit a left-footed shot into the turf that bounced up and went in off the despairing outstretched hand of Casillas. Just like in the first leg, the Spanish striker elects not to celebrate against his former club but he could have just knocked them out of the Champions League. Real Madrid now need to score to force extra-time.
57 mins: Alvaro Morata scores against his former club again! Juventus lead 3-2 on aggregate.
55 mins: A real opening for Juventus. A mistake from Marcelo gave Vidal the ball on the edge of the box, but his pass found Morata in an offside position. Juventus really have to take advantage of those kind of opportunities.
53 mins: Real Madrid, though, go straight back on the attack and Marcelo strikes a bobbling shot past Buffon's left-hand upright.
51 mins: Better from Juventus as Marchisio goes close with a fierce strike from 30 yards.
48 mins: Real Madrid are starting the second half where they left off in the first -- firmly on the front foot.
47 mins: An interesting stat from the first half: Real Madrid's 13 shots was the most Juventus have faced in any half this season. They certainly had to absorb plenty of pressure.
46 mins: Real Madrid made Juventus wait a long time before coming out for the second half, with Ronaldo changing his boots in the tunnel. But the match is now back underway.
Halftime recap: A big part of Real Madrid's success in that first half has been that they've played with so much more intensity than in Turin. The pressure is stemming the influence of Pirlo, while Madrid have been alert to take advantage of Juventus' narrow midfield by quickly getting their two full-backs forward. There are some big calls for Allegri to make during the break, chiefly whether to switch to a 3-5-2 formation. Still, Allegri stated beforehand that he thought Juventus would have to score and that remains so. Even another goal for Real Madrid and one for Juventus would force extra-time. Not all is lost for the Italian champions, but they have to regain their pose from the start in the second half and hope that Real Madrid' tempo decreases.
While waiting for the match to restart, here's a better look at Ronaldo putting Real Madrid 1-0 up on the night to draw level 2-2 on aggregate and get the advantage on aways goals.
Cristiano Ronaldo 1_0 Penalty Kick _ Real...by Sport-Today-2014
45 mins: And that's halftime. Juventus made a bright start, but Real Madrid have looked the much more dangerous side since Ronaldo converted from the spot following Chiellini's foul on James. A big task for Juventus to get back into this now. They need to get more support to their dangerous front two while keeping out Real Madrid at the other end.
44 mins: James goes down in the box once again, but on this occasion he gets nothing for his troubles. James' fall was certainly theatrical but Vidal's challenge running across the Colombian was foolish and could easily have been punished.
41 mins: A sign of Real Madrid's incredible threat on the break as Bale quickly finds Ronaldo on the left of the box, but the Portuguese star fires into the side netting. And seconds later Benzema forces a smart save from Buffon at his near post. Looks like Real Madrid want the cushion of a second goal before the interval.
39 mins: Benzema goes close again for Real Madrid, this time shooting over Buffon's crossbar from the edge of the box. Allegri surely won't be happy with how much space Madrid's danger men are finding.
38 mins: Real Madrid are now happy to sit off their opponents knowing they have the advantage on away goals and can spring into action on the break.
37 mins: Juventus have regained some composure and Vidal forces a corner, but it's another poor delivery from Pirlo.
30 mins: The pressure on the Juventus goal continues. Benzema now tests Buffon with a header from a corner.
29 mins: Real Madrid go close to a second, with Ronaldo going through but being unable to make it count. That goal changes the whole complexion of this match. Juventus now need a goal and Real Madrid can play on the break, utilizing their incredible pace in attack.
And Ronaldo scoring from the penalty spot:
Here's a video of that penalty incident:
More on the goal: It was certainly a soft penalty, but an experienced defender like Chiellini really should know better than to give James the chance to go down in the box. Ronaldo made no mistake from the spot, firing down the middle as Buffon dived to his right. A potentially huge moment in this semifinal tie.
23 mins: And Ronaldo scores! Real Madrid lead Juventus 1-0 on the night and as things stand would go through to the final on away goals.
22 mins: Penalty for Real Madrid! James goes down under Giorgio Chiellini's tackle. Clumsy from the Juventus defender as he bundles into the Colombian.
20 mins: Bale comes to life with a ferocious effort from distance, which Gianluigi Buffon had to be alert to in order to turn it wide. Real Madrid applying real pressure now.
19 mins: Close for Real Madrid! Marcelo's pass found Benzema onside behind the defense, but his square ball fell behind Ronaldo in the middle and Juventus were able to clear the danger.
18 mins: Juventus are having a good share of the possession here in the early stages and posing a threat when they go forward. But Real Madrid look dangerous, too, with their quick-paced attacks. Isco just turned Patrice Evra and chipped an effort over the bar.
15 mins: Pogba provides a glimpse of his range of skills, but his flick fails to find a teammate running into the Real Madrid area.
14 mins: Vidal gets in the first effort of the night for Juventus. The Chilean hits a fierce left-footed strike but Casillas gets down to parry it to safety.
11 mins: Ronaldo gets his first sight of goal, but his free-kick is deflected onto the roof of the net.
9 mins: Interestingly, in a change from how they normally lineup, James has started on the left of the midfield three with Isco on the right.
7 mins: Juventus are lined up in a midfield diamond, with Andrea Pirlo at the base, Claudio Marchisio on the right, Pogba on the left and Arturo Vidal supporting Tevez and Alvaro Morata through the center. Pogba often very advanced, though. Juventus certainly not just looking to defend.
6 mins: Huge chance for Real Madrid! Leonardo Bonucci misses his header and a cross falls to Karim Benzema, but the returning striker blasts his left-footed effort high over the bar.
4 mins: A decent first attack for Juventus ends with Dani Carvajal having to slide in to prevent Carlos Tevez's pass reaching Pogba in the box. Real Madrid clear the resulting corner.
1 min: A chance for Real Madrid within 40 seconds. Marcelo's deep cross finds Bale at the far post, but the Welshman looked like he wasn't expecting it to fall his way and he headed over the crossbar.
1 min: After a warm embrace between the two Italian managers on the sidelines, we're underway at the Bernabeu.
2:43 p.m. EDT: The Bernabeu is certainly colorful tonight. Some impressive tifos on display as the Champions League anthem blares out.
2:41 p.m. EDT: Less than five minutes until kickoff at the Bernabeu. The two teams are now assembling in the tunnel.
2:29 p.m. EDT: Carlo Ancelotti predicted that the Real Madrid fans will be fully behind their team for this second leg and that certainly seems to be the case. There were incredible scenes as hoards of supporters greeted the team bus en route at the stadium. Both Iker Casillas and Gareth Bale have been subjected to some hostile treatment at the Bernabeu this season.
2:15 p.m. EDT: Just 30 minutes to go until kickoff at the Bernabeu, when Real Madrid will try to overturn their 2-1 deficit against Juventus.
1:40 p.m. EDT: The headline from that Juventus lineup is that Paul Pogba starts after missing the first leg through injury. The France international made a goal-scoring return against Cagliari on Saturday. As expected, Juventus coach Allegri goes with four in defense, leaving Andrea Barzagli on the bench.
1:36 p.m. EDT: Juventus, meanwhile, have gone with this lineup: Buffon, Lichsteiner, Bonucci, Chiellini, Evra, Pirlo, Pogba, Marchisio, Vidal, Morata and Tévez.
1:28 p.m. EDT: The big news from that Real Madrid team selection is the return after a month out injured for Karim Benzema. The French striker's inclusion at the expense of Javier "Chicharito" Hernandez means the famed "BBC" trio is back together. In midfield, Carlo Ancelotti has gone with an attacking trio of Toni Kroos, who has overcome an injury suffered on Saturday, alongside Isco and James Rodriguez.
1:24 p.m. EDT: Real Madrid reveal their starting lineup:
Preview: A first ever Clasico Champions League final is agonizingly close to coming to fruition, but Juventus are set on posing a major hurdle in Real Madrid's attempts to make it a reality. Barcelona secured their place in next month's showpiece occasion in Berlin next month with a degree of comfort against Bayern Munich on Tuesday. But it promises to be a much tighter affair at the Bernabeu on Wednesday, when Juventus will take a 2-1 lead into the second leg.
After lifting an unprecedented 10th European Cup last season, Real Madrid are seeking to become the first team to win back-to-back Champions League titles. But, despite a Spanish record 22-match winning streak earlier in the season, all has not gone well for Carlo Ancelotti's side in recent weeks. Key midfielder Luka Modric has suffered a further injury setback, and on Saturday a 2-2 draw at home to Valencia left Madrid trailing Barcelona by four points at the top of La Liga with just two matches remaining.
Last week's first leg in Turin also came as a disappointment, with Juventus showing the greater intensity and upsetting the Spanish giants with goals from forward pair Alvaro Morata and Carlos Tevez. The victory continued what has been an impressive, and to many surprising, European campaign for the Italian side. Expectations were low when Massimiliano Allegri took over from club legend Antonio Conte last summer, but the former Milan coach has already led Juventus to their fourth successive Serie A title. And he is now on the verge of guiding the club to their first Champions League final in 12 years. However, their route to that eventual defeat by Milan provides a warning for Juventus. Again going up against Real Madrid in the semifinals, it was this time the side from the Spanish capital who won the first leg at home 2-1, before Juventus turned the tables with a 3-1 victory in Italy.
Both sides have received injury boosts ahead of this year's second leg, with Paul Pogba expected to be back in the starting lineup for Juventus and striker Karim Benzema in contention for Real Madrid after a month out. Check back here at around 1:30 p.m. EDT for confirmed starting lineups and then get video highlights and live score updates once the match kicks off at 2:45 p.m. EDT.
FOR FREE to continue reading
✔️ Unlock the full content of International Business Times UK for free
offer available for a limited time only
✔️ Easily manage your Newsletters subscriptions and save your favourite articles
✔️ No payment method required
Already have an account? Log in
© Copyright IBTimes 2023. All rights reserved.