Is This The Real Reason Meghan Markle Was Holding Her Baby Bump?
Some critics felt Meghan Markle was being a show-off with her baby bump earlier this week. The Duchess of Sussex kept a tight grip on her stomach at the British Fashion Awards, but new video reveals that it may have been because of some discomfort.
The Daily Mail shared a video taken by an audience member on Sunday night. The Duchess of Sussex looks surprised as she quickly moves her hand to the top of her belly. Her shoulders tense up and Meghan appears to take a deep breath in as she closes her eyes for a second. It certainly looks like she may have experienced the royal baby kicking.
Photos from the event, where Meghan honored her wedding dress designer Claire Waight-Keller, sparked much debate about how the former actress was holding her bump. Some criticized her as an attention seeker while others pointed out that holding the bump can be positive for mother-baby bonding after the birth.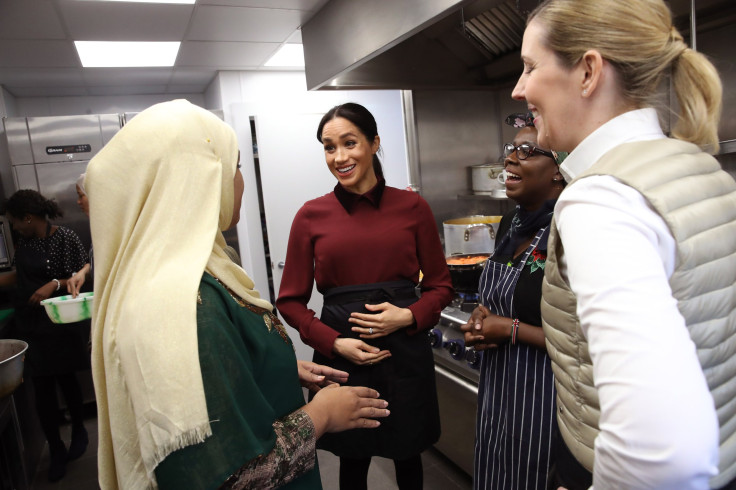 In any case, the former actress' bump is sparking more speculation than ever. The sudden growth of her midsection has royal watchers wondering if Meghan could be carrying twins. She even reportedly called the baby "them" once.
Fans will likely have to wait several more months to find out if the twin rumors are true. Meghan is due to give birth in the spring.
Expect her to be seen less and less as she gets closer to going into labor. After recent threats from alleged neo-nazis, the Duke and Duchess of Sussex are said to have amped up security protocols. Insiders say that Meghan and Prince Harry aren't taking any risks with a child (or two) on the way.
© Copyright IBTimes 2023. All rights reserved.