Reasons Why Andrew Gillum Lost To Ron DeSantis For Florida Governor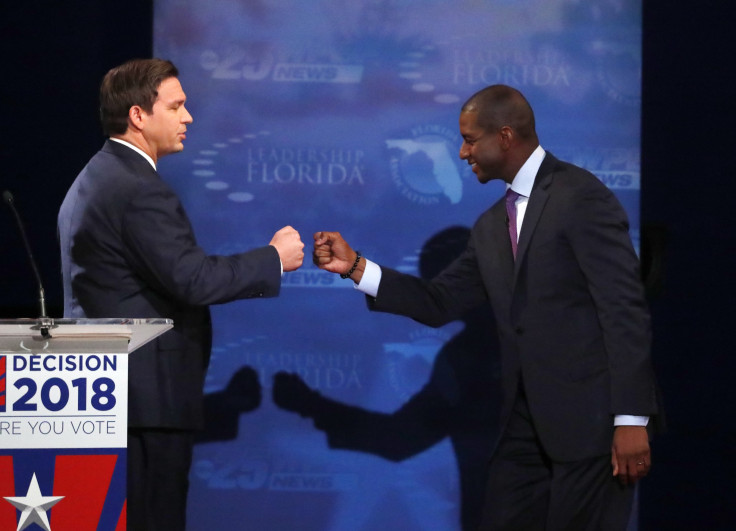 Former U.S. Rep. Ron DeSantis defeated Democrat Andrew Gillum in a tight race to become Florida's next governor late Tuesday.
Reports Tuesday said DeSantis, at 11:38 p.m. EST, received 50 percent of the votes (3,925,108 votes), while Gillum had 49 percent (3,864,324 votes) of the total votes. One percent of the votes (45,608 votes) went toward Darcy Richardson of the Reform Party, while the rest 52,580 votes were shared between Kyle Gibson, Ryan Foley, and Bruce Stanley.
"I sincerely regret I couldn't bring it home for you," Gillum, 39, told a crowd gathered on the campus of Florida A&M University. "I can guarantee you this: I'm not going anywhere. We're going to fight, we're going to keep fighting."
Gillum was a more favored candidate in most polls prior to the election. Many factors, including an FBI probe related to Gillum and Trump's support for DeSantis, propelled toward a GOP win.
In August, Gillum won the primary in a surprise win beating Gwen Graham (a former member of Congress), and two other candidates. The young, black, and unabashedly progressive candidate was a favorite for the post of Florida governor.
DeSantis, on the other hand, was considered an underdog in the race until President Donald Trump tweeted his support for him in December. Trump campaigned and helped DeSantis win the primary in August. The president came to Florida twice more to propel DeSantis' campaign in the final days of the election.
According to AP, DeSantis ran a largely negative campaign against Gillum. He called the Tallahassee Mayor a socialist and said he oversaw one of the most corrupt and crime-ridden cities in the state. Even Trump propagated the same.
One of the major factors due to which Gillum lost the race where he was so favored at first might be the corruption allegations against him. It stemmed from an FBI investigation into City Hall. The charges raised uncomfortable questions against the Democratic candidate about a Broadway staging of "Hamilton", a trip to Costa Rica, and a former college friend. Gillum clarified he was not the main focus of the investigation and was cooperating with law officials.
DeSanti at first tried to connect with the working-class families by pointing out how his first job paid $6 an hour. He also highlighted his military career, highlighting his service in Iraq.
"We can't have a socialist state, especially with the health care. We just want to protect our borders," former Army Sgt. Dave Matthews said adding DeSantis supported veterans. "That caravan is scaring the daylights out me. Democrats, whoever is funding that, they want those migrants, those immigrants to come in and to vote Democrat. That's pretty plain to see."
Health care and immigration were identified as the top issues in Florida, according to a report on ABC7 Chicago. DeSantis seems to have a better image on this issue among most voters when compared to the progressive Gillum.
Vox reported, DeSantis propagated all of Trump's views except on a few occasions, like when Trump advanced a conspiracy theory about the death toll in Puerto Rico after Hurricane Maria. FiveThirtyEight estimated DeSantis voted with Trump 94.3 percent times.
© Copyright IBTimes 2023. All rights reserved.