Red Flag Warnings In South Dakota As Battle To Contain Palmer Gulch Fire Continues
KEY POINTS
The Palmer Gulch Fire is only at 40% contained
Sioux Falls broke two heat records Tuesday
Chamberlain and Winner are expected to see the highest temperatures in state Wednesday
Red Flag Warnings have been issued across much of South Dakota as strong winds increase the risk of wildfires should any fire be started Wednesday. Officials are also on high alert as firefighters continue to battle the Palmer Gulch wildfire.
Firefighters were able to successfully hold containment lines on the Palmer Gulch Fire, according to the latest update on the Great Plains Fire Information blog site published Tuesday. Located three miles southeast of Hill City, South Dakota, the fire has burned 87 acres and is 40% contained, officials said.
Earlier this week, officials raised concerns about the combination of strong winds and low humidity in the coming days that could trigger fire weather conditions, local KOTA TV reported.
As part of the efforts to prevent untoward incidents, officials announced that the following trails in the Black Elk Wilderness Area will remain closed until further notice: #2, #3, #4, #8, #9N and #9S, local KEVN reported.
Meanwhile, two heat records were broken Tuesday in parts of Sioux Falls, the National Weather Service (NWS) in Sioux Falls said. Sioux City broke the previous record of 74 degrees when it hit 75 degrees Tuesday. Sioux Falls logged a record high of 78 degrees to beat the previous record of 73 degrees.
Wednesday is looking to be warm as well, the NWS in Sioux Falls reported. Officials projected the highest temperatures in the following areas Wednesday: Lower Brule (75F), Mitchell (75F), Spencer (75F), Yankton (75F), Oneill (75F), Ainsworth (75F), Wayne (75F), Center (75F), Huron (75F), Woonsocket (75F), Lake Andes (75F), Olivet (75F), Chamberlain (77F) and Winner (78F).
The NWS in Rapid City has also warned of critical fire weather conditions expected through Wednesday evening due to "warm temperatures, low relative humidity, and strong southwest to west winds."
Following are the Red Flag Warnings issued for South Dakota.
Red Flag Warning effective through 7 p.m. Wednesday:
Corson, Campbell, McPherson, Walworth, Edmunds, Sully, Faulk, Jones, Dewey, Potter, Stanley, Hyde, Buffalo, Hughes, Han and Lyman
Red Flag Warning effective through 9 p.m. Wednesday:
Badlands Area, Bennett County Area, Butte County Area, Custer County Plains, Eastern Foot Hills, Fall River County Area, Haakon County Area, Mellette County, Todd County, Northern Foot Hills, Perkins County, Pine Ridge Area, Southern Black Hills, Tripp County, West Central Plains, Ziebach County, Central Black Hills and Northern Black Hills
A Red Flag Warning means there is "an increased risk of fire danger" in affected areas, as per the NWS. The agency warned against leaving outdoor fires unattended as sparks or embers can easily ignite and spread.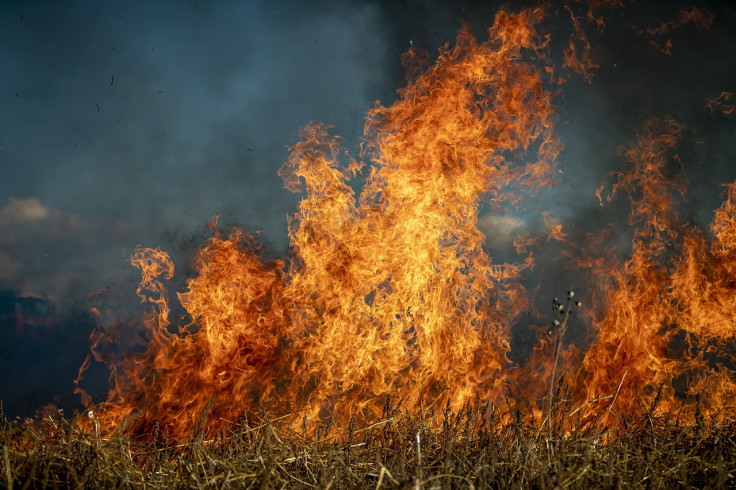 © Copyright IBTimes 2023. All rights reserved.