Refugee Crisis 2016: George Clooney, Wife Amal Meet Angela Merkel About Migrants In Germany, Europe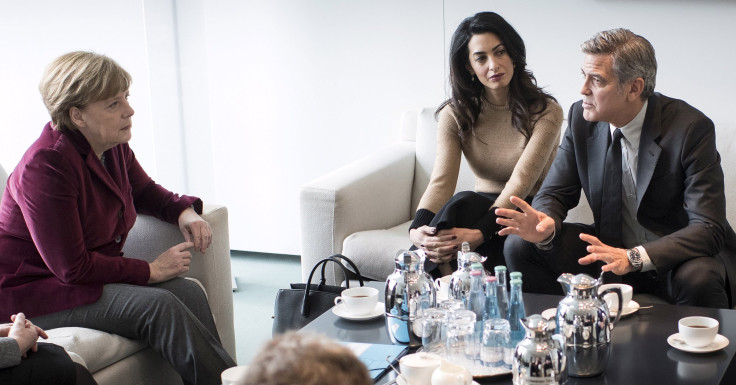 As the refugee crisis in Europe has worsened, German Chancellor Angela Merkel has remained steadfast in her commitment to provide help to those fleeing civil war in the Middle East. And she appears to have some star-studded support after a meeting Friday with movie star George Clooney.
The Academy Award winner and wife Amal were in Berlin to promote his new film when they met with Merkel for 30 minutes, Bloomberg reported, during which they discussed the crisis and onslaught of people coming into Europe. The three were joined by David Miliband, the former British foreign secretary and current head of the International Rescue Committee.
"Germany is taking on a great responsibility; it's very difficult politically for her," Clooney said the day before on local television before a screening of his new film, "Hail, Caesar!" He said he "absolutely agrees" with Merkel's approach to the refugee crisis.
Germany has been something of an outlier within European politics in its stance on accepting refugees, but far-right agitators began racheting up anti-immigrant sentiment as refugees poured into the country. Merkel has resisted that pressure, though, even in the wake of the terrorist attacks in Paris last year that heightened fears around the potential that radicalized migrants might find their way onto European soil. More recently, in Germany, a group of Arab and North African men allegedly groped and harassed women in and near a Cologne train station, sparking further outrage.
As the Syrian civil war decimated that country, millions of people began looking for refuge internationally. The primary destinations have been Turkey, Lebanon, Jordan, Iraq and Egypt, Amnesty International reported.
In Europe, refugees arriving by land or sea surpassed 1 million late last year, the International Organization for Migration said. That included more than 850,000 in Greece and slightly less than 154,000 in Italy, BBC News reported.
© Copyright IBTimes 2023. All rights reserved.