Refugees From Boko Haram Stretching Aid Groups In Nigeria, As Many Refuse To Stay In Government Camps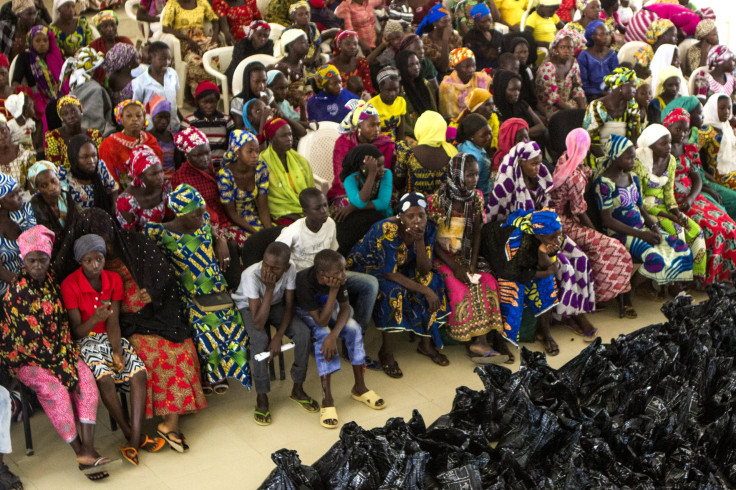 YOLA, Nigeria -- Hundreds of people filed out of a church in this northern Nigerian town on Monday, carrying donated bags of food they had just picked up from a distribution center set up in the building. They were internally displaced persons, refugees from the violence of Boko Haram fleeing the militant group's reign of terror in the northeast of the country. Their plight was evident when a handful of young children remained behind, with one 3-year-old sitting on the floor near the altar, picking up the grains of rice and the corn and beans that had fallen to the floor as people hurried out.
For aid workers helping the hundreds of thousands of people fleeing the Islamist insurgency, this was a new and disturbing sight, revealing that Nigeria isn't equipped to cope with the flood of displaced people. The nongovernmental organizations, or NGOs, trying to fill the gaps are struggling to convince international donors that there is a serious problem here, and it's not just about security.
"Most of the information we heard in the media was basically about security issues," said Yinka Afolabi, the Yola program manager for U.K.-based Oxfam, which has been operating in the region for nearly a year. "It's only gradually that we're convincing the international donor community about the huge humanitarian situation in these areas."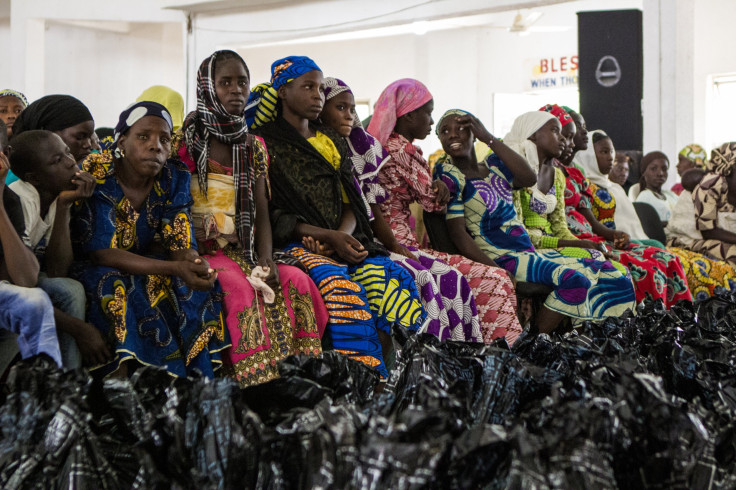 Oxfam has managed to raise roughly $2.2 million, primarily from ECHO, the humanitarian aid arm of the European Union, which has helped it serve roughly 70,000 people. But there are far more displaced persons than the number in Yola, and Afolabi said that if demand continues at the current rate, Oxfam's supplies will last only until April.
According to Hanson Ghandi Tamfu, Nigeria representative for the United Nations High Commissioner for Refugees, roughly 800,000 people have fled Boko Haram violence in Nigeria's northeast and have become internally displaced persons. Of these, roughly 123,000 have made their way to Adamawa state, and most are now in the capital city of Yola, according to data from Nigeria's National Emergency Management Agency (NEMA). However, local aid groups know these numbers aren't right.
NEMA has set up a handful of camps to shelter and feed some of these people, and reports that there are between 10,000 and 20,000 currently being served or on their way. But this is only a part of the story.
For one thing, the camps are the last place anyone wants to go.
While authorities aren't currently allowing media access to the camps, earlier reports from local media, describing how women in the camps face the risk of rape, are scaring people away. There are even rumors that children have been kidnapped by government officials. Afolabi said aid groups like Oxfam haven't been able to confirm this, but did say that "recently, the government and local NGOs have stepped up discussion about protecting the IDPs [internally displaced persons] in camps."
Still, the vast majority of displaced people prefer to avoid these areas at any cost, and live instead with friends, distant relatives or even strangers in town.
"I came here because it is the house of my husband's brother," said Liatu Geoffrey, 34, who fled from Mubi, 120 miles (200 km) to the north, in October. Like many displaced people, she didn't even think about going to, or even knows the location of, government camps, and would rather stay with even the most distant relatives -- even if space is tight. She now lives in a house that holds 15 women, many with husbands and small children as well.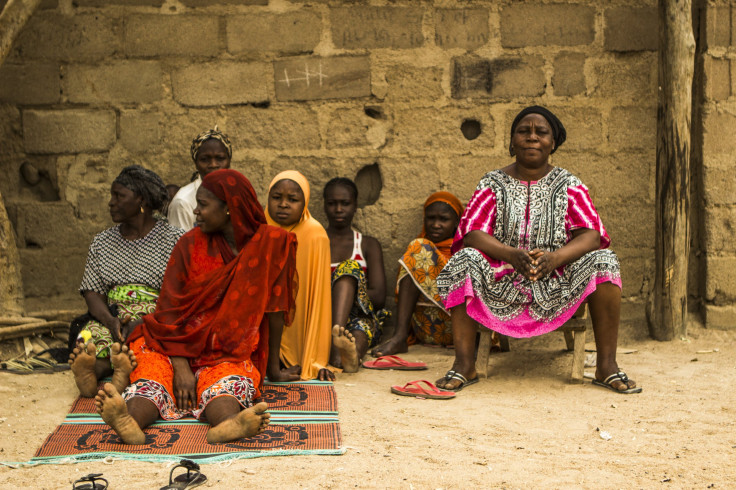 Eight other women, who have been her new neighbors for months now, all came to Yola after Boko Haram militants attacked their hometown of Gulak, north of Mubi. They were staying in an army barracks here until they met a local resident who took them in.
The military continues to report victories in many of these towns, but nobody really trusts what the government says, and Yola's new residents don't imagine they'll be moving back anytime soon.
"The government response is to take care of people in the camps, but there are obviously so many others who refuse to go there," said Margee Ensign, president of the American University of Nigeria, which, through its AUN Foundation, has been working with a network of religious groups and NGOs to help fill the gaps. But it's getting harder.
Staying in people's homes is not, after all, unusual in Nigeria. "It's part of the culture here," said Turai Kadir, project coordinator of the Centre for Women and Adolescent Empowerment in Yola. She and others have taken in dozens of IDPs, and some households now contain as many as 50 extra people, she said.
According to Ensign, it's difficult to get the government to think "outside the box" of only feeding people in the camps, and instead try to make use of already established local networks, such as the Adamawa Peace Initiative, a grassroots organization spearheaded by the AUN that connects Muslim and Christian local leaders for a series of community development projects, including Monday's food distribution. These donations are helping to fill the gaps, but as Boko Haram violence continues, more IDPs continue to arrive.
Aid groups have estimated that there are between 200,000 and 300,000 IDPs currently in Yola, which nearly doubles the city's original population. But since the majority of them are staying in informal residences, it's nearly impossible for official government aid to reach them.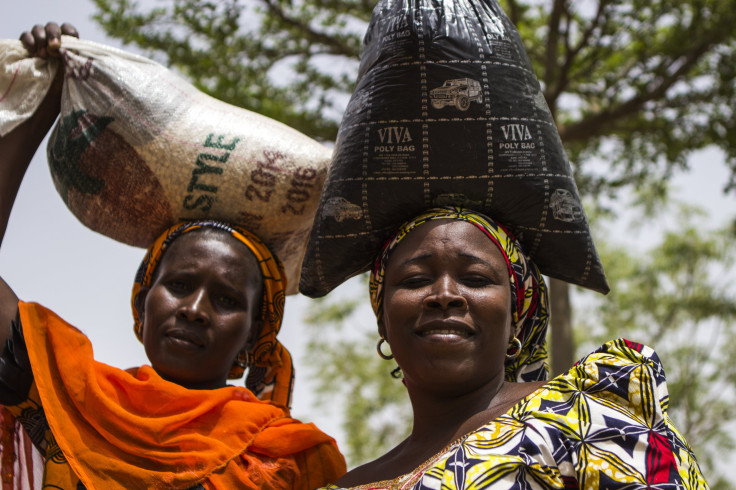 The displaced people left behind jobs and homes, often having to flee on foot for more than 100 miles at a moment's notice. Among them are farmers, teachers and even local community leaders.
Many of the displaced people were once themselves sheltering others in different towns, before being forced into Yola.
"We took them in and we were taking care of them, but then when the attacks came, we became IDPs ourselves," says Imam Dauda Bello. He was living in Mubi when Boko Haram insurgents attacked the town in October, and came to Yola with his family. Now, he has secured a spot as a guest professor at American University of Nigeria, and continues to work with a tight-knit network of Christian and Muslim leaders here in Yola to help fill the growing need.
Since food doesn't get distributed every day, many of the IDPs spend their days looking for odd jobs to help pay for some food. The women sometimes do housework, and the men help vendors in the market or construction workers.
The African Union announced on Tuesday that it would back a multi-country force to fight Boko Haram, and an ensuing conflict between the insurgents and heavily armed government forces is sure to displace even more people.
At the church in Yola, Ensign was already worried. As the children picked up grains of rice, she said she had been present at every AUN Foundation food donation in recent months, and that she had never seen anything like that before.
"This," she said, " is an indication that it's getting more desperate."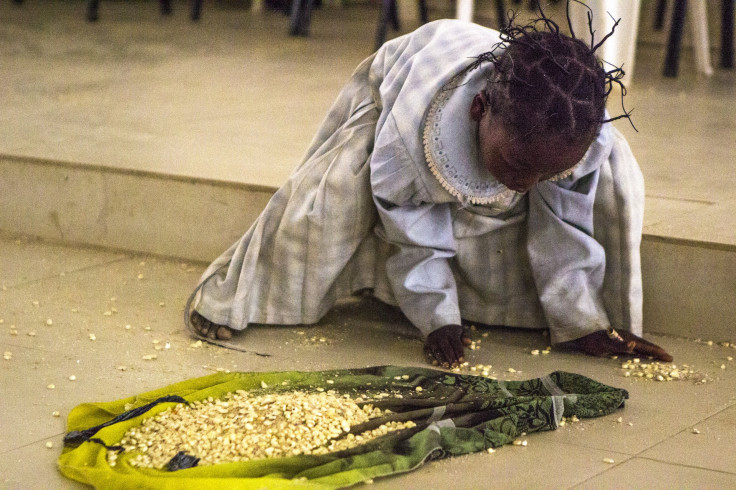 © Copyright IBTimes 2023. All rights reserved.