Republican Debate Drinking Game 2016: Rules For When To Sip, Gulp And Guzzle During CBS GOP Showdown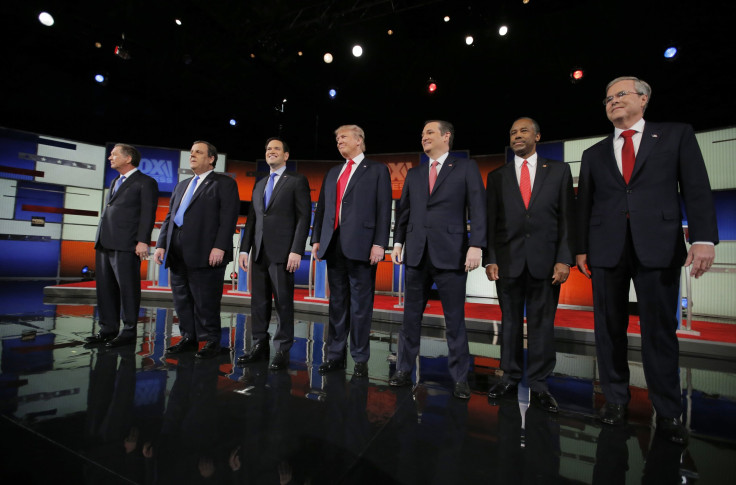 GOP presidential candidates are set to face off in another debate Saturday evening in Greenville, South Carolina, one week ahead of the state's "first in the South" Republican primary. The CBS-sponsored event is scheduled to take place at the Peace Center at 9 p.m. EST, and if it's anything like the previous showdowns, it's sure to be an entertaining night.
The most recent polls for South Carolina show business mogul Donald Trump still maintaining his lead. According to a CBS News/YouGov survey conducted from Jan. 17-21, 40 percent of likely Republican voters support Trump, while 21 percent would vote for Texas Sen. Ted Cruz and 13 percent for Florida Sen. Marco Rubio. Another 9 percent would vote for retired neurosurgeon Dr. Ben Carson, 8 percent for former Florida Gov. Jeb Bush and just 1 percent for New Jersey Gov. Chris Christie. The poll had a margin of error of plus or minus 5.3 percentage points.
FiveThirtyEight's polls-plus forecast gave Trump a 57 percent chance of winning the South Carolina Republican primary, with Rubio at 18 percent, Cruz at 16 percent, Bush at 7 percent and Carson at 1 percent. The remaining candidate, Ohio Gov. John Kasich, has less than a 1 percent chance of winning. FiveThirtyEight's polls-only projection put Trump at 70 percent and Cruz at 17 percent.
With the key South Carolina primary just days away, Saturday's Republican debate will undoubtedly be a crucial one. And if you're not a fan of politics, this debate drinking game may change your mind. For those who are of age, pour yourself a drink and gather 'round the TV with friends for the GOP showdown.
Everyone must pick a candidate (or two) and follow these rules adapted from Debate Drinking, Lions of Liberty and Sun Times National. Remember to drink responsibly and make sure players turn in their car keys for the night or have a designated driver.
Take a sip whenever your candidate:
Talks about his success in the polls
Condemns Obamacare
Says "Muslims"
Interrupts the moderator or another candidate
Mentions Hurricane Sandy
Criticizes Rubio's opening statement
Insults another Republican candidate
Doesn't answer the question
Take a sip whenever any candidate:
Brings up former President George W. Bush
Slams Democratic presidential front-runner Hillary Clinton
Calls Clinton's rival, Bernie Sanders, a "socialist"
Says "ISIS," "ISIL" or the "Islamic State group"
Mentions the South Carolina primary
Talks about the Guantanamo Bay detention camp
Discusses abortion
Says "eminent domain"
Finish your drink if:
Rubio mentions Obama in his opening statement, saying "he knows exactly what he's doing"
Trump accuses Cruz of cheating in the Iowa caucus
Good luck and safe drinking to all. Remember to look for another International Business Times-sanctioned drinking game for the next Republican debate Feb. 25.
© Copyright IBTimes 2022. All rights reserved.
FOLLOW MORE IBT NEWS ON THE BELOW CHANNELS