Election 2016: Republican Presidential Candidates Don't Talk About Wall Street — And Debate Moderators Don't Ask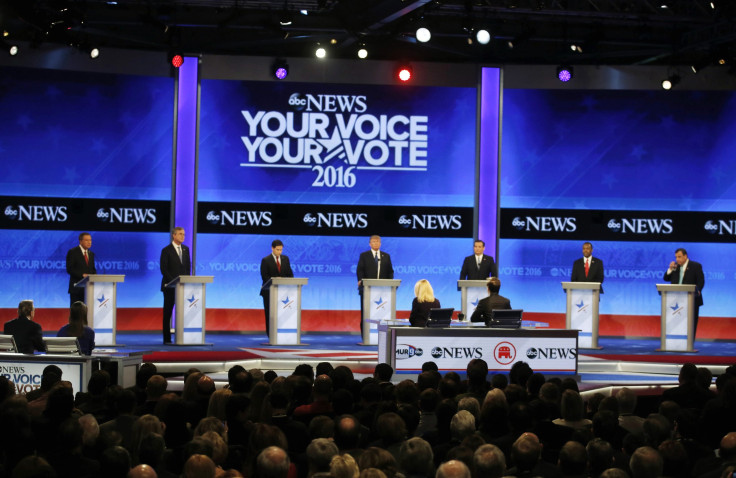 As the topic of Wall Street's influence in Washington dominates the Democratic presidential campaign conversation, the Republican 2016 hopefuls aren't talking about it. Not one GOP candidate mentioned the financial industry during Saturday night's three-hour Republican debate, nor were the candidates asked any questions on the subject by moderators from ABC.
Overall, Republicans have faced limited questions about Wall Street in the debates. Texas Sen. Ted Cruz and former Arkansas Gov. Mike Huckabee, who recently suspended his campaign, have each received questions about the lack of punishment for Wall Street executives in the wake of the 2008 financial crisis. Ohio Gov. John Kasich was asked during a debate last month what actions he would take if big banks' stock prices drop significantly.
But Saturday night's GOP debate was the second in a row in which no candidates were asked any questions related to managing the financial industry, an International Business Times review of transcripts from the eight events that have taken place since August showed. Many Democrats and economic experts place blame on big banks for the most recent financial meltdown, and are concerned about the increased role that hedge funds and private equity firms are playing in state pension investments — collecting large fees while delivering below market returns.
The words "Wall Street" do not appear to have been uttered in any of the last four Republican debates — save for references to polls and columns from the Wall Street Journal. Reining in the financial industry is one of a handful of subjects that have received heavy focus in the Democratic debates but scant attention at Republican events, even as executives in the securities and investment industry have poured $102 million into the presidential race, the Center for Responsive Politics reported. Campaign finance reform is another topic that's been mostly ignored in the GOP debates, as concerns about the role of big money in politics have grown.
Hillary Clinton's name was invoked 18 times during Saturday night's Republican presidential primary debate, but the Democrat's biggest critics didn't once mention the burgeoning controversy surrounding her paid speeches to Wall Street banks. GOP candidates like businesswoman Carly Fiorina have been highly critical of the Clinton family's philanthropic empire and the donations it has received from foreign nations, but the Clinton Foundation does not appear to have come up in any of the party's debates so far.
The 2016 presidential candidates are relying on outside groups to a greater extent than ever — despite federal rules meant to bar coordination between campaigns and super PACs — and those groups have spent tens of millions of dollars on television advertisements. Yet, there has been just one question about super PACs from moderators during any of the GOP debates, and its focus was elsewhere.
During Fox News' Jan. 28 debate, former Florida Gov. Jeb Bush was asked whether it was a smart idea for a super PAC backing him to "blanket the airwaves with cutting ads" directed at his Republican rivals, like Florida Sen. Marco Rubio, who observers say is more likely to defeat Clinton in a general election.
After defending his own prospects against Clinton, Bush asserted: "As it relates to the super PACs, I have no control over that." Moderators did not ask any follow-ups about Bush and the super PAC, for which he raised a staggering $100 million before formally announcing he would run for president.
While Republican real estate mogul Donald Trump and neurosurgeon Ben Carson have each lambasted the growing role of super PACs, the transcripts from the GOP debates don't contain the phrase "campaign finance." Though the Democratic candidates frequently talk about the need to reverse the Supreme Court's Citizens United decision, which paved the way for the creation of super PACs, the words "Citizens United" do not appear in any of the Republican debate transcripts.
Debate moderators don't appear to have asked the Republicans any questions about lobbying either, even as candidates like Bush have pledged to reform Washington's influence-peddling industry while raising large sums from its members.
© Copyright IBTimes 2023. All rights reserved.