GOP Debate Schedule: When Is The Next Republican Candidate Showdown?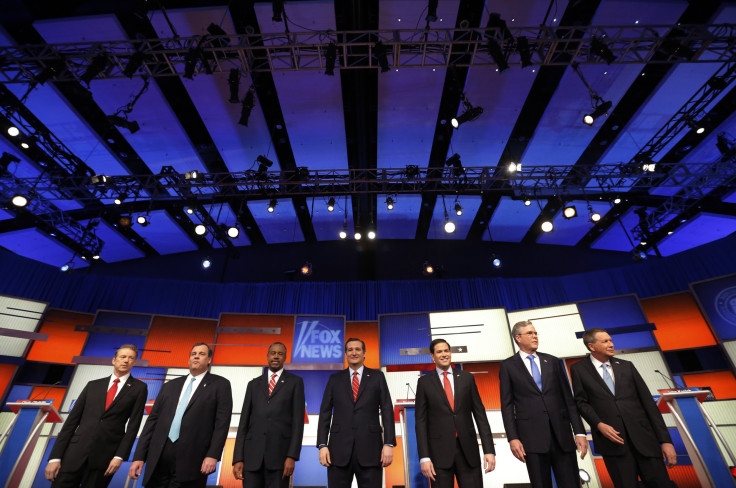 The Republican U.S. presidential candidates have a long week ahead of them. First they have to weather the New Hampshire primaries Tuesday, and then they have to travel to South Carolina for their next debate Saturday. Qualifying GOP candidates will be invited to participate at the Peace Center in Greenville, South Carolina.
CBS will televise the debate, and the network's John Dickerson, the host of "Face the Nation," will be the lead moderator. He will be joined by Major Garrett, the chief White House correspondent at CBS News, and Kimberley Strassel, an editorial-board member at the Wall Street Journal.
Dickerson also moderated the CBS-televised debate among Democratic presidential candidates in Des Moines, Iowa, in November. He is a veteran journalist who spent more than 12 years at Time magazine before he made the jump to CBS News.
2016 GOP Debate Viewership: First Seven Debates | InsideGov
"The goal of the moderator is to illuminate the views of the candidates on the issues that matter the most to voters, and you don't need to be on the side of the party to do that," Dickerson said as he prepared to moderate the debate last fall.
CBS has not released many details about the Feb. 13 debate, other than the fact it will be 90 minutes long. It is unclear whether the network will opt to hold a so-called undercard debate for lower-polling candidates.
CBS has not announced the criteria for candidates to receive invitations to the debate, which will be their final showdown before the Republican South Carolina primary election to be conducted Feb. 20. Some GOP members were critical of the ABC News criteria employed in the New Hampshire debate, as they knocked former Hewlett-Packard Co. CEO Carly Fiorina off the main stage.
The debate in South Carolina will begin at 9 p.m. EST, when it can be either viewed on CBS or live-streamed on CBS.com. Headed by CBS News congressional correspondent Nancy Cordes, predebate coverage will start at 6 p.m. EST. Google will release live trends data throughout the debate, according to Deadline.
© Copyright IBTimes 2023. All rights reserved.