Republican Debate: Second-Tier GOP Candidates Look For Their Moment In Fox News Forum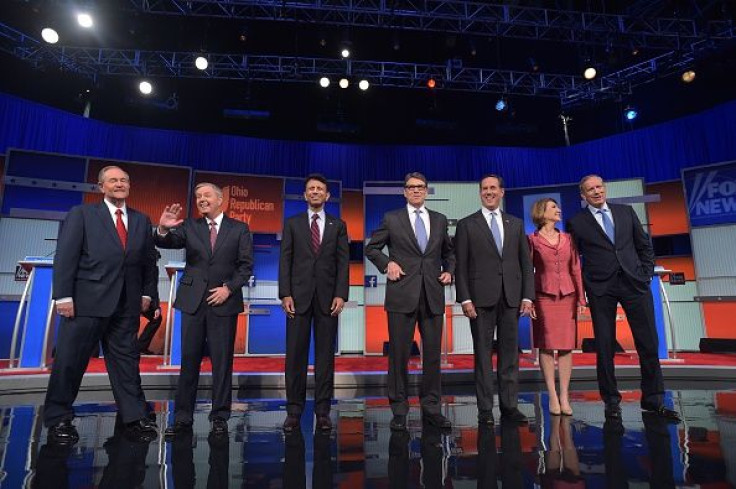 WASHINGTON -- Having already been relegated to the undercard, the Republican hopefuls who couldn't break into the top 10 in the polls might seem to have little to lose. But while their more successful rivals like Jeb Bush and Scott Walker can afford to merely not make a major gaffe in the later debate Thursday evening, the candidates at the 5 p.m. EDT debate may be looking at their last, best chance to punch through.
Critics of the decision by Fox News Channel to split the debate into two groups argued it wouldn't give those lesser-known candidates a chance to gain recognition and support without having to spend large sums of money.
So the seven second-tier candidates -- Sen. Lindsey Graham of South Carolina; former governors Jim Gilmore of Virginia, George Pataki of New York and Rick Perry of Texas; Louisiana Gov. Bobby Jindal; former Sen. Rick Santorum of Pennsylvania; and former Hewlett-Packard CEO Carly Fiorina -- are more eager than ever to seize a moment. At least they don't have to compete with Donald Trump for attention.
The goal: a soundbite that gets heavy rotation on the news for the next several days -- but not for the wrong reasons.
Rick Perry Presidential Candidate Profile | InsideGov
In a field so large, the candidates at the bottom -- like weaker NFL teams as the season winds down -- will need to get help by having the stronger candidates falter.
Perry just missed making the cut, squeezed out at the last moment by Ohio Gov. John Kasich. Perry's 2012 campaign was famously derailed when, during a debate, he was asked to name the three federal agencies he wanted to eliminate and couldn't remember the third. But this time around critics say a new Perry is on the campaign trail. He seems more alert and engaged -- but he's still taking only about 2 percent in the polls.
He's put up sizable fundraising totals. So far, Perry has raised $1.3 million for his campaign and the super PAC backing him has hauled in $16.8 million.
Fiorina, the only woman running on the Republican side, has long been considered one of the biggest possible beneficiaries of the exposure that the debate stage brings. She's got a consistent attack line against Hillary Clinton and is a strong speaker. But she's taking less than 2 percent in the polls.
Carly Fiorina Presidential Candidate Profile | InsideGov
Fiorina at times has had trouble raising money, which could prevent her from staying in the race for long. So far, her campaign has brought in a respectable $1.7 million and her super PAC boasts $3.4 million.
Santorum finished the 2012 GOP primary in second place -- bowing out to Mitt Romney after it became clear he had little hope of winning the nomination. He picked up a handful of states along the way, including winning the Iowa caucuses.
So his inability to gain traction in this race has surprised some observers. His 2012 tactic was to spend an immense amount of time talking to voters in Iowa -- a low-dollar approach that reaped benefits. But with such a large field and so many candidates this go round, that strategy doesn't seem to be paying off.
His fundraising has struggled as well. His campaign has raised $607,600 and so far his super PAC has reported.
Bobby Jindal Presidential Candidate Profile | InsideGov
Jindal was once considered a rising star within the GOP. But in 2009 he delivered a widely-panned response to the State of the Union and he's never recovered politically. He's barely breaking 1 percent in the polls. It hasn't helped that his state has budget troubles.
Jindal's fundraising is lagging as well. He's raised only $578,758 for his campaign. And his super PAC has brought in $3.7 million.
Graham managed to create a moment for himself with his theatrical -- and viral -- reaction to Donald Trump having disclosed his cellphone number. But it didn't bring enough of a bump in the polls to get him onto the debate stage.
Lindsey Graham Presidential Candidate Profile | InsideGov
Graham is running as one of the most hawkish candidates in the field. He spent more than half of his announcement speech talking about the Mideast and the threat posed by the Islamic State group. He's been a vocal critic in Congress of the Obama administration's Iran nuclear deal.
Despite frequently polling at 1 percent or less, Graham has been able to bring in some sizable fundraising totals for a third-tier candidate -- likely helped by being an office holder. His campaign has raised $2.2 million. And the super PAC backing him has raised another $2.9 million.
Pataki entered the race with a position not unlike Chris Christie's -- the Republican governor of a blue state. But he lacks Christie's charisma. Pataki distinguished himself by speaking out against Trump early on, even starting a petition to push him out of the race. But he's been unable to generate much excitement. He's barely registering in the polls. And his campaign has raised only $255,800 and his PAC has taken in only $859,000.
Gilmore has had the slowest start, barely gaining recognition as a candidate. His campaign kicked off last week with no fanfare. He hasn't been required to report any fundraising so far. The super PAC that he ran before becoming a candidate -- which may or may not back him -- raised $193,093 this year.
© Copyright IBTimes 2023. All rights reserved.
FOLLOW MORE IBT NEWS ON THE BELOW CHANNELS