Republican Presidential Debate 2015: Start Time, TV Channel, Radio Info For Fourth GOP Debate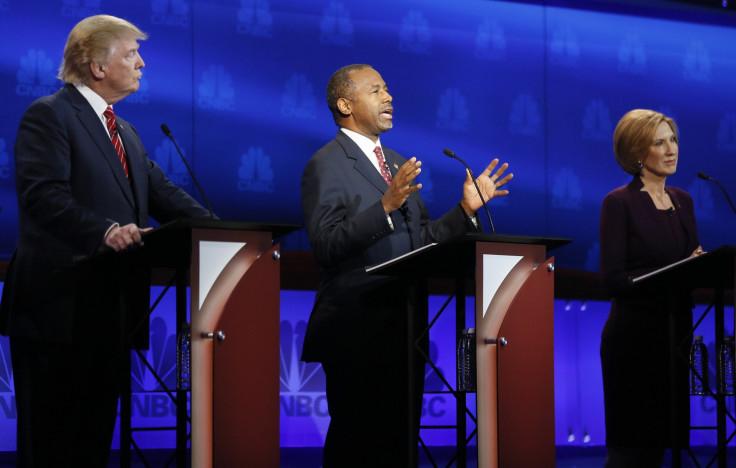 The fourth Republican presidential debate is scheduled to take place Tuesday in Milwaukee, Wisconsin. As with every debate, the candidates will face significant pressure to deliver strong performances, but the circumstances this time will be different in a few important ways.
First, the debate stage will be a little less crowded than it has been in recent debates. Fox Business Network and the Wall Street Journal, which are teaming up to host this debate, set new criteria for their event that relegated New Jersey Gov. Chris Christie and former Arkansas Gov. Mike Huckabee to the undercard debate and eliminated South Carolina Sen. Lindsey Graham and former New York Gov. George Pataki from the debates altogether. This has caused some frustration among candidates, but it could make the earlier debate more exciting than usual.
Under these rules, eight candidates qualified for the main debate. They are: businessman Donald Trump, retired neurosurgeon Dr. Ben Carson, Florida Sen. Marco Rubio, Texas Sen. Ted Cruz, former Florida Gov. Jeb Bush, former Hewlett-Packard CEO Carly Fiorina, Ohio Gov. John Kasich and Kentucky Sen. Rand Paul. The junior varsity debate will feature Christie, Huckabee, Louisiana Gov. Bobby Jindal and former Pennsylvania Sen. Rick Santorum.
The other main difference in this debate will be in the focus on its format after the third GOP debate, run by CNBC, was widely criticized for what Republicans said were unfair and unsubstantive questions. The campaigns have made it clear they will be expecting more substantive questions going forward, so people will be watching Tuesday to see if Fox Business Network and the WSJ deliver.
Current Polling for Republican Candidates | InsideGov
The primetime debate will be moderated by Fox Business Network anchors Maria Bartiromo and Neil Cavuto and WSJ Editor-in-Chief Gerard Baker. At the earlier debate, questions will be asked by Trish Regan and Sandra Smith of FBN and WSJ Washington Bureau Chief Gerald Seib.
Here is everything you need to know to watch the debates:
Main Debate (Top Eight Candidates)
Start Time: 9 p.m. EDT
End Time: 11 p.m. EDT
TV Channel: Fox Business Network is hosting the debate, and it has worked with TV companies to give most cable and satellite subscribers access to the channel for the duration of the debate.
Online: Anyone can live stream the debate for free on FoxNews.com or FoxBusiness.com
Radio: Fox News Radio
Undercard debate
Start Time: 7 p.m. EDT
End Time: 8 p.m. EDT
TV Channel: Fox Business Network. Most cable and satellite subscribers will also have access to the channel for the early debate.
Online: Live stream for free on FoxNews.com and FoxBusiness.com
Radio: Fox News Radio
© Copyright IBTimes 2023. All rights reserved.