Rick Ross-50 Cent Feud: '2 Shots' Rapper Continues To Bash 'Power' Star, Makes Fun Of His Feud With Vivica A. Fox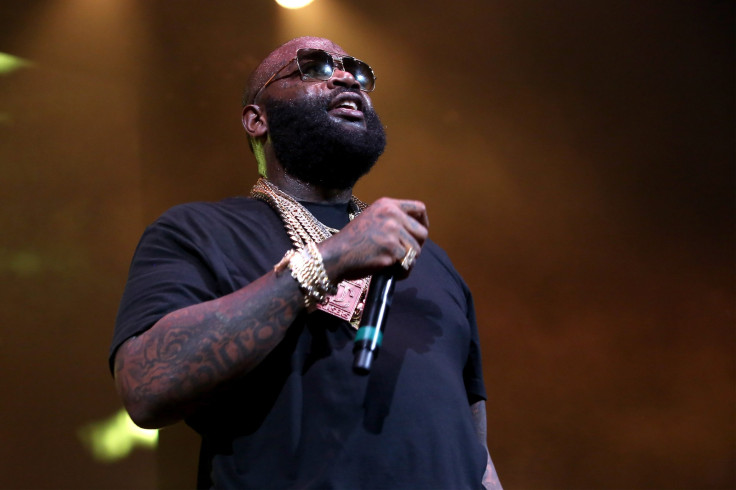 Rick Ross and 50 Cent's public feud may have quieted down in recent weeks, but that doesn't mean the two rappers are on good terms. In a new interview, Ross took another jab at 50 Cent by making fun of the 40-year-old rapper filing for bankruptcy protection earlier this year.
"You do that when it's over. So rest in peace. R.I.P.," Ross told the Associated Press in a Q&A Wednesday.
The "2 Shots" rapper also made fun of 50 Cent's feud with ex-girlfriend Vivica A. Fox. As previously reported, Fox and 50 Cent, whose real name is Curtis Jackson, lashed out at each other via social media after the actress implied on Andy Cohen's "Watch What Happens Live" that 50 Cent is gay.
He responded to Fox in an insensitive tweet about some of their alleged sexual encounters. "Now she thinks I'm gay because I let her lick my a--," he tweeted. "Wait, I didn't want her to, she forced me, my hands were tied. 50 shades of grey."
Speaking to the AP, Ross continued to blast his nemesis, saying that 50 Cent's jabs weren't going to distract him from his music.
"There's a lot of talking and tweeting in this industry, but who really getting money? Don't ever get it twisted," Ross said. "It's a lot of distractions that's meant to distract you from staying focused. In the majority of the time, the distractions aren't even worth it… My homies are giving promotions, we're empowering people. We are not firing and tearing down. We're not chasing behind actresses. We don't get our booties licked. We live by principles. It's a certain code of ethics. As men in our position, there will be problems, there will be disagreements, but as ... kings, it's certain things we don't do."
The "Window Shopper" rapper hasn't yet responded to Ross' comments, but 50 Cent does have a new target he's aiming his Twitter jabs at: Derek Jeter. On Wednesday, the "Power" actor slammed the retired Yankees player for allegedly saying he was too "urban" to be the brand ambassador of Swedish men's underwear company Frigo.
© Copyright IBTimes 2023. All rights reserved.