Rick Santorum, Consensus Candidate of the Right: Or Is He?
OPINION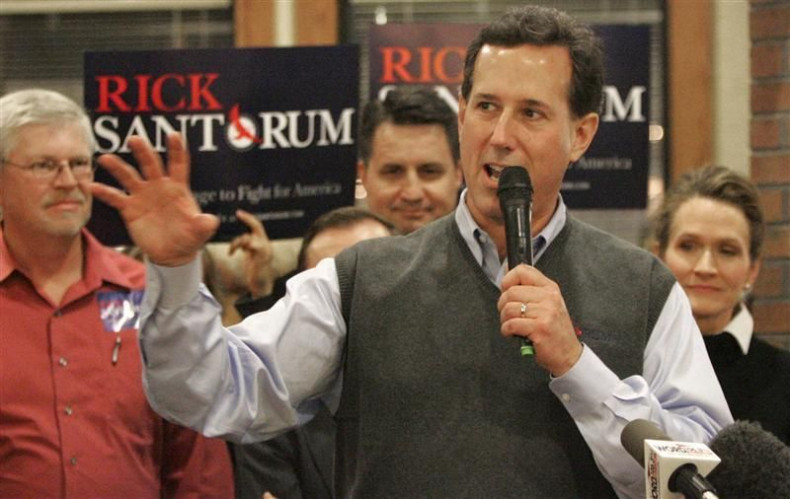 More than 100 evangelical leaders descended on Brenham, Texas, on Friday in search of the elusive anti-Romney candidate around whom conservative Republicans could rally. They left to much fanfare about a consensus vote in favor of Rick Santorum.
Two days later, four participants sent them all back to square one with a statement denying the Santorum consensus and endorsing Newt Gingrich -- and all I could think of was a TVTropes.com entry titled We ARE Struggling Together, which begins thusly:
The government is evil, decadent, corrupt or all three and it's time for a revolution. Only one thing stands in the way: your fellow revolutionaries. All of you can agree on only one thing: the government must go. Beyond that, you and your fellow revolutionaries couldn't decide on pizza toppings, let alone the shape of the world to come (or how to get it there). This can lead to squabbling that prevents any coordinated action from taking place.
If that sounds familiar, it's because it reads like an irreverent psychiatrist's evaluation of the conservatives who howl about Mitt Massachusetts Moderate Romney but, when it comes time to settle on an alternative, find themselves pathologically incapable of doing so.
They ARE struggling together. Really. They swear.
Consensus: Now You See It, Now You Don't

When the conference ended on Saturday, Tony Perkins, president of the Christian-conservative Family Research Council, announced that an 85-29 supermajority had voted to back Santorum for the Republican nomination. Rick Perry had been eliminated in the first round of voting, he said, and some participants who came in supporting Gingrich ended up voting for Santorum in the interest of unity (which was, after all, the interest in which the conference was called). A minority still supported Gingrich, but the majority consensus was clear.
And so, for one or two days, there was consensus, and it was good.
But then. Yes, Santorum did win the vote, the dissenting evangelicals -- J.C. Watts, George Barna, Jim Garlow and Richard Lee -- acknowledged in their statement, but we believe Newt Gingrich to be the only candidate that has the intellectual strength and the capacity to stop the left's attack on morality, the economy, basic freedoms and religious liberty, they wrote. In addition, Mr. Gingrich is the social conservative that has the capacity to raise funds and produce a national organization that would allow him to compete with and defeat Barack Obama. For the sake of the nation, we remain steadfastly committed to Newt Gingrich.
I could write a whole article about who, between Gingrich and Santorum, is a purer conservative or more electable. But that would be beside the point, because the point is this: Either these evangelical leaders want to unite around a conservative alternative to Romney, or they don't. If unity is their priority, they will compromise. If they won't compromise, then clearly, unity isn't their priority.
Of course the 100-plus conference participants weren't going to come to a unanimous agreement on the best candidate. If they were capable of doing that, they would have done it long before Romney won Iowa and New Hampshire. But this wasn't about unanimity; it was about priorities. It was about the belief that having a conservative nominee was a higher priority than having a specific conservative nominee.
Everyone knew evangelicals were divided. They needed to get over it to challenge Romney. They didn't.
Falling on Principle
Reality is reality, and the reality is this: Romney will probably be the Republican nominee. Ron Paul could pull off an upset if things break his way, but evangelicals don't like him much, either. As for Gingrich and Santorum, neither of them has a chance to speak of unless one of them drops out before the South Carolina primary on Saturday.
If evangelical leaders wanted to stop Romney from getting the nomination at all costs, the answer was simple: Pick an alternative and unite. Period! If they had done that even a month ago, they could have won Iowa and South Carolina, robbed Romney of the benefit of perceived inevitability and made this a real two-man race. But they didn't.
If you combined Gingrich's and Santorum's poll numbers, you would have a juggernaut capable of beating Romney in most states. But evangelicals won't combine those numbers. They will stand on stubborn, unyielding principle for their chosen candidates, and they will contribute to Romney's victory just as surely as if they had voted for him.
Evangelicals have neutered themselves by their inability to grasp this basic political reality, ever since August, when they embarked on their five-month snap tour of not-Romneys. (On your left, we have Michele Bachmann, a fine conservative specimen indeed, but somewhat lacking in basic historical knowledge. On your right is Rick Perry, who created lots of jobs in Texas but may have a bit more swagger than you'd like in your presidential candidate. Up ahead on your left is Herman Cain, who, well...)
The tour has trailed off, but evangelicals will scream and rage about Romney right up to the Republican National Convention in August. They will cast their protest votes for Santorum and Gingrich and Perry, and they will throw the splinters of their once-powerful voting bloc to the wind.
And when Romney gets the nomination, they will have no one but themselves to blame.