Rihanna Strips Down For Latest GQ Cover: The 'Obsession Of The Year' Talks About Her Sexuality, Love, And Music [PHOTO]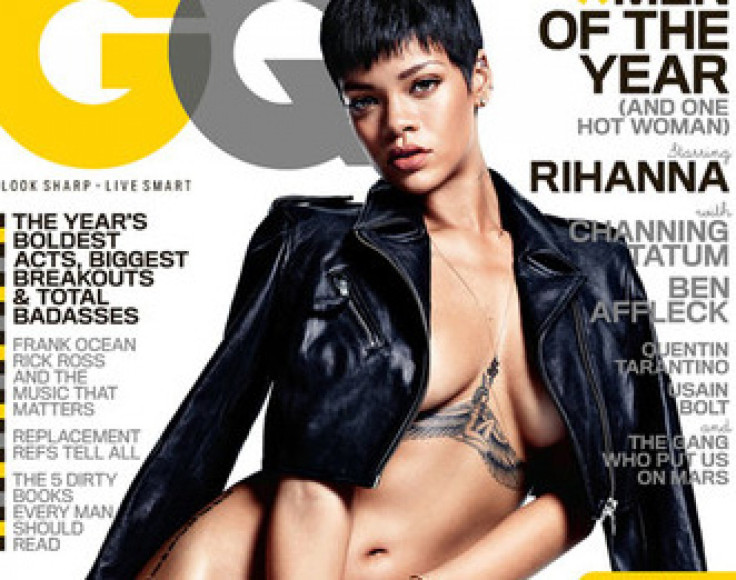 Rihanna stripped down for the December issue of GQ men's magazine. Wearing only a cropped motorcycle jacket across her shoulders and a necklace, the superstar's arm is the only thing protecting her modesty.
Several of Rihanna's tattoos are also on full display, including her most elaborate design – an image of the Goddess Isis, tattooed around her rib cage and beneath her breasts. The tattoo is in honor of her grandmother, Clara "Dolly" Brathwaite, who lost her battle with cancer in July.
The teaser on GQ.com declares "Men Of The Year (And One Hot Woman)."
In the GQ interview, titled, "Rihanna: Obsession of the Year," the artist discusses her sexuality both on stage and behind the scenes. The singer has posted promiscuous photos to her Twitter account, including one with a female stripper's face between her thighs, and many of her songs are sexually suggestive, such as "Cockiness" and "Rude Boy."
"That comes from my culture," Rihanna told GQ. "That's just the way it's always been, and I think that for people, especially in America, they make it like the forbidden fruit, but that only makes kids more curious."
Rihanna also talked about love, admitting, "Love makes you go places you probably wouldn't ever go, had it not been for love. But I think everybody still has their limits."

When it comes to her music, however, Rihanna does not want any "of the lovey-dovey [expletive]," she said. "No pop [expletive]. None of that lovey-dovey [expletive] ... It's gotta be tweet, retweet, trending topic!"
Rihanna also wants her music to touch people. "I want to make music that's hopeful, uplifting. Nothing corny or supersentimental," she told GQ.
"I just want it to have the feeling that brings you out of whatever you're going through. I want it to spark that fire. I want it to be real, authentic, and raw."

Read the rest of Rihanna's'GQ interview here.
© Copyright IBTimes 2023. All rights reserved.