Rio Olympics Women Gymnasts Most Sparkly, Stylish Leotards: Simone Biles, Aly Raisman, Nastia Liukin, Mary Lou Retton [SLIDESHOW]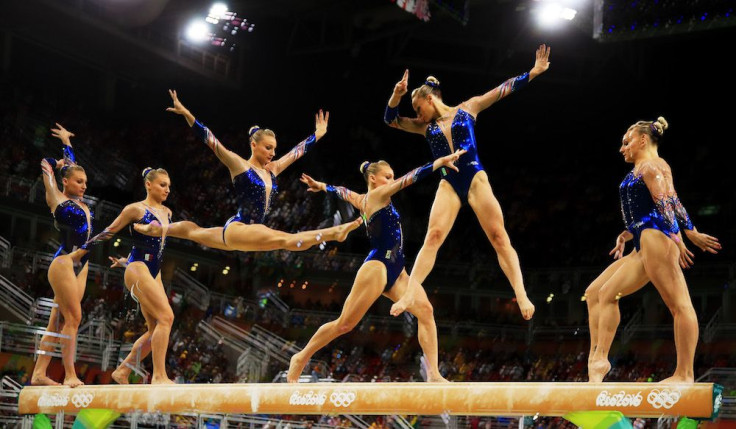 This week in Rio, all eyes have been on the women's gymnastics events as the competitors showed off their incredible athleticism and great artistic flare. The U.S. women's team of Gabby Douglas, Aly Raisman, Madison Kocian, Laurie Hernandez and Simone Biles stole the show in the team all-around event, dominating the competition and beating out Russia and China to take home the gold medal. Biles followed up by winning the gold medal in the individual all-around event. But it's not only the gymnasts' prowess on the bars and the beams that make the audience sit up and take notice: Their blinged-out leotards are show-stoppers as well.
Each American Olympic gymnast receives 12 training leotards and eight competition leotards which are heavily embellished with Swarovski crystals. These would most likely retail at around $1,200.
According to The New York Times, when Nastia Liukin won the gold medal in the individual all-around competition at the 2008 Olympics in Beijing, her leotard had 184 crystals on it.
In 2012, when Gabby Douglas won the same event in London, her leotard had 1,188 crystals. But this year, many of the Team USA leotards have close to 5,000 Swarovski crystals each.
"It's difficult for me to imagine how we could get more crystals on," Kelly McKeown, executive vice president for design and corporate relations at GK Elite, the official outfitter of the American national gymnastics team, told The Times. This Olympics, "we may have hit peak crystal."
Competitive gymnastic leotards have not always been as sparkly and shiny as they are today. They have evolved from something plainer and simpler before the1980s into the bedazzled garments on display in Rio this week.
According to one theory, embellished leotards were born from the need for tiny women, often under five feet tall, to stand out in a large auditorium.
The New York Times goes as far as to credit the gymnastics power couple Bela and Martha Karolyi as being responsible for pushing the change from mostly all-white suits that showed off a gymnast's physique to something bolder and brighter.
From around 2004, leotards began being manufactured in a fabric called Mystique, which overlays foil and hologram atop the spandex to create even more shine. Hence leotards gymnasts wore became ever glossier, especially as the crystals crept down the sleeves and over the body of the garment. "Martha [Karolyi] always wants 'more sparkle, more sparkle." McKeown told The Times.
Click through the slide show for images of the most blinged-out leotards - #7 is amazing. Then keep clicking to #15 to see how the Olympic gymnastics leotard has evolved. See #37 - You won't believe how the looked in the 60s!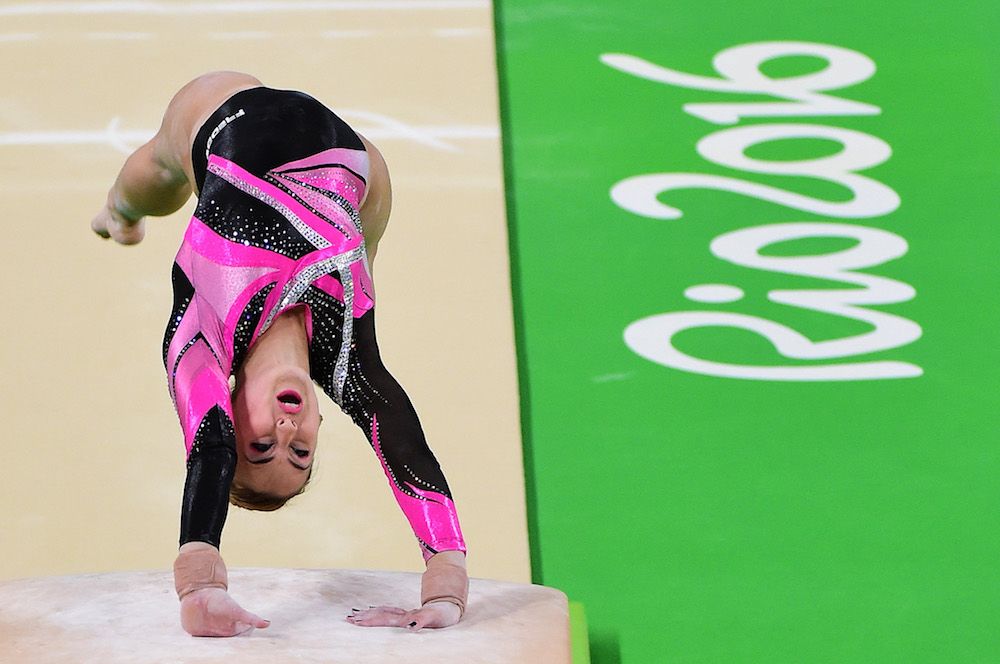 © Copyright IBTimes 2023. All rights reserved.