'Riverdale' Season 1 Spoilers: Is Archie's Dad Fred Dead Or Alive In Episode 13?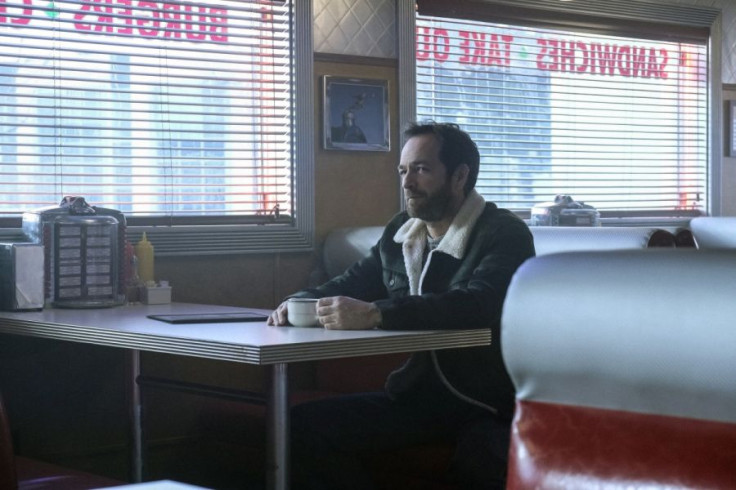 "Riverdale" Season 1, episode 13 ended with a huge cliffhanger that will affect Archie (KJ Apa) tremendously in Season 2.
In "Chapter Thirteen: The Sweet Hereafter," Archie struggled to stay calm amid all of the troubles that happened in their town. He just recently found out that Clifford (Barclay Hope) killed Jason (Trevor Stines) and that Jughead (Cole Sprouse) will be leaving with his foster parents while his dad, FP (Skeet Ulrich), is still in prison.
Read: What secret will Alice expose to Betty in "Riverdale"?
Archie wanted to do something to help his town, but his dad, Fred (Luke Perry), urged him to not risk his life. After all, the Southside Serpents are being targeted by the police because of their involvement in Jason's death, and Archie, Betty (Lili Reinhart) and their friends were the ones who dug deep into Jason's murder.
Towards the end of the episode, everything turned out to be just fine. Cheryl (Madelaine Petsch) tried to kill herself, but Veronica (Camila Mendes), Archie and their group came to stop her. Cheryl also wanted to move on from her father and brother's deaths, so she decided to burn their house down – literally.
Jughead and Betty's relationship is at its strongest yet. Jughead professed his love for Betty after he saw how hard she fought for him to be accepted and respected by the people at Riverdale High. Jughead was also there for Betty when someone posted a mean statement on her locker door.
But just when everyone thought that things would finally go back to normal, Archie spends time with his dad, Fred, at Pop's. While he's in the bathroom, Archie heard the voice of a man attacking the owner of the café. The man, who is wearing a mask, let the owner of the shop go, but he pointed his gun at Fred. The next scene showed Archie holding his bloodied father in his arms.
While speaking with TV Line, showrunner Roberto Aguirre-Sacasa said that Archie's arc for Season 2 will showcase him as a true hero in the hit The CW series. Following his dad's shooting, Archie will be forced to grow up from a boy to a man in the show. "It's going to set him on his real journey, ultimately towards heroism, but I think first to a much darker place than we've played Archie. Long gone will be the days of 'Music or football?' 'Betty or Veronica?' It's an Archie who's seen his worst fears come true," he said.
Meanwhile, Aguirre-Sacasa also said that Season 2 will revolve around Jughead joining the Southside Serpents. Betty didn't like the idea of seeing her boyfriend with the bad guys, but she saw him accept a jacket from one of the group's members. The EP said that Jughead's decision will bring a lot of drama for Jughead and Betty in the upcoming episodes.
In other news, it was also revealed in the finale that Betty has a secret brother who is in his 20s. One of the biggest questions is whether or not he will be introduced in Season 2. "I wouldn't be surprised, and that's all I'll say about it," the EP said.
© Copyright IBTimes 2023. All rights reserved.