'Riverdale' Season 2 Spoilers: Fred's Masked Shooter's Identity Teased In Promo [WATCH]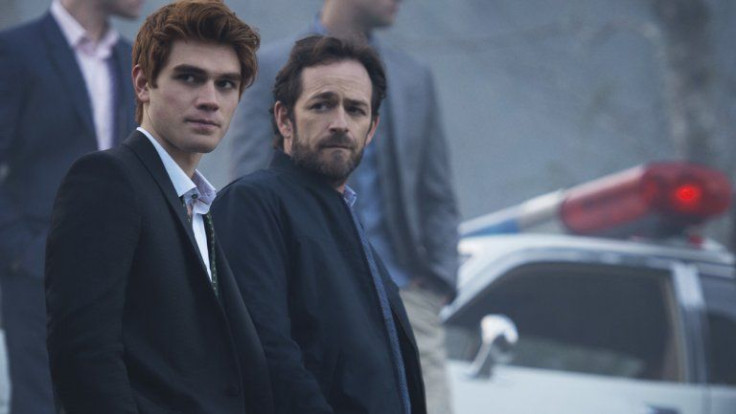 "Riverdale" Season 2 will soon reveal the identity of Fred Andrews' (Luke Perry) masked shooter. But Archie (KJ Apa) must first try to track him down.
The new teaser released by The CW for "Riverdale" Season 2 gives more clues as to who the masked shooter is and what his real goals are. The 30-second clip opens with the mysterious character walking away, his back turned toward the camera. He also removes his hat at one point.
Archie talks to one of the police officers and reports what transpired at Pop's Diner. He is confused since he is unaware that there's anyone who wants to take his father down. A concerned Archie talks to his girlfriend, Veronica (Camila Mendes), and appears to be worried about the masked shooter coming back to their town. In his attempt to keep himself safe, Archie goes out of his house with a baseball bat in his hand.
In the same clip, an angry Betty (Lili Reinhart) confronts her mom, Alice (Madchen Amick), in the kitchen. Betty drops a piece of paper on the table and says that they are now at war with each other. In Season 1, Alice came clean to Betty about mothering a boy that she gave up for adoption years before she and Polly (Tiera Skovbye) were born.
Elsewhere in the clip, a detective asks FP (Skeet Ulrich) a series of questions. Jughead's (Cole Sprouse) dad is still in jail after being linked to the murder of Jason Blossom (Trevor Stines). It was later on revealed that Clifford (Barclay Hope) killed his own son, but since FP didn't say anything to the police officials, he was labeled as an accessory to the crime.
Veronica's ex-boyfriend, Nick St. Clair (Graham Phillips), also makes an appearance in the short clip. It's obvious that Veronica is not pleased to see him in Riverdale. The two were together when Veronica was still residing in New York.
Toward the end of the clip, the mysterious masked shooter expresses his desire to make Archie's life miserable. As of late, it is unclear who this person is and why he is targeting Archie.
"Riverdale" Season 2 will premiere on The CW on Oct. 11 at 9 p.m. EDT.
© Copyright IBTimes 2023. All rights reserved.