Rob Zerban: Is He Obama's Key To Defeating Paul Ryan and Mitt Romney In November?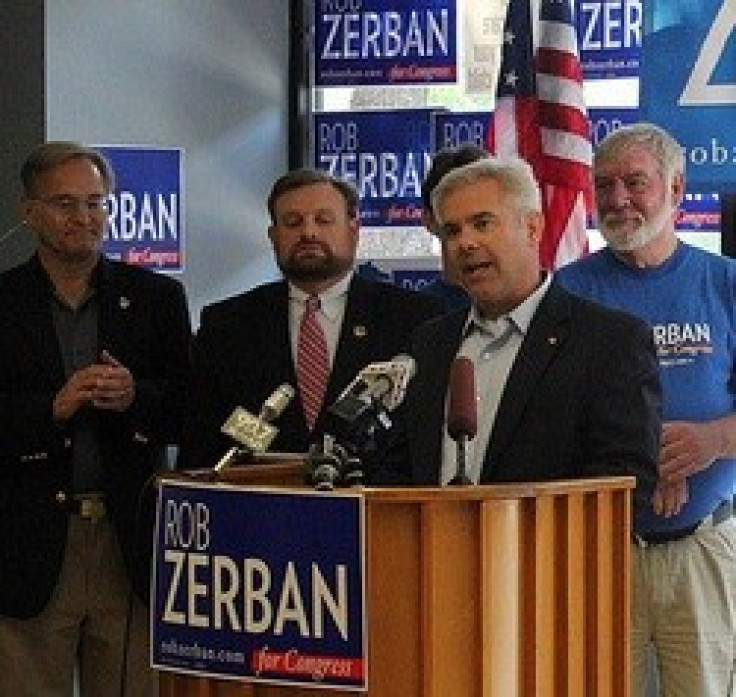 The "announcement" of Paul Ryan as Mitt Romney's official running mate in the 2012 presidential elections has officially shaken up race leading up to November. Suddenly, the conversation has shifted from tax returns and jobs to healthcare and the future of Medicaid. But mostly, people want to know more about Ryan, the handsome and charming congressman from Wisconsin, who has given Romney's campaign a shot in the arm for one last push until the polls open.
In the past several days since Ryan's VP nomination, we've come to know a bit more about the 42-year-old politician, whose radical and polarizing fiscal policies have U.S. citizens thinking about the future of our government programs.
There is a significant amount of jawing between the two presidential campaigns - both Obama and Romney have used strong rhetoric against each other's policies - and as a result, few truly know much about Ryan's budget proposals, since the Obama campaign has done little more than to call them a "sham."
There is one man that could provide some perspective on Ryan, his proposals, and his history, and that man happens to be Ryan's congressional opponent in Wisconsin, democrat Rob Zerban.
Zerban introduced himself in an email to democratic supporters on Monday, announcing his "unique privilege of being the other candidate who gets to defeat Paul Ryan this year."
"Paul Ryan supports ending Medicare. I support Medicare for All," Zerban wrote. "Paul Ryan supports lowering taxes on the rich. I want the rich to finally pay their fair share. Paul Ryan thinks the way to create jobs is tax giveaways for Big Oil, Wall Street, and other big corporations. I'm a small businessman who fights for the little guy. Paul Ryan is pro-life. I am pro-choice. Tell me when to stop..."
Zerban, who came from a background of poverty two create two highly-successful businesses, makes it very clear on his website that he is only running for Congress "because Paul Ryan's plan to destroy Social Security and Medicare is the wrong path for our nation."
For those that don't know about Paul Ryan's proposed plan for Medicare, I highly recommend reading ABC News' primer on Ryan's plan, written by Chris Good. Here's an important excerpt that best explains Ryan's idea he submitted in 2011.
"If implemented, the government would no longer pay doctors to treat Medicare beneficiaries," Good wrote. "Instead, beneficiaries would buy their own private insurance plans, and the government would give people money to pay to buy health plans from an approved list.
"Critics have called Ryan's 2011 proposal the 'end of Medicare as we know it,' and that's true. Until now, Medicare has operated as a 'fee-for-service' system; under Ryan's plan, it would operate more like a voucher system, although Ryan and his aides have resisted this term. Medicare would cease to pay for health services directly, instead operating as a board that approves a menu of health plans for public sale and doles out predetermined lumps of money to people enrolled in Medicare, to help them buy those plans."
While Ryan's plan could potentially help shrink the deficit by taking an alleged $500 billion out of the next 10 years of Medicare spending, opponents like Obama and Zerban have remained stalwarts against Ryan's proposal, which would force most people - including the seniors that these social systems are supposed to protect - to pay an exorbitant amount on healthcare costs and taxes.
"I guess you could call that bold. I would call it short-sighted," Obama told 700 attendees at a town-hall meeting held at Facebook headquarters in Palo Alto, Calif., in April 2011. "Nothing is easier than solving a problem on the backs of people who are poor or people who are powerless or don't have lobbyists or don't have clout."
Zerban has also bashed Zerban's "Path to Prosperity," added that he is committed to protecting these senior programs like Social Security, Medicare and Medicaid.
"Privatization is not the American way; it is the introduction of harm and risk to a program that is built to provide security and stability," Zerban wrote on his website. "Privatization, and those that support such efforts, are focused only on increasing corporate profits, most likely so politicians that support these plans can receive more PAC money. These proposals do nothing to lower costs or increase benefits."
Zerban said seniors would end up paying hundreds more a month for the same care, which could be devastating for those individuals especially as they continue to lose pensions and contributions to 401K and Social Security.
"Medicare is more efficient than private insurance. It delivers better care for less money which is why I firmly oppose privatizing Medicare, vouchers, "premium support," or many of the other ideas proposed by Paul Ryan," Zerban wrote. "Medicare is worth it, and we can afford it. We can however, make Medicare cheaper by allowing Medicare to negotiate for lower-cost prescription drugs. We can also eliminate tax loopholes and cut waste in the defense budget to pay for Medicare and many other investments we need to make for students, seniors, and middle class families."
Zerban has a handful of his own ideas too, including some very strong feelings on the middle class and our environmental impact, but Zerban's No. 1 mission is to make sure Ryan doesn't win Wisconsin in November, since the 1968 law still allows Ryan to be on the ballot twice, but only because he's running for vice president.
According to the Kenosha News, Zerban has only raised $1.2 million in campaign funds, in comparison to $4.3 million raised by Ryan, but Zerban believes contributions will pick up as Ryan and Romney race towards November.
Zerban calls the GOP presidential ticket the "Romney/Ryan Road To Ruin," since many of their proposed policies would have deeply negative impacts on Medicare, Social Security, Stafford loans and Pell grants, for example.
"This is the kind of budget that could only come from an out-of-touch Washington insider," Zerban said. "I graduated from college and founded two businesses. (Ryan) went to Washington, D.C., after college and has lived off our tax dollars ever since."
If the Obama campaign hopes to build opposition against Romney and Ryan, Zerban will be a big key to taking this national debate to the local level, and to really challenge the GOP candidates to persuade the electorate of the merits of their proposals. Without Zerban, November may come down to a popularity contest.
© Copyright IBTimes 2023. All rights reserved.
FOLLOW MORE IBT NEWS ON THE BELOW CHANNELS