Robert Pattinson And Kristen Stewart: How True Are The Wedding Rumors?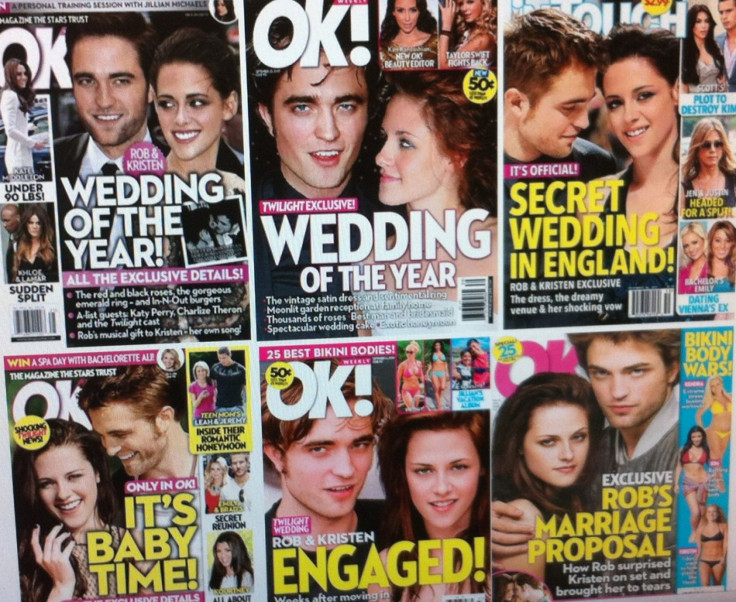 Kristen Stewart is only 22, but, according to numerous gossip outets, she's ready to settle down and become Mrs. Robert Pattinson. Stewart, who has been quietly dating Pattinson since 2009, was reportedly spotted ogling engagement rings at Neil Lane in West Hollywood, Calif. In Touch magazine claims that the sighting proves a Robsten wedding is imminent.
So how true are these stories of the couple's rumored nuptials?
Fictitious stories about the pair have been rampant since they began filming Twilight in 2008. More specifically, reports of impending matrimony have been perpetuated since 2009, when it became clear that they were an off-screen couple.
Two separate OK! Magazine cover stories, one released in 2009 and the other released in 2012, featured the headline Robert Pattinson and Kristen Stewart: Wedding of the Year! Both issues claimed the two were making extensive plans to walk down the aisle, citing close friends as sources. OK! falsely reported that Pattinson proposed in 2009 and again in 2010. So far this year, the mag has released the details of Pattinson and Stewart's honeymoon as well as their plans to have a baby.
In 2011, In Touch alleged the two were married during a Secret Wedding in England.
Based on the immeasurable number of false stories on the couple's relationship status, the engagement gossip is likely unwarranted.
Regardless of the tabloid fluff, it's easy to understand why their romance fascinates the public. With the success of the Twilight franchise, the twosome have become one of Hollywood's most talked-about couples. Stewart recently topped the Forbes list as the world's Highest Paid Actress while Pattinson ranked high on the celebrity list. Both actors earned a newfound respect after their films, On the Road and Cosmopolis debut to critical acclaim at the Cannes Film Festival this year.
Their appeal may be likened to that of old fashioned Hollywood couples like Elizabeth Taylor and Richard Burton.They feed into the voyeuristic escapism that film and pop culture lovers sometimes crave. Yet rather than engage in exploitative photo ops, they've chosen to protect their private lives and separate their relationship from the Twilight craze.
I don't really want to sell it..., Pattinson told ABC in 2010. Maybe if I were selling it, I'd talk about it more.
I think it's weird when actors start to believe they're interesting and cool because they sell themselves, Stewart told Mexican outlet Milenio this year. I don't have a problem with Twitter, and probably if I wasn't in this position I'd have one, but when you start giving away pieces of yourself, you stop being you.
Their refusal to publicly acknowledge their relationship has made candid photos of the couple a hot commodity for the paparazzi. Furthermore, tabloids have little to go on when developing stories on the notoriously private stars. False reports, such as upcoming weddings, are therefore common.
As of now, the only evidence of marriage has been their on-screen wedding in The Twilight Saga: Breaking Dawn.
The wedding scene's funny because we used a real priest. So technically we are already married because he did all the things you would do in a normal ceremony, Pattinson, 26, joked during a press conference for the film.
Stewart and Pattinson will play married vampires in Breaking Dawn: Part 2, slated for release on Nov. 16.
© Copyright IBTimes 2023. All rights reserved.