Robert Pattinson And FKA Twigs Engaged? Rumors About Their Wedding Plans, The Proposal, Kristen Stewart's Involvement And More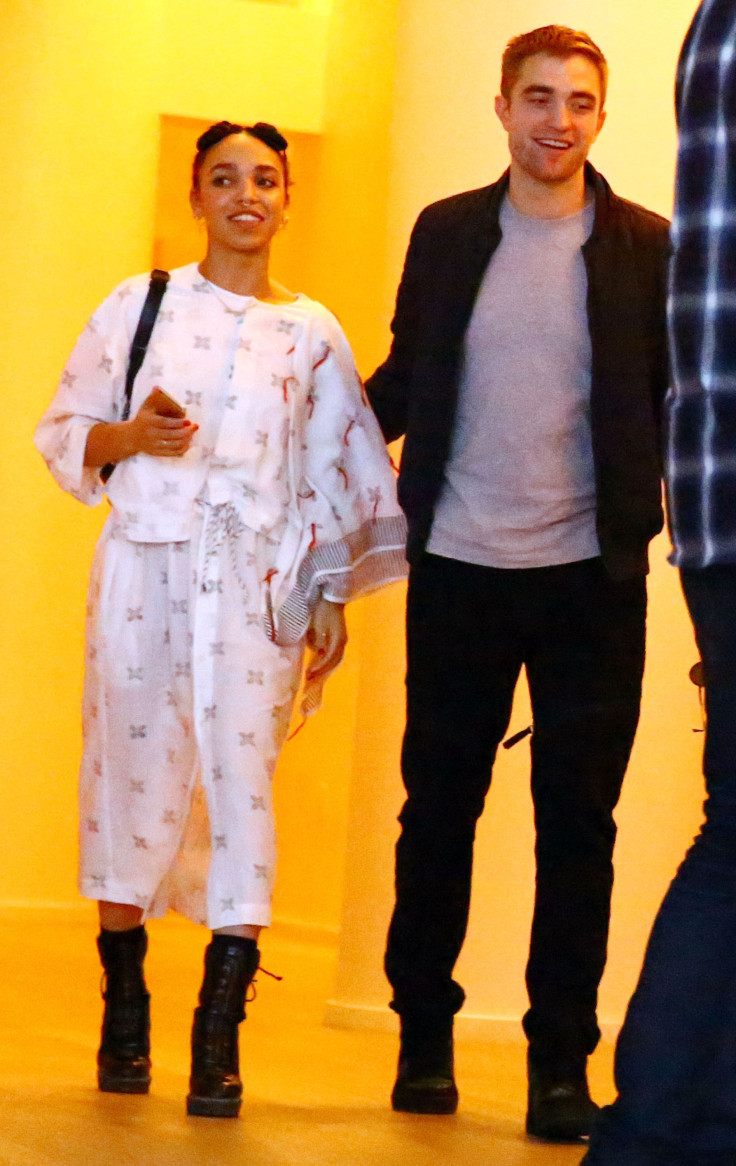 "Twilight" fans, get ready for some serious heartbreak. Rumor has it that actor Robert Pattinson is engaged to his girlfriend of six months, contemporary singer FKA Twigs (whose real name is Tahliah Barnett). While the duo has yet to confirm or deny their rumored engagement, several outlets are reporting that the 28-year-old actor and the "Two Weeks" singer are indeed engaged to be married. While we wait for their official comment, catch up on everything we know so far about their alleged engagement.
1. April Fools' Day Joke?
T-Pain was the one responsible for sparking the Pattinson, FKA Twigs engagement rumors. The rapper revealed Twigs, 27, was engaged during an interview with Vulture Wednesday. When asked if Twigs -- his "favorite" new artist -- would make an appearance on his forthcoming album, the rapper said that she had too much on her plate at the moment. "She's engaged now, so that's about to be a whole other thing," he shared. When pressed to discuss the engagement further, he reportedly said, "Yeah, to ol' Patty [Robert Pattinson]. I don't know if she wanted anybody to know."
While T-Pain has since deemed his comments an April Fools' Day joke, several publications are suggesting otherwise. People Magazine is reporting two of their sources have confirmed the engagement. Gossip Cop shared similar findings.
2. The Proposal
Pattinson is rumored to have popped the question to Twigs in February, shortly before Valentine's Day, according HollywoodLife. "He was and is very secretive about it only telling a select few family and friends," an insider told the site.
So how did the "Twilight" star pop the question? While insiders claim that the British love birds were alone during the proposal, little else is known about their big moment.
3. Wedding Date
Despite engaging in a whirlwind romance – the couple made their relationship status "official" in August 2014 -- reports suggest that the twosome will not be walking down the aisle anytime soon. "They haven't set a date," a source told Hollywoodlife. "Friends and family have been told not to expect anything this year. It's going to be a long engagement."
4. Promise Rings
In March, reportedly after Pattinson's rumored proposal took place, rumors circulated that Twigs and Pattinson were sporting promise rings. "He wants to marry her," a source told People Magazine, adding that "The Rover" actor was "much more calm and happy than before."
5. Kristen Stewart
Pattinson's engagement will be undoubtedly tough for some "Twilight" fans to bear, but the bombshell news might be even more difficult for the actor's ex-girlfriend of three years to swallow. Reports indicate that Pattinson's longtime love and former"Twilight" co-star Kristen Stewart, 24, was not given a heads up prior to Pattinson's proposal, and understandably so. According to HollywoodLife, the duo no longer talk.
"That ship has sailed," an insider said. "The two have completely different lives."
6. True Love
While Pattinson has remained hush-hush about his romance with Twigs since they were first spotted in New York City last summer, his better half has been open about her feelings for the actor. During an interview with USA Today in November, Twigs said that despite receiving hate online for her romance with Pattinson, their relationship, in her eyes, was "worth it." "The positively that I get from [my relationship] makes the more challenge aspects… very worth it," she shared.
What do you think about Robert Pattinson's engagement? Sound off in the comments section below!
© Copyright IBTimes 2023. All rights reserved.