Robin Roberts Of 'Good Morning America' Has Myelodysplastic Syndrome: What Is MDS?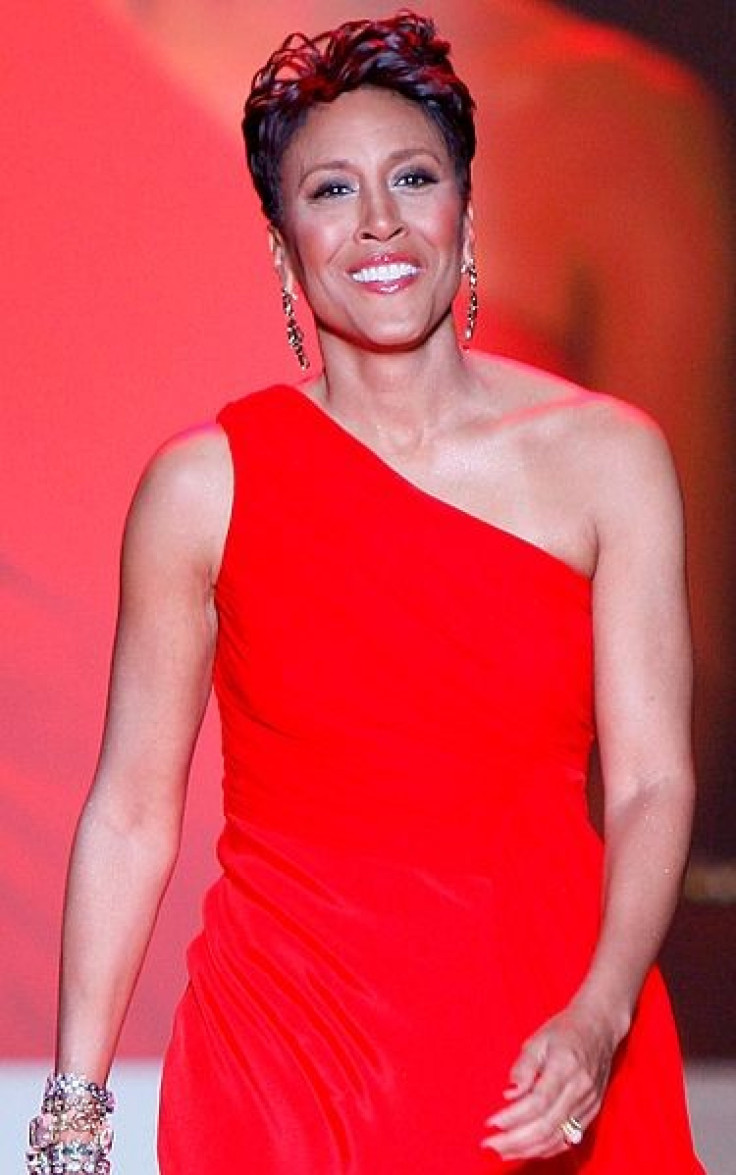 Good Morning America co-anchor Robin Roberts is a breast cancer survivor, and she told Monday's audience she has another medical battle to fight: a rare blood disorder known as myelodysplastic syndrome, or MDS.
Fighting back tears on several occassions, Robin Roberts said her myelodysplastic syndrome was caused by her treatment for breast cancer, which she beat five years ago. She then went on to explain MDS.
It is a rare blood disorder that affects the bone marrow, Roberts said during her public announcement on Monday's show, which can be viewed here. The reason I am sharing this with everybody now is because later today I begin what is known as pre-treatment.
The GMA co-anchor said there might be a bandage on her on tomorrow and she didn't want any viewers having any concerns. The bandage would be covering up a location doctors will use to draw blood and administer drugs, Robin Roberts said.
Roberts' highly publicized breast cancer battle and her conquering the disease has given her hope that she will beat MDS as well.
I am going to beat this and my doctors say it and my faith says it to me, Roberts said, barely able to stop from choking up.
The pre-treatment Roberts will be undergoing is in preparation for a bone marrow transplant. Her older sister matches Roberts' blood type and will be an asset in her recovery, the GMA co-anchor said.
You have heard me say I'm abundantly blessed - in fact, I think in 'Good Housekeeping,' I said, 'freaking blessed,' Roberts said. My big sister is virtually a perfect match for me ... and she is going to be my donor. Doctors tell me that is going to be a tremendous help in me beating this.
Roberts said her transplant will likely be conducted either later this summer or in the fall.
While Roberts said her case of MDS was caused by her cancer treatment, other causes of the rare blood disorder include exposure to chemicals or radiation. Most of the time, the cause is unknown, according to marrow.org.
MDS is extremely rare, with only about 10,000 to 15,000 cases diagnosed in the United States every year, according to marrow.org.
Symptoms of MDS include anemia, fever, frequent infections and easy bleeding or bruising.
Robert's Good Morning America family cheered her on and gave their support following the announcement.
Co-anchor George Stephanopolous noted that Roberts shared her MDS diagnosis with her colleagues prior to Monday's public announcement and praised Roberts for how she went about her business.
I am just in awe of the way you've handled this, Stephanopolous said. You're going to hit this with all the courage and grace you've shown your whole life.
Stephanopolous told Roberts there were a number of factors that make him optimistic she will beat MDS.
You're young, you're fit, you've gotten this early and you're going to fight it, he said.
Co-anchor Josh Elliott almost lost his composure, saying that the Good Morning America family will be with Roberts throughout her MDS battle.
I want you to know it is our fight, not your fight, Elliott said. It's a fight we're going to win.
GMA weather anchor Sam Champion also offered words of encouragement to Robin Roberts.
The love that you give out every day is rushing back to you, he said. We will be there, we will be there for you and you will beat this.
Celebrities and media personalities took to Twitter to tweet their support for Robin Roberts and her battle with MDS.
prayers for Robin Roberts, tweeted rap mogul Russell Simmons.
Best wishes to Good Morning America host Robin Roberts who's been diagnosed with MDS, Myelodysplastic Syndrome, said CNN's Ali Velshi. She's a fighter.
We stand beside you @RobinRoberts and cheer you on as you kick MDS to the curb. It's our turn to inspire you. ?#Courage?, said ESPN injury analyst Stephania Bell.
© Copyright IBTimes 2023. All rights reserved.