'Roswell, New Mexico' Season 3 Will Keep Max And Liz Apart Post-Pandemic
UPDATE: Monday, June 8 -- Carina MacKenzie responded to this story on Twitter to clarify that this was just "an example of hypothetical creative solutions we've been pitching for hypothetical COVID-related problems."
Original story: "Roswell, New Mexico" Season 3 was supposed to start shooting in July, but COVID-19 has forced production to be delayed. Still, the writers room is in full swing, and they have creative ways to keep their actors socially distanced while on set. However, that might add some extra drama to Max and Liz's romance.
Showrunner Carina MacKenzie discussed creative ways to work social distancing into the show during a virtual panel at ATX TV Festival on Friday. "Our two main sets are a diner and a bar that are constantly packed with extras. We're sort of like, OK, well we can probably have extras in exterior scenes socially distanced, but we're not going to be able to pack a bar full of people," she said.
The show, luckily, is very contemporary. It makes sense for "Roswell, New Mexico" Season 3 to acknowledge the pandemic. "We'll do a little time jump between our seasons and we will jump over the quarantine period, but we will still acknowledge COVID happened," MacKenzie said. "Our diner will be take-out only. Our bar will have shut down because they couldn't sustain through the quarantine."
READ: What Michael Vlamis Hopes To See In 'RNM' Season 3
That's bad news for Maria (Heather Hemmens), who owns the bar, and Max (Nathan Dean), who has been working at the Wild Pony since he left the police department. The real challenge, however, has been the romantic storylines. It seems like that's where a sci-fi element will be deployed to keep Liz (Jeanine Mason) and Max apart.
"Trying to figure out how to tell a love story without any kissing has been fun," the writer acknowledged. We had a writer pitch, 'Well, what if the aliens are getting stronger, and now every time they touch anyone that person comes away with an alien handprint on them?' We were like, OK, maybe that's how we prevent these two people from kissing for an entire season is he can't touch her because she'll start to glow."
With filming so far off, it's entirely possible things could change, but for now, it certainly seems like Max and Liz might be kept apart. It's not just Max and Liz who need to be distanced, though. The show has several romances. Michael (Michael Vlamis) is dating Maria, but still has feelings for Alex (Tyler Blackwood). Alex has been seeing a new character, Forest (Christian Antidormi). Fans will have to wait and see how the pandemic interrupts their favorite romances.
"Roswell" Season 2 is still airing Mondays at 9 p.m. EDT on The CW. The season finale is set to air June 15.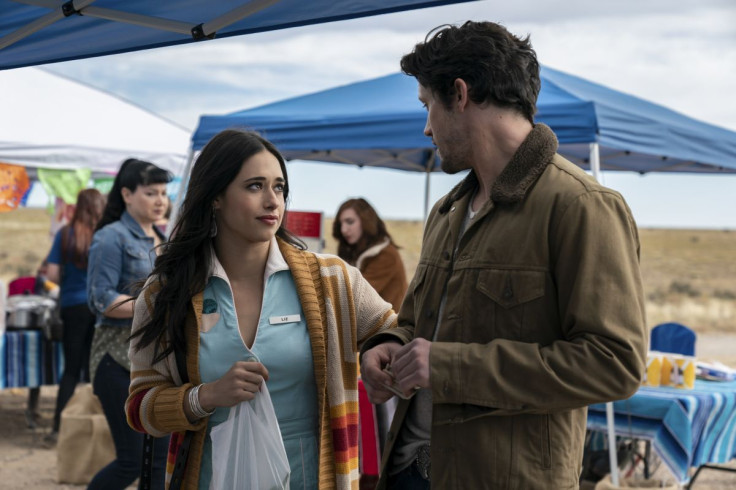 © Copyright IBTimes 2023. All rights reserved.