Salma Hayek Helped Tiffany Haddish Her Find Her Voice On Set
Tiffany Haddish and Salma Hayek were recently in the movie, "Like A Boss" that was released in January. But it seems a love of comedy and an IMDb credit isn't the only thing the two actors have shared, according to Harper's Bazaar.
During filming for a recent project that Haddish did not name, she noticed a pattern with her character: in many scenes, she was expected to yell or scream or act loud and angry — a movie trope that has been criticized in recent years for its perpetuation of negative stereotypes surrounding black women.
"I was like, 'I'm not about to be the angry black woman,' " she says. "I just walked away."
Haddish knew she didn't want her character feeding into that narrative but didn't know how to approach the subject with the filmmakers.
Luckily for Haddish, Hayek was there to help offer guidance in handling the situation.
"She was telling me how to go about it. It was the best learning experience," Haddish said. "I could've been fired that day. It very well could've been like, 'Fire Tiffany. We'll get somebody else.' That was a chance that I was willing to take."
Haddish was not fired from the project and the creators made sure to address her concerns. She credits Hayek with helping her to learn how to navigate the politics of making movies.
"You have to say what you believe," she said. "When you have that bad feeling, honor that because that's the truth. Your emotions are your compass through life."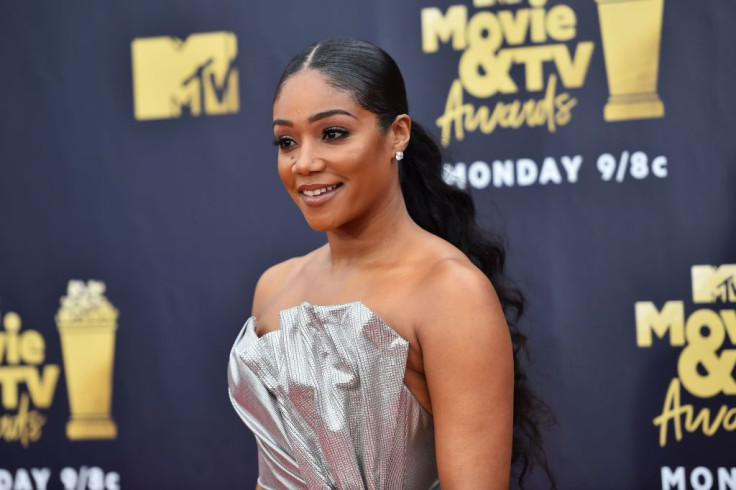 © Copyright IBTimes 2022. All rights reserved.
FOLLOW MORE IBT NEWS ON THE BELOW CHANNELS