Samsung Galaxy Note 3 Release Date Nears: Leaked Best Buy Information Indicates Sept. 19 Launch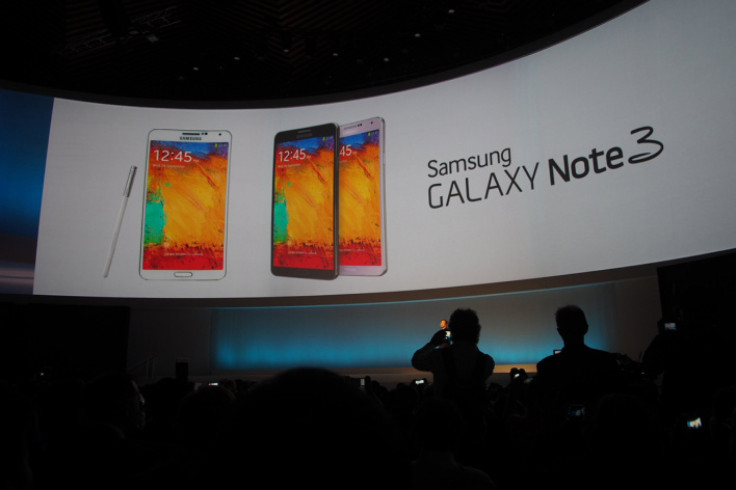 The Samsung Galaxy Note 3 may be coming to America a lot sooner than we expected. Leaked documents, obtained by SamMobile, indicate that Best Buy may be getting a shipment of unlocked Galaxy Note 3 handsets, which it may release on Sept. 19 – earlier even than its scheduled international release. But most are taking this news with a large grain of salt.
Samsung announced that the Samsung Galaxy Note 3 would be released to 148 international markets on Sept. 25, while the U.S. and Japan would receive the device in October. Thus far we know Samsung will release the Note 3 on AT&T on Oct. 1, on T-Mobile on Oct. 2 and on Verizon on Oct. 10.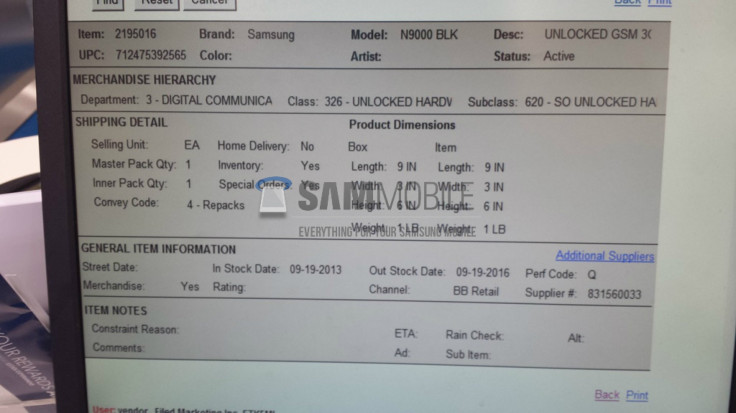 Pundits have noted many aspects of this leak that lead them to believe it is not real. On top of the supposed Sept. 19 release date, the leaked information indicates a $999.99 off-contract price for the Samsung Galaxy Note 3. This seems far off considering that the highest off-contract price we've seen so far for the Galaxy Note 3 has been $724 at AT&T. Some wonder is this is a placeholder price in order to keep the real price of the unlocked Galaxy Note 3 at Best Buy a secret.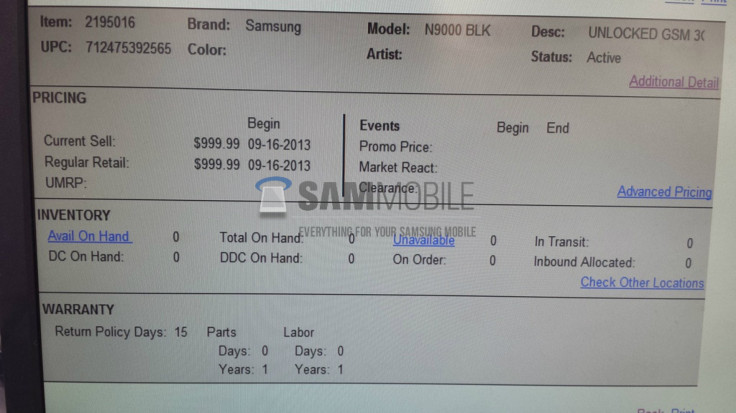 Additionally; the Galaxy Note 3 handset is listed under the N9000 model number, which coincides with the Note 3 3G variant running the Exynos 5 Octa 5420 processor, while the U.S. is expected to get the Galaxy Note 3 LTE variant running the Qualcomm Snapdragon 800.
While this leak has been connected with Best Buy, it does not specify that it is Best Buy in the U.S., which could account for the international model number and the higher listed price as well as the earlier release date. Of course, this is something we cannot confirm. Despite this leak, the Samsung Galaxy Note 3 probably won't be seen at any U.S. retailer or carrier until October.
The Samsung Galaxy Note 3 features a 5.7-inch Full HD Super AMOLED display, a 2.3GHz quad-core LTE processor for the U.S. market, 32GB and 64GB internal storage options with microSD expansion up to 64GB and 3GB of RAM, a 13-megapixel camera, and a 1.9-megapixel front camera with 1080p/60 video recording and 4K video recording for some models. The Samsung Galaxy Note 3 also runs on the latest Android 4.3 Jelly Bean operating system and a 3,200mAh battery, and it features boosted 24-bit and 192 KHz audio.
Software features for the Galaxy Note 3 include Samsung Knox, which is preloaded on the Galaxy Note 3, in versions compatible with both personal and business uses. The Samsung Galaxy Note 3 also focuses on improved multitasking with the Air command feature, which directs users to the Action Memo, Screen Write, S-Finder, Scrapbook and Pen Window applications. With an enhanced S-Pen, users can easily navigate around their Samsung Galaxy Note 3 handset with simple dot, circle and box motions.
The Samsung Galaxy Note 3 will come in jet black, classic white and blush pink color options, but the blush pink Galaxy Note 3 is not expected to be available in the U.S.
Do you think this Best Buy leak of the Samsung Galaxy Note 3 is real? Let us know in the comments below.
Follow me on Twitter @FionnaatIBT.
© Copyright IBTimes 2023. All rights reserved.
FOLLOW MORE IBT NEWS ON THE BELOW CHANNELS