Samsung Galaxy S9 Release Date Features Could Introduce New Fingerprint Technology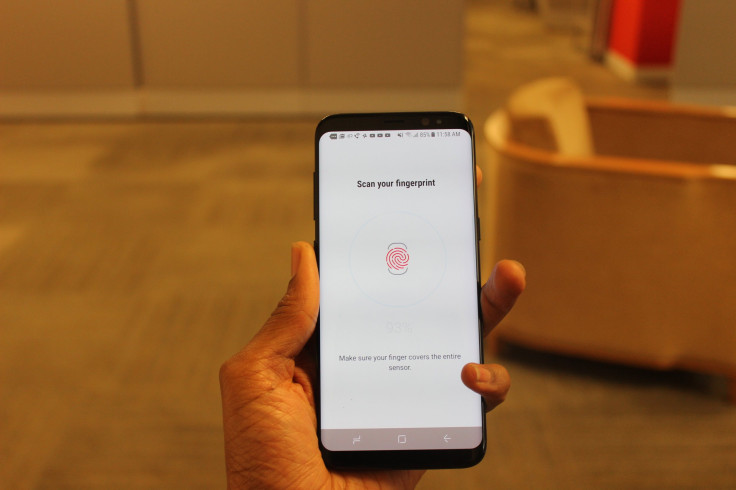 The Galaxy S9 could feature a front-facing fingerprint scanner, according to a patent recently filed by Samsung. Dutch tech blog, Galaxy Club detailed that Samsung filed a patent with the Korean trademark organization, KIPRIS for a technology, which would allow the manufacturer to house a fingerprint scanner in a small notch at the bottom of a smartphone screen.
Some are comparing the feature to the top notch on the Essential Phone, which houses its front camera module in a fashion intended to allow for a continuous display without thick bezels or a capacitive home button.
While such a feature has not been confirmed for the still rumored Galaxy S9, it seems like a plausible alternative to an on-screen fingerprint sensor. Reports suggest Samsung may on have its display embedded fingerprint sensor technology ready in time to be included in the Galaxy S9. However, it likely would be in the manufacturer's best interest to figure out an alternative to the ill-placed rear-fingerprint scanner featured on the Galaxy S8 and Galaxy Note 8. Samsung placed the scanner to the right of the camera module on both devices, much to the chagrin of users, who would often accidentally touch the camera module instead of the fingerprint sensor.
In comparison, many other devices, such as the LG V30, Huawei Mate 10 and Google Pixel 2, feature rear fingerprint sensors with a centered location, making it easy for users to find the sensor without paying much attention.
Rumors suggest it may take until the Galaxy Note 9 release, likely in late 2018 for Samsung to introduce a display embedded fingerprint sensor. Manufacturers and suppliers began heavily showcasing the new biometrics form factor between late 2016 and early 2017 with intentions for devices in late 2017 to include the feature. Even Apple's iPhone X was rumored to include a display embedded fingerprint sensor, but Apple ended up removing its TouchID from the iPhone X altogether, replacing it with a new facial recognition technology called Face ID.
Manufacturers across the industry found it difficult to implement sensors into the display without disrupting components within the OLED displays being used for the feature. While reports have long suggested the Galaxy S9 likely won't release with an in
News currently indicates that Samsung is considering suppliers, including Synaptics and BeyondEyes, Samsung LSI and Egis for the fingerprint sensor for the Galaxy Note 9, but other rumors for the device remain minimal. The Galaxy S9 is expected to come in 5.8-inch and 6.2-inch (S9 Plus) models. It may run the Qualcomm Snapdragon 845 chip and include 6GB of RAM. There are also several rumors suggesting major camera upgrades for the device.
© Copyright IBTimes 2023. All rights reserved.
FOLLOW MORE IBT NEWS ON THE BELOW CHANNELS