Sandy Hook Fake Insists Donald Trump Ally Alex Jones: Conspiracy Theorist Claims Mass Shooting Was Staged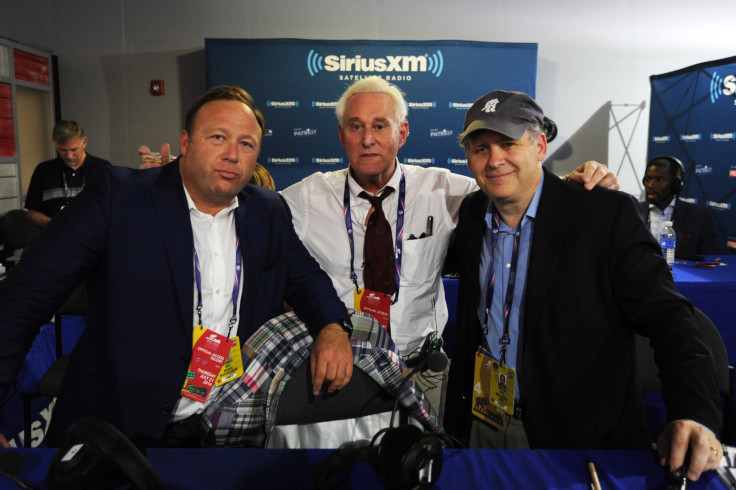 Conspiracy theorist and ally of President-elect Donald Trump Alex Jones has doubled down on his accusation that the Sandy Hook massacre was fake. Talking on Thursday's broadcast of the "Alex Jones Show," Jones began by denying accusations that he had said in the past that the mass shooting that killed 20 children and six adults at the elementary school in Newtown, Connecticut, in December 2012, had been staged. However, he soon dived back into his conspiracy theories.
Jones' latest controversial comments came a day after the daughter of a victim of the mass shooting wrote an open letter calling on Trump to disavow the founder of the InfoWars website and one of the self-proclaimed "founding fathers" of the Sept. 11 Truth movement.
Trump appeared on Jones' show last December, saying "your reputation is amazing. I will not let you down." Jones recently said Trump called and thanked him after his upset election victory over Hillary Clinton last week and promised to return to his show. The Trump camp has not confirmed or denied the claim.
Jones attempted Thursday to fend off criticisms about his views on Sandy Hook. "They take it out of context and say, 'look, he says no children ever died from mass shooting.' I never said that," he began.
In an episode of his show in January 2015, Jones said that "Sandy Hook is a synthetic completely fake with actors, in my view, manufactured."
And on his latest show, Jones again went back to repeat the essential tenets of his conspiracy theory. They include that: "The building was closed years before;" that CNN anchor Anderson Cooper reported on the tragedy "using a green screen, his nose disappears," and that "I even know FBI agents that say they think it's suspicious."
He went on to say that "we've sent reporters up there, that place is like 'Children of the Corn' or something, I mean it is fricking weird… All I know is that something is going on."
Jones, who has claimed that the Sept. 11, 2001 terror attacks were carried out by the United States government, has been called "almost certainly the most prolific conspiracy theorist in contemporary America" by the Southern Poverty Law Center.
During the election campaign, Trump promoted a conspiracy theory that originated from Jones' InfoWars website claiming that Clinton wore an earpiece during September's "Commander-in-Chief Forum." On his show, Jones referred to Clinton as "a whore of Babylon drunk on the blood of saints" and a "demon" who "smelled like sulfur."
© Copyright IBTimes 2023. All rights reserved.
FOLLOW MORE IBT NEWS ON THE BELOW CHANNELS