Sandy Hook School Shooting: Newtown Holds Funeral Service For Victims; Schools To Reopen Tuesday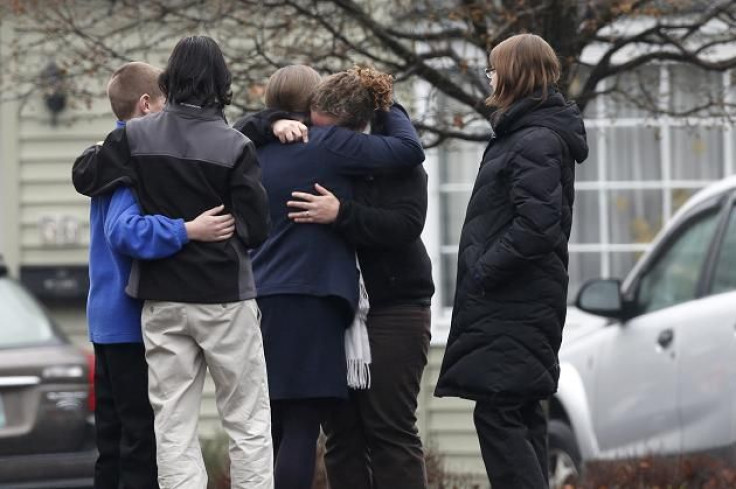 A grief struck Newtown, Conn., will hold more funeral services Wednesday for those slain in Friday's unfathomable school attack, as the nation, shocked by one of the country's worst mass shootings, rallied behind the victims' families with prayers and support. Calling hours and prayer vigils will also be held Tuesday.
Family, friends and the community bid a tearful farewell to Jack Pinto and Noah Pozner both aged 6, the first of the 20 first graders, shot dead by Adam Lanza, at funeral services held in two towns in Newtown, Conn., Monday.
"Who could ignore that beautiful energy, the sparkle in his eye, or that spirit that clearly said, 'I am here, and I am something special'?" a family friend reminisced about Pinto in a eulogy. Pinto was a New York Giants football fan and was dressed in the team's jersey with his favorite player's number, as his little body was laid out in a white coffin, Reuters has reported.
Pozner, was described as a smart and mischievous kid, who loved animals and video games by his uncle Alexis Haller, of Woodinville, Wash. "He would have become a great man, I think. He would have grown up to be a great dad," he said, according to the Los Angeles Times.
More funerals are being held Tuesday for the victims, including Jessica Rekos, 6, the first of the girls who faced the irrate shooter.
"It's still not real that my little girl, who was so full of life and who wants a horse so badly and who's going to get cowgirl boots for Christmas isn't coming home," Krista Rekos, Jessica's mother, told ABC News Monday.
The community held candle vigil where hundreds mourning the deaths took part and an impromptu memorial for the victims was erected on the streets, with mourners placing candles and flowers in front of the Christmas trees in Connecticut town.
The police are investigating the crime and are trying to figure out the motive of 20-year-old shooter identified as Adam Lanza, who killed 20 children and six educators in the Sandy Hook Elementary School Friday morning, before turning the gun on himself. Prior to the shooting rampage at school, he killed his 52-year-old mother Nancy Lanza in their home. He used guns registered in his mother's name to carry out the heinous crime.
An Associated Press report citing law enforcement officials stated that Lanza had enough ammunition to kill every student in the school.
"We are working 24 hours a day and will continue to do so indefinitely to answer questions about how and why this occurred," Lt. J. Paul Vance, state police spokesman told reporters at a televised morning briefing. "There are many witnesses that we need to interview."
The authorities expect to get vital clues from the two adult survivors of the incident, who are recuperating from the gunshot wounds.
The schools in the Connecticut area except the Sandy Hook school are scheduled to reopen Tuesday, but the investigators hinted that Sandy Hook school building may remain indefinitely closed as a crime scene and the children are likely to be moved into the unused Chalk Hill School in the nearby town of Monroe, Reuters has reported.
For the parents and children horrified by the shooting at the school, it may take months to recover from the trauma. School authorities said appropriate counseling and emotional support will be provided to the parents and the children to overcome the tragedy.
The Newtown police are planning to provide protection at six schools reopening Tuesday, to reassure security to the apprehensive parents, staff and children.
"Obviously, there's going to be a lot of apprehension. We just had a horrific tragedy. We had babies sent to school that should be safe and they weren't," Sinko said. "You can't help but think... if this could happen again," a Reuters report has observed.
© Copyright IBTimes 2023. All rights reserved.