Santa Monica College Shooter Identified As John Zawahri; 5th Victim Dies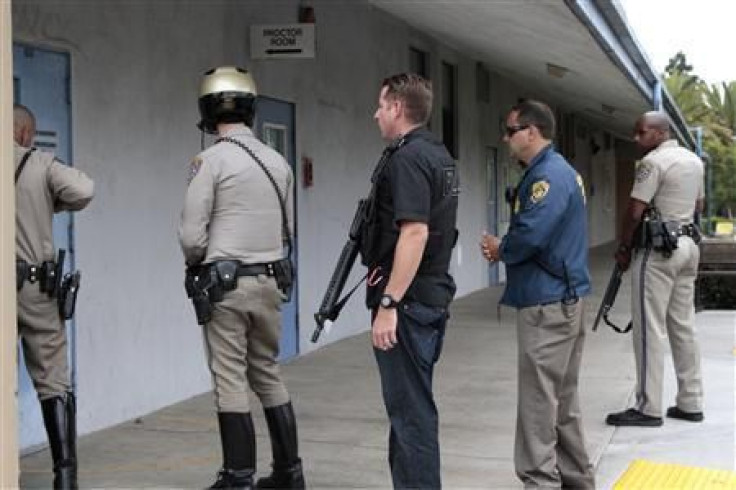 The gunman in Friday's deadly Southern California shooting spree has been identified as Santa Monica resident John Zawahri. A woman who was wounded died Sunday, bringing the death toll, including the killer, to six.
According to CNN, Zawahri first killed his father Samir Zawahri and his brother Chris Zawahri in their Santa Monica home, which was set on fire. Zawahri then carjacked a woman and made her drive to the nearby Santa Monica College, where he fired on a public bus, wounding three women. The Los Angeles Times reports that Zawahri promised the carjacked woman, identified as Laura Sisk of Culver City, that he would not hurt her if he drove her to the college.
As Zawahri left the car, he walked toward the campus and opened fired at an SUV, killing the driver and wounding a passenger. Zawahri then entered the Santa Monica College library and shot at several people, who took cover in a "safe room." Police arrived and began firing at Zawahri from outside the library. During the firefight, Zahwri killed a woman outside of the library, NPR reports. Not long after, he was shot and killed by the police.
On Sunday, Santa Monica Police Chief Jacqueline Seabrooks noted in a news conference that Zawahri had attended Santa Monica College as recently as 2010. Police believe he had significant mental illness that played a role in the shooting, which occurred a day before his 24th birthday. Police reportedly "had contact" with Zawahri due to an incident in 2006, but because he was a minor at the time, details of the encounter could not be released.
During the shooting spree, which lasted approximately 13 minutes, Zawahri wore all-black body armor and carried a .223 caliber semi-automatic rifle that Seabrooks described as "similar to an AR-15." Zawahri was stocked with more than 1,300 rounds of various types of ammunition.
Carlos Navarro Franco, 68, was shot and killed when Zawahri opened fire on the SUV, and his daughter Marcela, 26, a student at the college, was wounded. She died at Ronald Reagan UCLA Medical Center, college President Chu Tsang announced Sunday morning.
Police have not released that name of the woman Zawahri shot and killed outside of the library.
CNN reports that before Zawahri enrolled in Santa Monica College, he attended a high school for students trailing behind in academics.
"We are shocked and deeply saddened by the tragedy that so far has taken five lives and, once again, shatters our nation's confidence," Superintendent Sandra Lyon told CNN.
© Copyright IBTimes 2023. All rights reserved.