SantaCon 2014 NYC: Dress Code, Map Info And More For Saturday, Dec. 13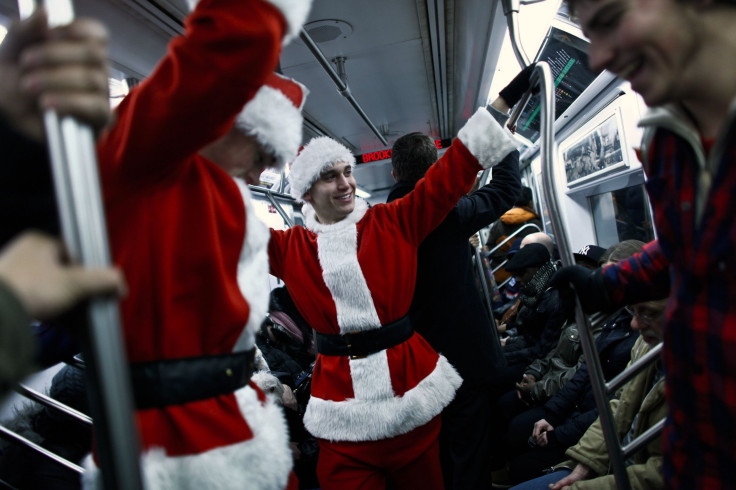 'Tis the season to be jolly. And what better way to do so than to dress up as the jolliest man ever?
Hordes of people dressed as Santa Claus will converge in New York City on Saturday, Dec. 13 for SantaCon 2014, a day of fun, merriment and, yes, a bit of drinking -- all for a great cause. For those unfamiliar with SantaCon, below is a handy guide of everything you need to know before joining the party.
This Isn't For Its Own Sake
Those who wish to participate in the fun should be aware that there's much more to the event than simply wearing a Santa costume throughout the day in the Big Apple. First of all, SantaCon is a charity event. Participants are encouraged to go to the official SantaCon website and donate $10 that will go to one of many worthwhile charities such as the Food Bank for NYC, Dance Parade, Figment Arts, Brooklyn Food Coalition and more. According to the site, the event raised more than $60,000 for charitable causes last year.
There's A Dress Code … Duh!
This one sounds obvious, but it's worth noting. You have to show up dressed as Santa. The site specifically warns against being the person who thinks its OK to show up in just a hat and call it a costume. People take a bevy of interpretations on St. Nick's outfit, but the more authentic the better, after all, kids are watching.
You're Santa, Act Like It
SantaCon has, what it calls, a Santa Code. Basically this is a list of rules to ensure that everyone is safe and that the city of New York doesn't grow to despise this charitable and fun event. Some noteworthy codes to keep in mind:
"Santa spreads joy: Not terror. Not vomit. Not trash. Would you want those under your tree?"
"Santa is nice to kids: He makes them laugh, not cry ... because he is Santa Claus (duh)."
"Santa respects cops: The police will be at every one of our stops. Respect them and do not break laws (open container, urinating in public -- this makes you a sex offender -- jaywalking, doing anything illegal!)"
Those interested in attending should read up on the Santa Code before making the trip to NYC to join the other SantaCon 2014 participants.
Location, Location, Location
Again, this isn't just an excuse to see random people around New York in Kris Kringle garb. That wouldn't be much of a convention, would it? Instead, those interested will be given specific instructions as to where to converge throughout the day. Locations will be posted to the @santacon Twitter account on the night of Dec. 12. The website also suggests texting "Follow @santacon" to 40404 to have route updates texted to you. What's better than a bunch of Santas in one place? A bunch of Santas parading from place to place. Ho-ho-holy moly!
© Copyright IBTimes 2023. All rights reserved.