SantaCon NYC 2013 Backlash: Fed-Up LES Bars Vow Not To Serve Drunken Santa Claus Clones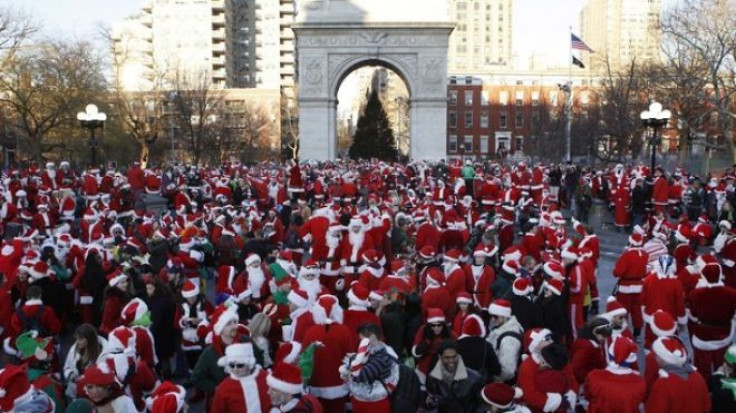 Updated Friday, 6:17 p.m.:
L.E.S. Dwellers, the community group fighting to keep the SantaCon participants from entering the Lower East Side, sent a press release saying the SantaCon route will now skip that neighborhood.
"Our community of residents and businesses have successfully worked to keep the official Santa Con route from going through the Lower East Side," said Diem Boyd, the group's founder, in a statement. "We will not be immune to the drunk and rowdy crowds who have swarmed the neighborhood in the past. We expect some Santas will deviate from the route into the Lower East Side. Hopefully, event organizers and the NYPD will keep participants on course to reduce the negative effects on residents and communities."
Original Post:
If you plan on being naughty this weekend, you won't have to worry about Santa Claus checking his list -- he'll be too drunk.
Saturday is the annual SantaCon in Manhattan, the dreaded descent of an estimated 30,000 unruly, costumed bar-goers. The clamorous confab has long been an annoyance to local residents, particularly those who live in the areas of Manhattan most affected by the legions of red-hatted hooligans clogging up subways and vomiting and urinating in the streets.
But this year New Yorkers are fighting back. In November, police precincts in Hell's Kitchen, where the Santas have traditionally begun their wobbly jaunt through the city, urged local tavern keepers not to serve SantaCon participants who appear to be inebriated. Many bar owners in the neighborhood agreed.
In response to the backlash, the Santas have reportedly decided to meet up in the Lower East Side this year. (The exact route is kept secret until the night before the event.) But bars and community organizers in that Lower Manhattan neighborhood say they have no intention of taking the Santa onslaught lying down.
"Enough is enough," said Diem Boyd, founder of L.E.S. Dwellers, a group that focuses on improving quality-of-life issues in the neighborhood. "We were really inspired by what we saw happening in Hell's Kitchen. We're getting together and saying, 'You know what? No. We don't want you here.'"
Boyd said her group has been distributing posters to local businesses who want to declare their establishments a "SantaCon-Free Zone." In bright red-and-green lettering, the posters tell SantaCon participants to "take your body fluids and public intoxication elsewhere."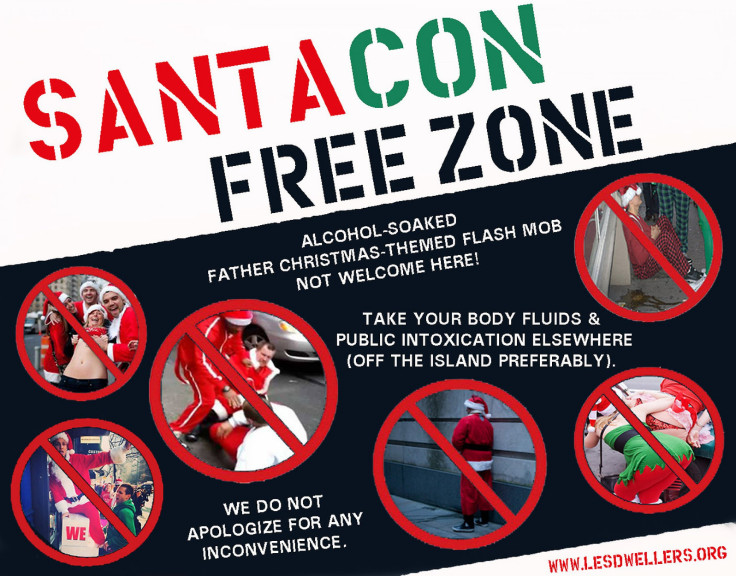 Boyd believes at least seven bars in the area have said they will not serve the drunken Santas. Although she didn't have a complete list, she said Hotel Chantelle on Ludlow Street and Spitzer's Corner on Rivington Street will not serve the Santas at all, and Libation on Ludlow Street said it will close at 5 p.m. on Saturday.
Manhattan's Lower East Side has the highest concentration of bars in the city. The nine-block area dubbed Hell Square -- between East Houston and Delancey streets and Allen and Essex -- has about 50 bars alone. Noise complaints from residents are not uncommon, even on nights when thousands of Santas aren't causing a racket.
Sandee Wright, co-owner of the Whiskey Ward at 121 Essex St., said she has no intention of playing host to the bearded boozers. "We despise the whole SantaCon thing, even more than St. Pat's day," she said. "We plan to put a sign up on the door. I will also be at the door to discourage any of them from coming in. They are the worst of the worst. Most are drunk by 3 p.m., and we would rather not have their business."
Colin Stewart, general manager of Dempsey's at 61 Second Ave., was a bit more amicable, saying his establishment plans on serving the Santas, reindeer, elves and helpers, as long as they're not visibly intoxicated. "We have had good success with SantaCon over the last four to five years without incident, thank God," he said. "I can understand some of the negativity in the press about the event, but I feel for the majority of people participating. It is a fun, all-inclusive day of partying with colleagues, friends and relatives."
Boyd argued that any boost in business bars might see from the SantaCon crowds is offset by other hassles, such as extra security and cleanup costs. She said non-bar businesses see a drop in foot traffic because local residents hole themselves up in their apartments, too afraid to walk down the sidewalks during the daylong event.
There are no official statistics about where most of the SantaCon participants come from, but Boyd said it's telling that both the Long Island Railroad and New Jersey Transit have said they are instituting a 24-hour ban on alcohol during the event, as DNA Info reported. "I would say most of them don't live in the city," Boyd added.
SantaCon organizers are not completely deaf to the criticism. For the first time this year, they say they are "cleaning up Santa's act." The group says it's hiring security -- dubbed the Santa Secret Service -- to keep participants in line. Organizers don't typically talk to the press, and a request for comment went unreturned.
While SantaCon is largely a scourge on Manhattan, more and more Brooklynites are going to have to contend with the event. This year, the Santas are said to be beginning near Tompkins Square Park, making their way across the Williamsburg Bridge and on into Williamsburg, Boyd said.
Despite SantaCon's vow to police itself, Boyd said she is remaining skeptical and vigilant. She said backlash against the event has snowballed this year, and she hopes by next Christmas it grows large enough to push the Santas out of the city completely. In the meantime, she'll gladly take a little help from above.
"We're praying for a lot of snow," she said.
Got a news tip? Email me. Follow me on Twitter @christopherzara.
© Copyright IBTimes 2022. All rights reserved.
FOLLOW MORE IBT NEWS ON THE BELOW CHANNELS