Sarah Ferguson, Prince Andrew 'Back Together, Hiding Romance,' Claims Royal Fans
Sarah Ferguson and Prince Andrew are rumored to have gotten back together and hiding their reconciliation from the world.
Daily Star recently came up with a poll centered on the relationship of the divorced couple. Approximately 5,000 respondents claimed that they are convinced the ex-couple has fallen back into each other's arms ever since their divorce in 1996.
Since their split, Ferguson and Prince Andrew have not remarried unlike Prince Charles, who wed Camilla Parker Bowles many years after his divorce from Princess Diana was finalized. Ferguson and Prince Andrew are also residing at the Royal Lodge together.
The publication asked readers if they think Ferguson and Prince Andrew are back together, and 78 percent or 4,290 of the 5,000 respondents voted yes. Only 22 percent or 1,210 voted no. The two options in the poll were "Yes, they do live together after all" and "No, they are just good friends – get over it."
Daily Star's poll results came in the heels of Ferguson's recent revelation about her relationship with the father of her two daughters. While speaking with Daily Mail last month, Ferguson said that she is not divorced from Prince Andrew. Rather, she's divorced to him.
Ferguson also said that she and her ex-husband are the happiest divorced couple in the world. Despite their decision to split, Ferguson said that they are still very compatible with each other. They regularly enjoy afternoon tea together even though they have not officially gotten back together.
"So many people have asked me that, but we're so happy with the way they are right now. We enjoy each other's company; we allow each other to blossom," she said.
Ferguson acknowledged the fact that her answer could make it seem like her current relationship with Prince Andrew is like a fairytale. But she said that is really how they are.
Prince Andrew and Ferguson were last seen in public together during Princess Eugenie and Jack Brooksbank's wedding on Oct. 12. The couple tied the knot at St. George's Chapel in Windsor Castle. They also had back-to-back receptions on Oct. 12 and 13.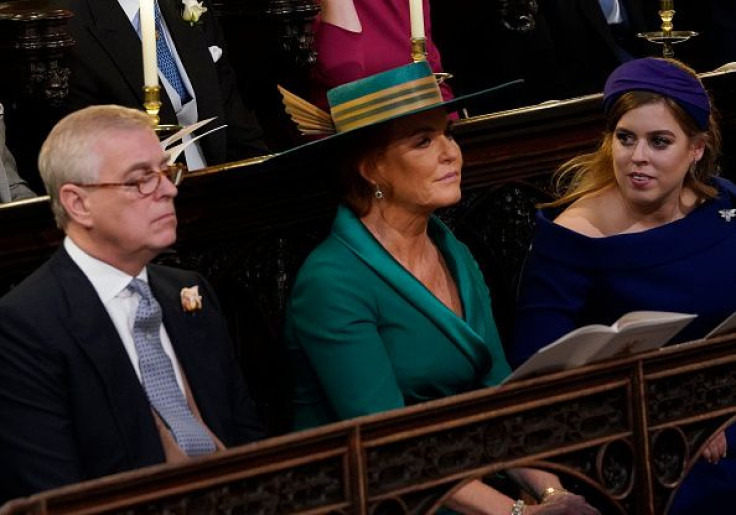 © Copyright IBTimes 2023. All rights reserved.